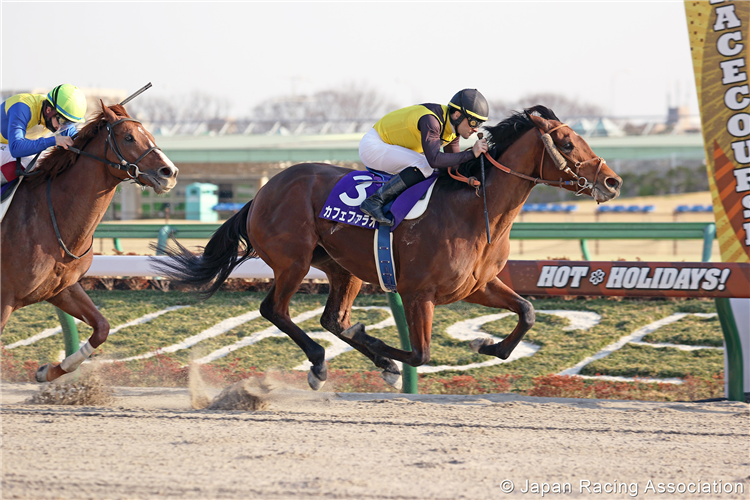 Race favorite and four-year-old Cafe Pharoah captured his first G1 victory in this year's February Stakes. The bay colt debuted claiming his first two career starts and went on to win the Unicorn Stakes (G3, dirt, 1,600m) but failed to deliver in the following Japan Dirt Derby (dirt, 2,000m) where although sent off race favorite, he was beaten to seventh. Bouncing back and marking a win against older foes in the Sirius Stakes (G3, dirt, 1,900m) last autumn, he finished sixth in the other JRA-G1 dirt event, the Champions Cup (G1, dirt, 1,800m), as second favorite. While Danon Pharaoh, also sired by American Pharoah, captured the NAR's Japan Dirt Derby last season, this is the first JRA-G1 race claimed by a foal of the legendary American Triple Crown winner. Since his latest JRA-G1 win in the 2019 Asahi Hai Futurity Stakes with Salios, trainer Noriyuki Hori now boasts 13 JRA-G1 titles, while jockey Christophe Lemaire earned his 36th JRA-G1 victory, his first since last year's Japan Cup with Almond Eye. The French jockey also celebrates a back-to-back February Stakes victory following his win with Mozu Ascot in last year's version.
Absent of the fans and cheers, the first G1 event of the season was on its way on the backstretch with Air Almas, Helios and Wide Pharaoh fighting for the lead. As Helios slipped back in the early stages, Cafe Pharoah, breaking from stall three, stalked the two frontrunners while saving ground before smoothly angling out right beside them to enter the lane in third. From there on, the American Pharoah colt unleashed a powerful stretch drive stealing the lead by the furlong marker and held off the fast-closing Air Spinel by a 3/4-length margin.
"His condition was super, and I had confidence already at the paddock. We decided to use cheek pieces hoping for a more aggressive performance. His start was good, we were positioned well and he responded beautifully. The colt has such high potential. I had no doubt that he could land a G1 win if he gave his best. I'm happy that it all worked out today," commented Christophe Lemaire after the race.
Ninth favorite Air Spinel was settled on the rails in mid-division and struggled to find room in early stretch but once angling out and finding a clear path 300 meters out, shot out with the fastest closing speed overtaking the tiring pace setter in the last half-furlong while threatening the winner for second.
Wonder Lider sent off eighth favorite, took an economic route behind the winner up to the last turn and displayed a powerful stretch drive furiously chasing the runner-up to the line while holding off a strong challenge by Red le Zele for a 2-1/2-length third.
Other Horses:
4th: (16) Red le Zele—raced around 10th, showed tied 2nd fastest late drive, failed to threaten top finishers
5th: (1) Air Almas—pressed pace in 2nd, showed tenacity, weakened and outrun in last 100m
6th: (2) Inti—sat around 13th, struggled to find clear path, switched to outside, showed belated charge
7th: (15) Mutually—trailed in rear, angled out, passed tired rivals
8th: (13) Soliste Thunder—traveled in 12th, edged up after 3rd corner, accelerated until 200m pole
9th: (6) Arctos—sat around 5th outside winner, showed effort until 200m marker, weakened
10th: (12) Yamanin Imprime—settled around 7th, checked 300m out, showed brief effort
11th: (9) Sunrise Nova—was off a bit slow, trailed in rear, never fired at stretch
12th: (11) Smart Dandy—ran 3-wide in 9th, unable to reach contention
13th: (14) Auvergne—prominent early around 4th, outrun rounding final corner, faded
14th: (8) Wide Pharaoh—rallied for lead, ran out of steam after 400m pole
15th: (5) Success Energy—broke poorly, raced around 13th, no factor
16th: (4) Helios—traveled around 4th near winner, faded after final corner
THE FEBRUARY STAKES (G1)
Age: 4yo and up Type: OPEN