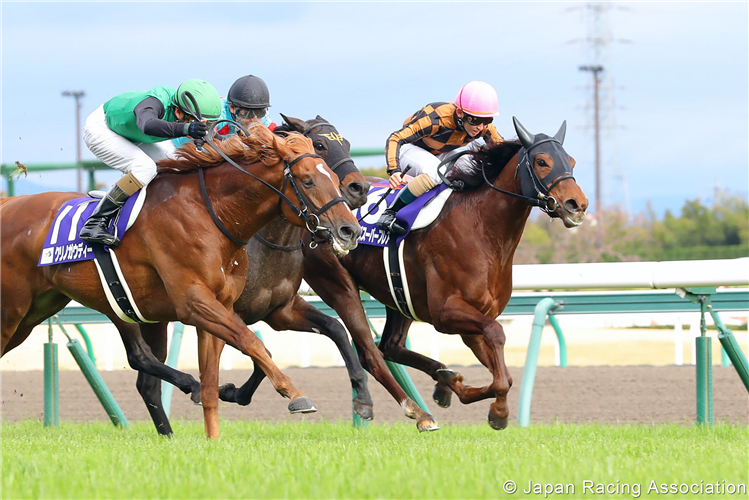 Spring racing warms up with the second top-level competition of the year - the Takamatsunomiya Kinen - this weekend at Chukyo Racecourse. The heavyweights are out in force for the first of the year's two most important sprints. Along with the Grade 1 Sprinters Stakes in the fall, the Takamatsunomiya Kinen is key to determining the year's champion sprinter.
Sunday's running of the Takamatsunomiya Kinen is the race's 51st and the 23 nominees include seven Grade 1 winners, including last year's winner Mozu Superflare. The expected favorite is likely to be a tossup between Danon Smash, who captured the Hong Kong Sprint in December and the young Resistencia, who has placed Top 3 in all but one of her eight starts to date. Nonetheless, competition will be keen across the field, with ample room for an upset.
Chukyo Racecourse features two Grade 1 events, the Takamatsunomiya Kinen in the spring and the Champions Cup in the winter. Of the 10 JRA racecourses, Chukyo is one of only three where races are run to the left. The other two are Tokyo and Niigata. The Chukyo 1,200 meters begins in the backstretch and finishes 412 meters after the track straightens for home. There is a sharp upward slope that begins 340 meters before the finish line and rises nearly two meters over the next 100 meters.
Eighteen of this year's 23 Takamatsunomiya Kinen hopefuls will gain a berth in the gate on March 28 and will vie for the first-place prize of JPY130 million. Fillies and mares carry 55 kg, all others 57 kg. The current race record of 1 minute 6.7 seconds was set by Big Arthur in 2016.
The Takamatsunomiya Kinen is the 11th race on the Sunday card of 12 at Chukyo. Post time is 3:40 p.m. The barrier draw will be announced on Friday, March 26.
Here are the standouts of this year's field.
Danon Smash - A 7-year-old son of champion sprinter Lord Kanaloa, Danon Smash is a proven sprinter, with seven of his 10 wins from 22 starts having come over six furlongs. He notched his first Grade 1 victory when he followed in his sire's footsteps with a first in the Hong Kong Sprint last December. In the last year's Takamatsunomiya Kinen, Danon Smash was done in by a somewhat slow break and a slow track, but as his Hong Kong result indicates, as do his second-place finish in the 2020 Grade 1 Sprinters Stakes and his win of the Grade 2 Centaur Stakes before that, he still is at the top of his game. And, with his previous results coming off a three-month layoff at 7-1-1-1, the fact that this will be his first race of the year is not a concern. Trainer Takayuki Yasuda, who has won this race twice before, said, "I want him to have a fast track."
Resistencia -The 4-year-old filly by Daiwa Major and winner of the 2019 Grade 1 Hanshin Juvenile Fillies. She is one classy filly, weighing in at over 500 kg, with early speed and versatility. Resistencia has won over fast and slow ground and though she prefers to lead, she doesn't insist on it. Except for her debut, her races have all been graded stakes, four of them Grade 1 events. Resistencia is fresh off a wire-to-wire win of the Grade 3 Hankyu Hai. She aced the race in a record time of 1 minute 19.2 seconds in a mixed field of 17 that included some Takamatsunomiya hopefuls. And, her time of 1 minute 7.4 seconds at the 1,200-meter mark beats the winning time of the last 10 runnings of the Takamatsunomiya Kinen. However, with her career still young, there are other firsts for Resistencia. It will be her first time at Chukyo. Her only other race to the left was the Grade 1 NHK Mile Cup at Tokyo, where she finished in second a length and a half behind Lauda Sion. And, it will also be her first time over 1,200 meters. Jockey Yutaka Take, who had been expected to ride Resistencia, has been sidelined due to injury. The ride is now to go to new partner Suguru Hamanaka.
Indy Champ - A 6-year-old son of Stay Gold, champion miler Indy Champ is taking on the distance for the first time. From his 19 career starts, he has eight wins, only five out of the Top 3 and one off the board. In 2019 he captured both top mile races of the year - the Yasuda Kinen and the Mile Championship. Last year, though he started off with a win, he deferred to Gran Alegria and Almond Eye to finish third in the Yasuda Kinen, then allowed Gran Alegria over the line ahead of him in the Mile Championship. In both races, which gave the advantage to early speed and an inside track, Indy Champ traveled wide from midfield. He saw the year out with a third in the Grade 2 Hanshin Cup. "Two starts ago he raced from too far back," says veteran trainer Hidetaka Otonashi, who won the Takamatsunomiya Kinen with Mozu Superflare last year and Orewa Matteruze in 2006. "Last race he was a bit sluggish in trackwork, so I think he wasn't at his best. This time, he's on the up and up. It'll be his first time over 1,200 meters but he should do well if he gets a trip that brings out the best of his acceleration." Jockey Yuichi Fukunaga is expected to have the ride.
Lauda Sion - The 4-year-old colt Lauda Sion topped Resistencia last year in winning the Grade 1 NHK Mile Cup. In his first start of the year and his first 1,200-meter race since late 2019, he raced from a forward position and held his ground to finish in third place in the Grade 3 Silk Road Stakes in January. Sired by Real Impact, Lauda Sion has recorded 1-3-3 in his third starts over six furlongs and 2-3 at Chukyo. "After his last race he spent some time at the farm and has gotten regular work since coming back," said Ritto-based trainer Takashi Saito. "Last week the jockey (Mirco Demuro) gave him a good hard run up the hill course. A few finishing touches this week should have him ready to go."
Others to make note of:
The 6-year-old sprint specialist Right On Cue was runnerup behind Shivaji over the Chukyo 1,200 in the Silk Road Stakes. He has maintained his condition, will be carrying half a kilo less than his last start, and has shown he can handle rough ground, more of a concern this year with Kyoto out of play.
Last year's wire-to-wire winner Mozu Superflare is not to be forgotten. Though she hasn't won in four starts hence, they hadn't favored frontrunners. She has been looking good in work and, carrying only 55 kg, will have an edge on many of the popular picks.
Predominately raced over the mile and further, graded-stakes winner Maltese Diosa took on the 1,400-meter Hanshin Cup at yearend and finished second. She's being given her first six-furlong race, is racing for the first time this year and for the first time at Chukyo, but her speed and her trackwork indicate she's not to be overlooked.