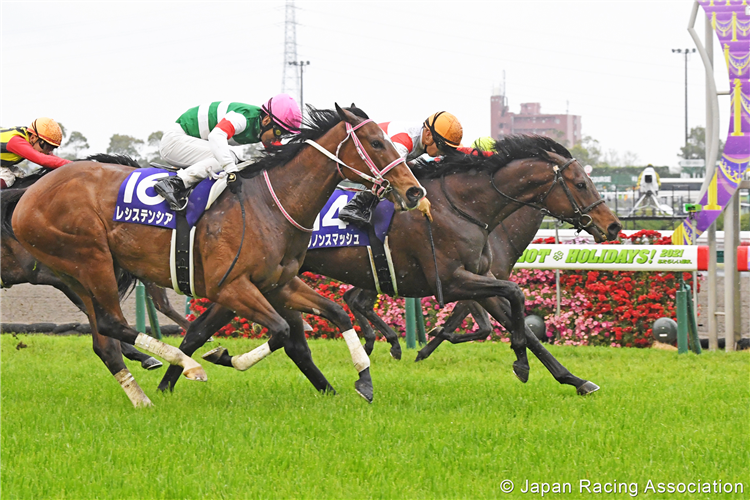 Danon Smash, the son of Lord Kanaloa, claimed this year's Takamatsunomiya Kinen to register his first JRA-G1 victory in his eighth attempt while accomplishing another father-son victory following the previous Hong Kong Sprint. This is the second father-son victory in the Takamatsunomiya Kinen since the race was promoted to G1 in 1996, the first accomplished by King Halo (2000) and Laurel Guerreiro (2009). The connections of Danon Smash has accepted an invitation to race in the Chairman's Sprint Prize at Sha Tin on April 25. This win marked trainer Takayuki Yasuda's 13th JRA-G1 victory following his Hopeful Stakes win with Danon the Kid at the end of last year and his third Takamatsunomiya Kinen victory following his title with Curren Chan (2012) and Lord Kanaloa (2013). Jockey Yuga Kawada registered his 16th JRA-G1 win and his second Takamatsunomiya Kinen victory since his triumph with Fine Needle in 2018.
This year's race commenced with defending champion Mozu Superflare immediately assuming command and setting a fast pace despite the yielding going due to rain. Six-year-old Danon Smash, breaking from stall 14, traveled around 9-10th from the front while eyeing race favorite Resistencia on the outside. Turning the corners wide, the Hong Kong Sprint champion weaved his way between horses entering the stretch and outdueled the race favorite in the last 100 meters to claim his first JRA-G1 title.
"I knew that the ground condition was going to be the key factor but I decided not to make any plan and let the horse race where he wants to. We were able to race while eyeing Resistencia in the front. He responded really well at the fourth corner and, although there was a long duel (with the race favorite) at the stretch, he showed his strength at the end. Last year's result (10th) was very disappointing so I'm really glad he was able to register his first G1 title in Japan," commented Yuga Kawada.
Race favorite Resistencia traveled wide around 6-7th from the front, surged out from the pack at the 200-meter pole and, although outdueled by Danon Smash, overtook the front two horses before the wire to pass the wire a neck behind in second.
Third choice Indy Champ raced two wide in mid-division, broke loose from the pack after threading through horses in the early stretch and nailed the frontrunner Mozu Superflare passing 100m marker but was overtaken by the subsequent winner and runner-up before the wire to finish third.
Other Horses:
4th: (13) Travesura - settled around 11th, struggled to find clear path, quickened in last 200m
5th: (4) Mozu Superflare - set pace, showed tenacity along rails, weakened in final strides
6th: (17) Sound Chiara - advanced to 6th from wide draw, sustained bid while checked by rival 300m out
7th: (8) Eighteen Girl - sat near rear around 16-17th, circled wide and showed tied fastest late kick
8th: (15) Maltese Diosa - raced 4-wide around 13th, accelerated on outer stretch, never a threat
9th: (12) Seiun Kosei - chased leader around 3rd, showed tenacity, weakened in last 100m
10th: (18) Mikki Brillante - was off slow, ran 3-wide around 13th, switched to outside, improved position
11th: (5) Daimei Fuji - positioned around 15th, passed tired rivals at stretch
12th: (6) Danon Fantasy - tracked leader in 2nd, tired and outrun in last 200m
13th: (7) Astra Emblem - hugged rails around 16th, failed to respond on inner stretch
14th: (10) Lauda Sion - chased leader in 2nd or 3rd, drifted to outside slightly before 200m pole, showed little
thereafter
15th: (11) Katsuji - raced 3-4wide around 6th, sustained to reach contention until 200m pole
16th: (1) A Will a Way - trailed in rear, angled out, never fired
17th: (3) Right on Cue - traveled around 6th, showed brief effort, outrun in last 200m
18th: (2) Red en Ciel - took economic trip around 5th, faded after 300m marker