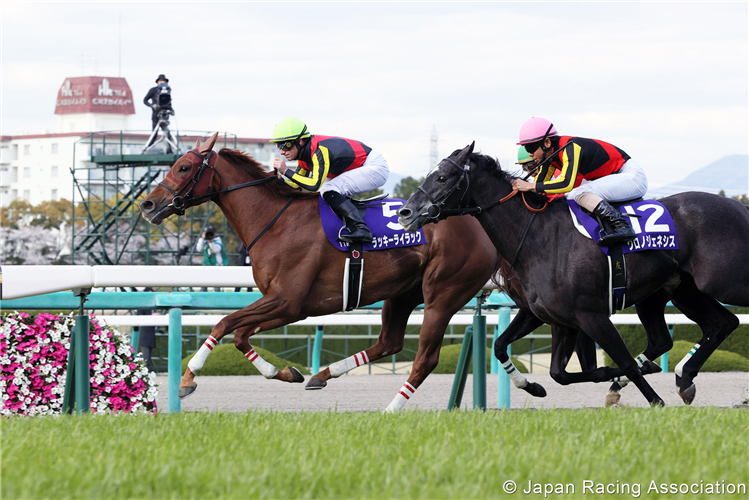 The spring Grade 1 season here in Japan is now well under way, and this week's top-level action will be at Hanshin Racecourse in the west of the country, where the Grade 1 Osaka Hai will be run on Sunday (April 4). The race is for 4-year-olds and up, and is run over 2,000 meters on the inner turf course. All runners carry 57kg, with a 2kg allowance for fillies and mares.
The race was first run in 1957, when it was a handicap and run over 1,800 meters. The distance was changed to 2,000 meters in 1972, and it became a Grade 2 in 1984. It was opened to runners from overseas in 2003. This year marks the 65th running of the race, which was previously known as the Sankei Osaka Hai, but became simply the Osaka Hai in 2017, the year in which it also became a Grade 1. Big name winners in recent years have included Orfevre (2013), Kizuna (2014), and Kitasan Black (2017), to name just a few.
There have been 15 nominations for this year's Osaka Hai, including last year's Triple Crown winner Contrail. There are no fewer than seven horses by Deep Impact among the entries. Over the last ten years, first or second favorites have taken out the race seven times, proving the market leaders have been well worth following. The last first favorite to win was Suave Richard in 2018. Also in the last ten years, 4-year-olds and 5-year-olds have won five times apiece, sharing the spoils equally between them. Record time for the race is held by Hiruno d'Amour, who won in a time of 1 minute 57.8 seconds back in 2011. This year's winner's check is JPY135 million, and the big race is Race 11 on the Sunday card at Hanshin, with a post time locally of 15:40. The final field and barrier draw will be announced later in the week.
Here's a look at some of the runners expected to take on this year's Grade 1 Osaka Hai:
Contrail : The much-awaited reappearance of the now 4-year-old colt will be this Sunday, and the horse that lost his unbeaten record to Almond Eye in last year's Japan Cup will be a warm order to start his 2021 campaign with a win here. He won on his debut at Hanshin over 1,800 meters, his only start at the track. All eyes will be on him on Sunday, but the vibes from the stable are nothing but good. "After the Japan Cup, he had a rest at Daisen Hills. He came back to the stable at Ritto on March 6, and he looks in great shape, currently weighing about 490kg. He seems more mature now, and he put in a fast piece of work with jockey Yuichi Fukunaga on March 17. We'll be making sure his workload is just right from now," commented assistant trainer Shigeki Miyauchi.
Gran Alegria : Another of last year's star performers, the daughter of Deep Impact returns here on another mission to take on the distance of 2,000 meters for the first time. She has three wins from four starts at Hanshin, and the stable is preparing her for another big run in the Osaka Hai. "She had a great year last year with her three Grade 1 victories and a very close second on top of those. She had a break at Northern Farm Tenei before returning to the stable on March 3. As we prepare her in training for the trip of 2,000 meters for the first time, she seems relaxed and is eating well," commented assistant trainer Daisuke Tsumagari.
Salios : The 4-year-old colt by Heart's Cry finished second to Contrail in last year's Grade 1 Tokyo Yushun (Japanese Derby) and has finished first and fifth in just two races since. The horse is having his first run this year, and trainer Noriyuki Hori is sharpening him up for a big run this time too. "He came back to the stable on February 27, a week earlier than his usual pattern, as he's a horse that needs to adjust to his environment. When he came back from Northern Farm Shigaraki, he weighed 562kg, and now gradually he's getting into condition and currently weighs 550kg. His appetite is good and he looks well in his coat," said the trainer. Jockey Kohei Matsuyama, who's made an impressive start to 2021, will take the ride on Salios for the first time.
Admire Virgo : It'll be the first Grade 1 for Admire Virgo, a horse that only began his career as a 3-year-old, but has four wins from just six career starts, and is looking to bounce back from his worst ever finish last time when tenth in the Grade 2 Nikkei Shinshun Hai over 2,200 meters at Chukyo in January. Trainer Yasuo Tomomichi commented: "He's fresh from a stay at the farm, and has been working well with stablemate You Can Smile on the woodchip course recently. Last time he got into a good position in the race, but couldn't finish things off at the end. I put that down to the state of the ground and the 2,200 meters being a bit far for him."
Lei Papale : Yet another runner by Deep Impact, the 4-year-old filly is becoming more eye-catching as she has now extended her winning streak to five races after her win at the end of last year in the Grade 3 Challenge Cup at Hanshin over 2,000 meters. Trainer Tomokazu Takano is looking forward to the next challenge with her. "It was her first try at graded level last time, as well as the distance of 2,000 meters with four corners in the race, but she passed that test well, and this became the logical next step for her. We've decided to go straight to this race, not choosing to give her a run beforehand," said the trainer.
Gibeon : The 6-year-old really toughed it out last time to record an all the way win on yielding ground in the Grade 2 Kinko Sho at Chukyo over 2,000 meters in March, causing a 227/1 upset at the same time and a shock defeat of last year's star filly, Daring Tact. It was Gibeon's first win from his last twelve races, and it will be interesting to see what he can do this time after his surprise win. "He got to the front last time and ran well with a good rhythm, and just when it looked difficult for him, he managed to pull out a bit more and go on to win. He deserves to take his chance among the strong horses," commented assistant trainer Nobuyuki Tashiro.
Wagnerian : The 2018 Derby winner is back for another try at the race in which he finished 3rd in 2019 and 5th in 2020. Now a 6-year-old, Wagnerian has just had 14 career starts and is coming off a fifth place finish in the Grade 2 Kyoto Kinen over 2,200 meters in February. He's another representative for trainer Yasuo Tomomichi, who is riding high in the trainers' table this year. "He just needed that last race, and since then he's had a short break at the farm. He recently worked solo with his race jockey Hayato Yoshida, who is riding him for the first time," stated the trainer.
Cadenas : The 7-year-old's best finish among his seven Grade 1 races was last year's Osaka Hai, when he finished fourth. In his two races this year, he's been unplaced both times, but last time in the Grade 3 Kokura Daishoten in February, he wasn't that far off the winner. "He returned from the farm on March 13th and has been moving well in his work uphill recently. He's coming along fine, and his rotation will be the same as last year's. He put in a strong performance in last year's race and he's well suited to the Hanshin track," said assistant trainer Masaaki Shibata.