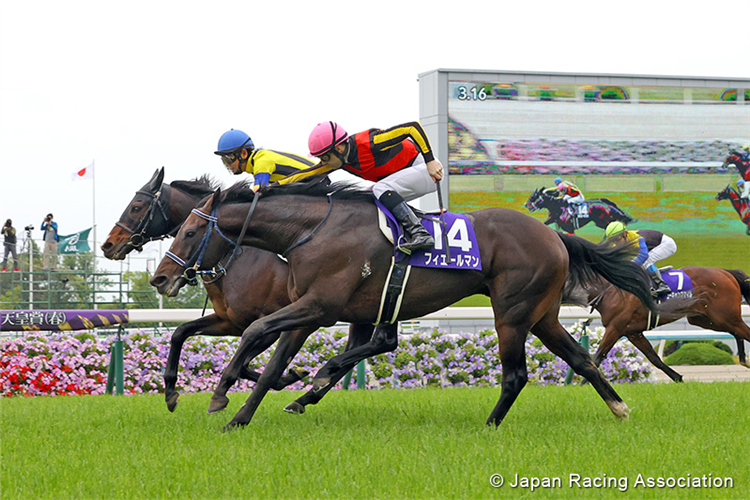 After a brief pause in the Grade 1 action last weekend in Japan, it's all systems go again this coming Sunday (May 2), when the Tenno Sho (Spring) or Emperor's Cup, as it is known in English, will be run at Hanshin Racecourse. The race is back at where it was first run in 1938, after which it was later switched to Kyoto, which has been the traditional home for the spring race. However, with the extensive renovation of the enclosures and paddock area now well under way at Kyoto, the race this year finds its way back to Hanshin.
It will be the 82nd running of the Grade 1 Tenno Sho (Spring), and the 163rd overall, when including the autumn race of the same name, which is run over a shorter distance at Tokyo towards the end of the year. There have been 17 nominations for this year's Tenno Sho (Spring), including three fillies or mares, and it's been 68 years since a filly or mare last won the race. For 4-year-olds and up, the race will be run on the turf track at Hanshin over 3,200 meters, the longest JRA Grade 1 flat race of the year. 58kg is the weight allotted to all runners, with a 2kg allowance given to fillies and mares.
A couple of lead up races to the Grade 1 Tenno Sho (Spring) have been the Grade 2 Hanshin Daishoten run over 3,000 meters in March, and the Grade 2 Nikkei Sho, run over 2,500 meters at Nakayama, also in March. Record time for the race is held by Kitasan Black, who won in a time of 3 minutes 12.5 seconds in 2017. Nine out of the last ten Tenno Sho (Spring) races have been run on good to firm ground, and in that same 10-year period, first favorites have won just three times. 5-year-olds have been the dominant force in the past decade, winning the race five times. This year's winner's check is JPY150 million (approximately USD 1.4 million).
The Grade 1 Tenno Sho (Spring) will be Race 11 on the Sunday card at Hanshin, with a post time locally of 15:40. The final line-up, together with the barrier draw, will be announced later in the week.
Here's a look at some of the contenders expected to take on the race:
Deep Bond : The 4-year-old colt by Kizuna has sometimes left his followers disappointed, but the way he won last time in the Grade 2 Hanshin Daishoten over 3,000 meters in March has propelled him to one of the most likely favorites for the Tenno Sho (Spring). His five length win also impressed his trainer, Ryuji Okubo. "He's always been a big striding horse, but in some of his previous races he's looked a bit slow. Now though, he's looking a lot faster and lighter, and even in the ground last time, he was impressive," said the trainer. Jockey Ryuji Wada has ridden Deep Bond in ten of his eleven races, and the rider will be looking for his ninth JRA Grade 1 win, having been out of luck since 2018, when he last won a Grade 1 with Mikki Rocket in the Takarazuka Kinen.
Aristoteles : A heavy favorite last time out, Aristoteles could only finish seventh to Deep Bond in the Grade 2 Hanshin Daishoten in March, but with him almost beating Contrail in last year's Grade 1 Kikuka Sho (Japanese St. Leger), reproducing that sort of form would put him in with a great chance here. Connections aren't too worried about his loss in his last race. Assistant trainer Kenichi Shono said, "He raced a little unkindly last time, and what with the ground, he didn't see things out until the end. He's had a break at the farm and everything's been good on his return to the stable. In recent work, he seems his usual self." Jockey Christophe Lemaire has won the Tenno Sho (Spring) for the last two years, so he would be confident of getting another big run out of Aristoteles.
World Premiere : The lightly raced 5-year-old has only had 10 career starts, but has only been unplaced twice, and is already a Grade 1 winner, having won the Kikuka Sho (Japanese St. Leger) in 2019. With only four races since that big win, he's coming off a third place finish to Win Marilyn in the Grade 2 Nikkei Sho over 2,500 meters at Nakayama in March. He's trained by Yasuo Tomomichi, and the trainer said recently: "He probably wasn't quite at his best last time, but he ran on well at the end to take third, and considering he was giving weight to the first and second, I thought it was a 100% effort." World Premiere will be ridden by Yuichi Fukunaga for the first time.
Curren Bouquetd'Or : One of the unluckiest horses around, the 5-year-old mare by Deep Impact has finished second seven times in her fourteen career starts, and has yet to win a graded race, which is quite unbelievable. Along with her other close calls, she finished fourth in last year's Grade 1 Japan Cup. "Coming off a break last time, she didn't run badly in the Nikkei Sho, but she got covered up in the race, and the winner really did it cleverly. She closed well at the finish, but it was a pity she couldn't win. She's been at the stable since and her hooves are now fine, so she's been working well," commented trainer Sakae Kunieda. In a bid to rewrite the history books, it would surely be something if this was to be Curren Bouquetd'or's biggest day.
Win Marilyn : Since her second place finish in last year's Grade 1 Yushun Himba (Japanese Oaks), the now 4-year-old filly was unplaced in three races after that, but is coming off an eye-catching win in the Grade 2 Nikkei Sho in March. Trainer Takahisa Tezuka trained Fierement to win the last two Tenno Sho (Spring) races, so he's in a good position to know just what it takes to win the race. "She was in good condition for her last race, and the jockey did well to get the best out of her from the draw she had. She's been at the stable since, and I think she's something close to the condition that she was in this time last year," stated the trainer.
You Can Smile : One of this year's leading trainers, Yasuo Tomomichi fields another runner here with the 6-year-old You Can Smile. The horse finished fifth in the Tenno Sho (Spring) in 2019 and fourth in the same race in 2020, proving that he has the ability to go close on the day. He's coming off a second place finish to Deep Bond last time, and the trainer feels he's starting to find form once again. "His results last autumn were not so good, but after having some time off after last year's Arima Kinen (The Grand Prix), he's starting to improve again, and with the condition he's in, coming off his run in the Hanshin Daishoten leads him nicely into this race," commented the trainer. Jockey Yusuke Fujioka is booked for the ride once again.
Authority : The 4-year-old colt by Orfevre has just had the eight starts, but has notched four wins, and proved he's able to see out a long distance with his second place finish last time in the Grade 3 Diamond Stakes over 3,400 meters at Tokyo in February. He has a couple of things to overcome, in that it will be his first time at Hanshin, and he has been unplaced in his two Grade 1 races to date, but the stable has no doubt in his ability. Assistant trainer Yu Ota said, "The jockey did a good job last time in the Diamond Stakes, when finding a good rhythm with the horse, and proving that he doesn't necessarily have to lead. I think the way that race worked out proved that the horse is very capable."