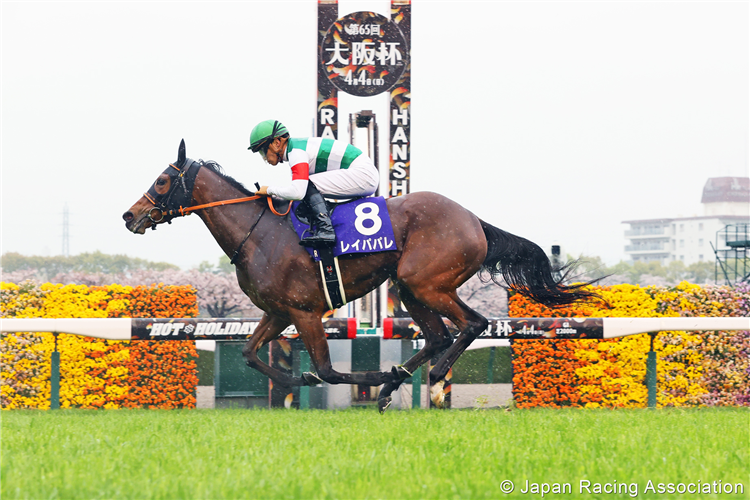 Fourth favorite Lei Papale demonstrated her strength and extended her winning streak to six since her three-year-old debut in January while capturing her first G1 title in her first attempt at the highest level against a strong field that included multiple G1 winners. She is only the third in JRA history to claim a G1 title for older horses (four-year-old and up) unbeaten, after Fine Motion (2002 Queen Elizabeth II Commemorative Cup) and Chrysoberyl (2019 Champions Cup). Trainer Tomokazu Takano picked up his third career JRA-G1 title, his latest being the 2015 Japan Cup with Shonan Pandora, while jockey Yuga Kawada whose latest G1 win was just last week in the Takamatsunomiya Kinen with Danon Smash scored his 17th JRA-G1 title with the win.
Lei Papale was a fraction slow out of the gate outside race favorite Contrail but used her speed to quickly move forward and assume command. Cruising effortlessly on the rain-soddened track and timed 59.8 seconds over the first half of the 2,000-meter distance, the lightly built filly shifted out from the rail for better footing and continued to flee away from her foes, finding another gear in the last 100 meters to pull away to a dominating four-length victory.
"I had always believed in her outstanding talent since her debut but of course it was a tough ask this time against a top class after registering out first grade-race victory (in December). She felt good during the post parade and she was able to jump into her rhythm throughout the race without being pressed. I was able to shift her out without interfering the horses coming from behind for her stretch run as there was still plenty room between her and the rest of the field at the top of the stretch. And to still have the strength to find another gear over the turf condition today—she is an exceptional filly to keep her speed right to the end. Now that she's a G1 winner, expectations will suddenly be quite high from now on, but I hope to be able bring out her best in each race," commented Yuga Kawada.
Mozu Bello sat off the pace, fourth from last just off the rails and with the race favorite in view. The sixth favorite gradually made headway and followed Contrail who advanced along the outside, joining Gran Alegria in chasing the leader approaching the final corner. Turning wide for a clear stretch run, the son of Deep Brillante demonstrated an impressive turn of speed to outrun both Contrail and Gran Alegria while unable to threaten the winner.
Heavy favorite Contrail was positioned in mid-field, around ninth, from a smooth break with eyes on Gran Alegria who traveled in fifth position in front behind a good pace set by the eventual winner. The 2020 Triple Crown winner made headway with 800 meters to go and closed in on the leader into the homestretch alongside Gran Alegria but both the Contrail and champion miler/sprinter struggled to find their best speed over the heavy turf and failed to keep up with the fleeing winner. While the Deep Impact colt managed to hang on to third place by a neck margin, the 2020 champion three-year-old was beaten by the late charging Mozu Bello in the final stages.
Other Horses:
4th: (12) Gran Alegria - sat in 5th, advanced with Contrail after 3rd corner, sustained bid and passed Salios but
soon overtaken by Mozu Bello and Contrail
5th: (2) Salios - saved ground around 3rd, chased leader along rails until 100m marker, weakened thereafter
6th: (10) Cadenas - hugged rails in 12th, showed 3rd fastest late kick, belatedly
7th: (3) Ardently - raced in 8th, boxed in turning final corner, passed tired rivals
8th: (4) Bravas - settled in 11th, found little room at final corner, showed brief effort
9th: (13) Admire Virgo - traveled 3-wide in 7th, failed to respond and reach contention
10th: (5) Persian Knight - checked at break, trailed in far rear, circled wide, never fired
11th: (9) Crescendo Love - took economic trip in 6th, showed little at stretch
12th: (6) Wagnerian - tracked leaders in 3rd or 4th, outrun after 3rd corner although driven
13th: (11) Happy Grin - stalked leader in second, faded after 3rd corner