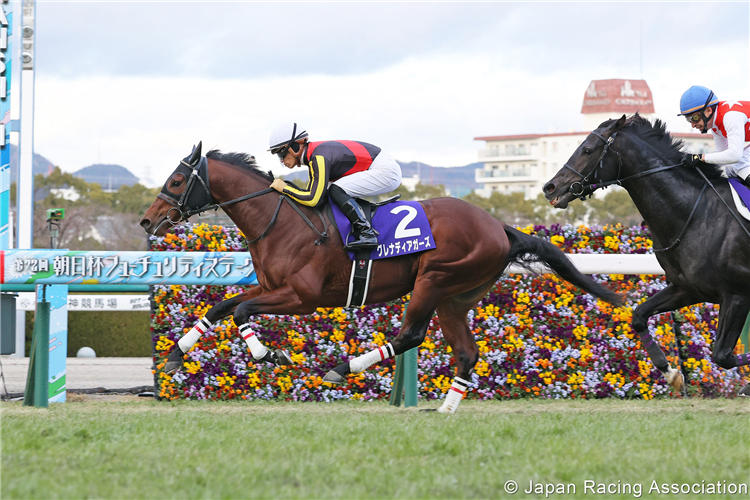 Tokyo, one of three JRA courses where races are run to the left, is an honest, but tough course. Big-striders needing room to move are suited to the Tokyo mile, with only one sweeping turn and a long stretch. And, with a hill that starts just after horses straighten for home, it's a course that demands stamina, too.
Many horses who have become top names have reigned supreme in the NHK Mile Cup, such as El Condor Pasa, Kurofune and 2019's winner of the G1 LONGINES Hong Kong Mile, Admire Mars.
There's no standout in this year's field of 18, but there are four or five names most often cited as those most likely to take home the JPY105 million (approx. HK$7.45 million) winner's share.
Grenadier Guards won the two-year-old G1, the Asahi Hai Futurity Stakes (1600m) at Hanshin in December. The Frankel-sired colt lost his preparation race – the G3 Falcon Stakes (1400m) at Chukyo in March. It was his first race after the Asahi Hai Futurity Stakes and he lost by only a head, to Rooks Nest.
Grenadier Guards takes on Tokyo for the first time, but his 2-4-2 record over other left-handed tracks bodes well. In the irons is Yuga Kawada, currently second behind Christophe Lemaire in the jockey rankings.
Bathrat Leon is one of two horses being fielded by Yoshito Yahagi, whose Loves Only You just captured the G1 FWD QEII Cup (2000m) a fortnight ago at Sha Tin. Fourth in the Asahi Hai, Bathrat Leon didn't pick up another win from his debut until his sixth start, but he was never far behind the winner.
Then last out, he came roaring home, blowing away the competition in a wire-to-wire win by five lengths in the G2 New Zealand Trophy (1600m) at Nakayama in early April. This will be his first time at Tokyo, but Bathrat Leon's third over the mile at Chukyo indicates he should be able to handle the left-handed track.
Yahagi's other hope is Ho O Amazon. After a ninth in the Asahi Hai Futurity Stakes, he returned four months later to ace the Arlington Cup (1600m), a G3 NHK Mile Cup trial at Hanshin mid-April.
Ho O Amazon is reliable over any going and he'll be paired with new partner Yutaka Take. Take has three wins of the NHK Mile Cup. Yahagi has also seen success before with this race. He won the NHK Mile Cup in 2011 with Grand Prix Boss.
Rooks Nest won the Falcon Stakes ahead of the G1 champ Grenadier Guards. He, too, will be at Tokyo for the first time, but his 2-2-1 from his three starts at Chukyo indicates success can be had.
Next up is Schnell Meister, a colt who'll see French ace Lemaire in the saddle. With only three starts to his name, he's the most lightly-raced in the field along with Another Lyric, a filly that passed on the classic G1 Oka Sho (1600m) to come here.
Schnell Meister won his first two starts, then three months later ran second behind Satsuki Sho runner-up Titleholder in the G2 Yayoi Sho (2000m) at Nakayama.
Not to go without mention is the Maurice-sired Pixie Knight, who won the G3 Shinzan Kinen over the Chukyo mile in January. The Hidetaka Otonashi-trained colt returned three months later, ran fourth in the Arlington Cup and should be primed for action this Sunday.
Otonashi is gunning for his second win of the NHK Mile Cup following victory in 2014 by Mikki Isle. Taking the reins will be Yuichi Fukunaga.
All said, the NHK Mile Cup has long been known as a difficult race to pick and has had many upsets.