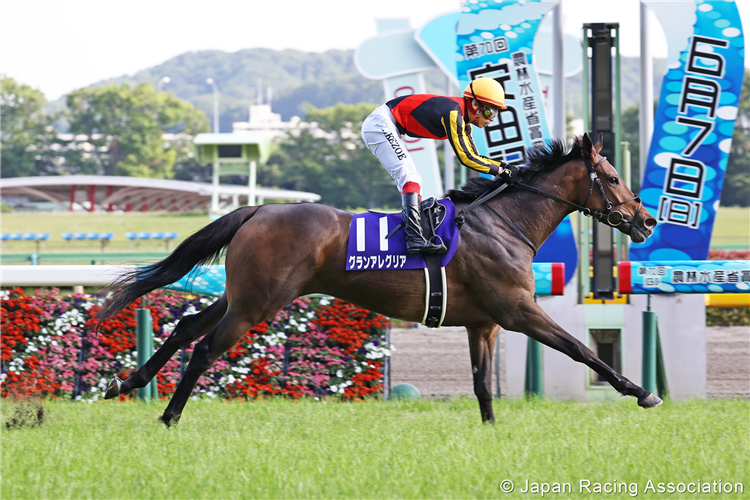 This coming Sunday, June 6, the Grade 1 Yasuda Kinen wraps up six straight Sundays of top-level racing before a two-week break until the Takarazuka Kinen, the Japan Racing Association's Grade 1 finale for the year's first half. The Yasuda Kinen is a 1,600-meter turf competition open to 3-year-olds and up staged at Tokyo Racecourse.
The Yasuda Kinen attracts the best milers, not only from Japan but also from overseas. The 71st running of the race, however, will be an all-Japan event with 15 nominees ranging in age from 3 to 7, among them six Grade 1 winners and two previous Yasuda Kinen champions. Two females will also be in the mix, one of them five-time G1 champion Gran Alegria and winner of the Victoria Mile on May 16.
Gran Alegria, who won the Yasuda Kinen last year, is on target to go to the gate as the race favorite and, with the stellar performances females have given in the race's last three runnings, her outlook is bright. Of the total eight fillies and mare participating in 2018, 2019 and 2020, only two have not made the top three spots. Last year, third-place finisher Indy Champ prevented the girls from making it a clean sweep, as Gran Alegria, Almond Eye and Normcore made it home in first, second and fourth.
The Yasuda Kinen carries a purse of nearly JPY282 million, with JPY130 million going to the winner. The race record of 1 minute 30.9 seconds was set by Indy Champ in 2019. 4-year-olds and up carry 58 kg, 3-year-olds carry 54 kg, and females are given a 2kg allowance. The Yasuda Kinen is the 11th race on the Sunday card at Tokyo. Post time is 3:40 p.m.
Here's a look at the expected popular picks:
Gran Alegria : A 5-year-old daughter of Deep Impact, Gran Alegria has shown brightly throughout her career. Nine of her 12 career starts have been Grade 1 events, five of them at Tokyo. She has won mile-long G1 races for four times - the 2019 Oka Sho (Japanese 1000 Guineas), the 2020 Yasuda Kinen and Mile Championship and this year's Victoria Mile, which she won by 4 lengths under 55 kg. This time she'll carry 56 kg, but she did it last year beating Almond Eye by 2 1/2 lengths. The weight shouldn't be a problem, but the tight rotation (her tightest ever) does give cause for concern. Last year she took on the Yasuda Kinen fresh, having had more than two months off since the Takamatsunomiya Kinen. Almond Eye, whom she beat, was coming off a win of the Victoria Mile, as Gran Alegria is this year. Gran Alegria's trainer, the Miho-based Kazuo Fujisawa, is looking to notch his fourth win of the Yasuda Kinen. Jockey Christophe Lemaire, who has won the race once before, in 2018 aboard Mozu Ascot, is pegged for the ride,
Salios : Also based at Miho is the 4-year-old colt Salios, being given only his second race of the year and after posting 5-5 in his last two starts, the Mile Championship last fall, and the Osaka Hai in early April. Trainer Noriyuki Hori debuted Salios over the mile and the son of Heart's Cry scored three wins straight, all over the distance and including the Grade 1 Asahi Hai Futurity States. Continuing on the Classic path, he finished second in the Satsuki Sho (Japanese 2000 Guineas) and Tokyo Yushun (Japanese Derby) to Contrail. Back at the mile in November, Salios met Gran Alegria for the first time, in the Mile Championship. He missed the break, raced from the rear, and finished fifth 0.4 seconds off winner Gran Alegria. In the Osaka Hai, jockey Kohei Matsuyama did a good job of keeping the colt close to the pace, but was beaten to fifth place by 6 lengths off the winner. This time, with a return to the Tokyo mile, over which Salios has won twice, and Matsuyama set to ride again, the winner's circle may be within grasp. Salios will, however, be racing under 58 kg, his heaviest to date by 1 kg, and 3 kg more than he has won under yet. Trainer Hori ties Kazuo Fujisawa with three wins of the Yasuda Kinen.
Schnell Meister : The only 3-year-old in the field, the Kingman-sired Schnell Meister will go up against older horses for the first time in his still-young career. Only his fifth start, the Yasuda Kinen is a big step up after the NHK Mile Cup, which he won by a nose under jockey Christophe Lemaire. Here, Schnell Meister will definitely have the weight advantage, a full 3 kg less than he ran under in the NHK Mile Cup and the lightest since his debut. Though Schnell Meister made second in the 2,000-meter Grade 2 Hochi Hai Yayoi Sho Deep Impact Kinen, his three wins have all been in the 1,500-1,600 range. Trainer Takahisa Tezuka, based at Miho, says his colt spent some time at the farm after his G1 win. "He's mentally mature and shows no signs of fatigue or wear and tear. This is his second time at Tokyo. I expect to see improvement. Even with his weight advantage, there's a very strong contender, so I'm hoping he'll rise to the challenge." The last time a 3-year-old won the Yasuda Kinen was with Real Impact in 2011.
Indy Champ : Indy Champ is a 6-year-old by Stay Gold, who excelled at distance, but Indy Champ's dam was a successful sprinter and their son has proven highly consistent over anything from 1,200-1,800 meters, with seven of his eight wins coming over the mile. He won the 2019 Yasuda Kinen and finished in third place 3 lengths behind Gran Alegria here last year. He's fresh, with only two other starts this year, his last a third in the Takamatsunomiya Kinen. Most importantly, Indy Champ is an extremely reliable horse that has missed the top three spots only five times in his 20 starts thus far. He has missed the board only once. "Gran Alegria is strong, but this horse is proven at the mile," says the Ritto-based trainer Hidetaka Otonashi. "He's in good shape and with one final workout this week, he'll be ready to go." Six of Otonashi's 13 Grade 1 wins have been over the mile.
Lauda Sion : A 4-year-old colt by Real Impact, Lauda Sion has been raced predominately over 1,200-1,400 meters and nine of his 12 starts have seen him make the top three spots. His four starts at the mile have brought him 8-1-2-15, including a win of last year's NHK Mile Cup and a second in the Grade 2 Fuji Stakes at Tokyo last October. He is 1-1-2-1 at Tokyo and just won the Grade 2 Spring Cup over 1,400 meters on May 15 under jockey Mirco Demuro. The 58 kg he'll be saddled with will be his heaviest weight ever. Demuro is expected up again and, just off his second win of the Yushun Himba (Japanese Oaks), he'll be gunning for his first Yasuda Kinen victory. "The jockey really knows him and did a great job. The turns aren't tight and that makes racing easier for him at Tokyo," trainer Takashi Saito commented.
Others to watch are:
Cadence Call ran second in the 2019 NHK Mile Cup, then slumped through the rest of the year, with his best finish a fifth place in eight starts. This year, he's back with a vengeance, scoring 1-2-1 in his three starts, all at the graded-stakes level, two at the mile.
Looking good in trackwork is Danon Premium, taking on his first race since returning from Hong Kong. He has posted an unusually poor 16-13 in his past two Yasuda starts, but in 2019 suffered serious interference, and last year he was just back from a brutal run down over a sloppy track. He has three wins over the mile, one in a Grade 3 at Tokyo.
Danon Kingly finished seventh here last year 0.8 seconds behind the winner, but the 5-year-old son of Deep Impact has won three of his six Tokyo starts, including the Grade 2 Mainichi Okan and the Grade 3 Kyodo News Hai (Tokinominoru Kinen), both over 1,800 meters.
Catedral, another son of Heart's Cry, is 2-2 this year, both over the mile, one of them at Tokyo. Chronically late at the break, he finished in third a nose behind Cadence Call and ahead of Gran Alegria in the 2019 NHK Mile Cup. He's not to be overlooked if he gets away smoothly.