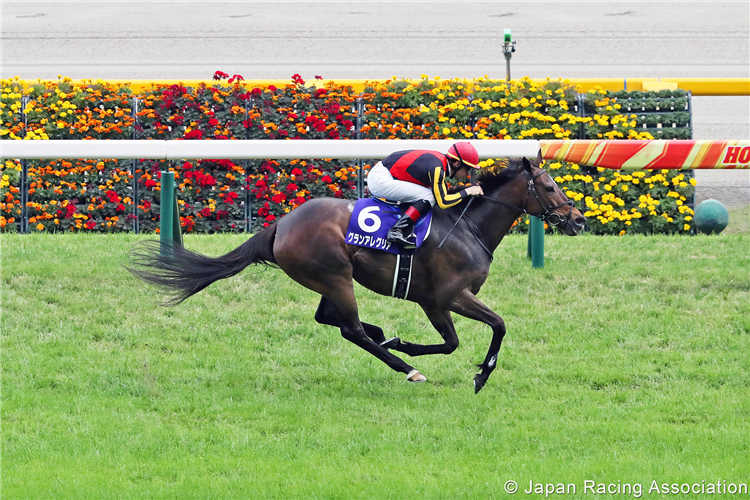 Odds on favorite Gran Alegria claimed this year's Victoria Mile for older fillies and mares to register her fifth G1 victory. The 2020 Best Sprinter or Miler became the first horse to win JRA's all three G1 mile titles for four-year-olds and up, which include her Yasuda Kinen and Mile Championship titles last year. Her other two G1 victories include the 2019 Oka Sho (Japanese 1000 Guineas, 1,600m) and last year's Sprinters Stakes (1,200m). Trainer Kazuo Fujisawa marked his 33rd JRA-G1 win following last year's Mile Championship victory with this mare and his second Victoria Mile title following his win in 2006 with Dance in the Mood. Jockey Christophe Lemaire registered his 38th JRA-G1 victory following his win in the NHK Mile Cup with Schnell Meister just last week. He has won the Victoria Mile twice in the past with Admire Lead in 2017 and Almond Eye last year.
Five-year-old Gran Alegria, breaking from stall six, settled in mid-division around 10th from the front-runner. Taking an outer route turning the corners, the Deep Impact mare made bid from around the 400-meter pole, promptly took the front 200 meters out with bewildering speed and further accelerate with a powerful drive, while marking the fastest last three furlongs, for a four-length victory.
"She was very strong as we had all expected. She's not a very good starter so we settled in mid-division but she raced in good rhythm. After I took her to the outside entering the lane, she showed a remarkable response and geared up on her own. She showed that she's at a different level than her competitors and will probably win more G1 titles going forward. Personally, I am delighted that I was able to score my 1,400th JRA victory today and to win another G1 race," commented Christophe Lemaire.
Tenth pick Rambling Alley hugged the rails in 11th eying Gran Alegria on the outside. The five-year-old dark bay swung to the outside entering the lane and chased the race favorite persistently until the wire, nailing Magic Castle in her last stride for a runner-up effort.
Fifth choice Magic Castle saved ground, around ninth, inside the race favorite, met traffic at the top of the stretch but showed sustaining speed and passed tenacious Resistencia 100 meters out. Although overtaken by fast-closing Rambling Alley just before the wire, she held off the rest of the field to complete a 1-2-3 finish by filly and mares sired by Deep Impact.
Other Horses:
4th: (14) Dirndl - ran 3-wide around 5th, rallied with rivals for runner-up, lacked speed just before
wire
5th: (2) Shigeru Pink Dia - sat around 5th, showed tenacious effort, weakened in final strides
6th: (18) Resistencia - chased leaders around 3rd, took command 300m out, weakened in last
100m
7th: (11) Danon Fantasy - positioned around 14th, found little room, accelerated in last 300m
8th: (5) Des Ailes - ran 3-4 wide behind winner around 11th, showed brief effort, even paced in
last 100m
9th: (7) Maltese Diosa - traveled around 7th, met traffic after entering to lane, lacked needed
kick
10th: (3) Christie - set pace, sustained lead until 200m pole, outrun in last 100m
11th: (12) Sound Chiara - sat around 7th in front of winner, struggled to find clear path, failed to
respond
12th: (10) Red Belle Deesse - trailed in rear, switched to outside at early stretch, improved
position
13th: (16) Ria Amelia - was off a slow, ran 2nd from rear, passed tired rivals at stretch
14th: (9) Terzetto - took economic trip around 14th, showed effort until 200m pole
15th: (17) Smile Kana - pressed pace in 2nd from wide draw, used up at 200m pole
16th: (15) Affranchir - raced 3-wide around 14th, unable to reach contention
17th: (13) Pourville - traveled 3-wide around 11th behind winner, showed little at stretch
18th: (4) Iberis - tracked leaders in 3rd or 4th along rails, faded after final corner