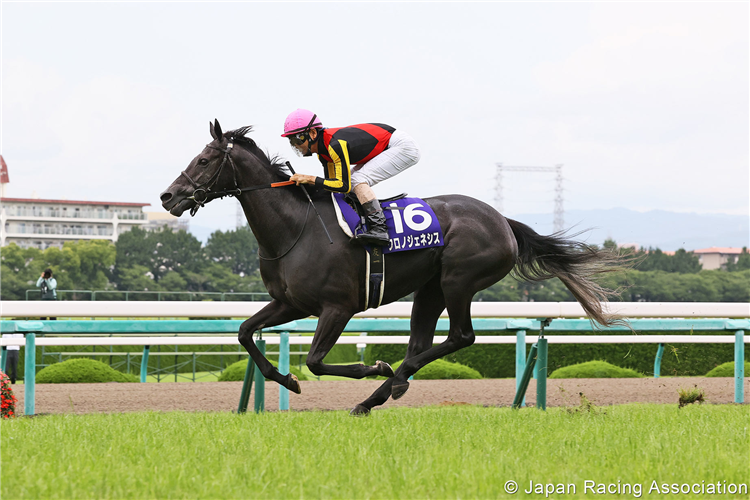 This coming Sunday (June 27) rounds out the Grade 1 action for the first half of the year in Japan, and after some great racing at Tokyo in May and early June, Hanshin Racecourse will be the venue for this week's Grade 1 Takarazuka Kinen. One of two races in the year where horses are elected by votes from the fans, this year's top choice for the early summer race goes to Chrono Genesis, who attracted just over 137,000 votes.
The first Takarazuka Kinen was run in 1960, when the distance was 1,800 meters, but in 1966 it was first run over 2,200 meters, which remains the distance today. It's a race for 3-year-olds and up, but the former have only been able to enter the race since 2001, and no 3-year-old has ever won the race. It became an international contest in 1997, and the last runner from overseas was Werther from Hong Kong in 2018, who put in a bold showing to take second place. There will be no runners from abroad this year, but the winner gets the chance to travel to the Breeders' Cup Longines Turf at Del Mar in November, as well as an automatic entry to the Cox Plate at Moonee Valley, a race won by Lys Gracieux in 2019.
There have been 15 nominations for the big race this week, including five fillies and mares who get to claim the 2kg allowance. A number of the runners are coming off runs in the Grade 1 Tenno Sho (Spring) over 3,200 meters at Hanshin in May, and also the Grade 1 Osaka Hai at Hanshin over 2,000 meters in April. Just two first favorites have won the Grade 1 Takarazuka Kinen in the past ten years (the latest was Gold Ship in 2014), and 5-year-olds have had the best record during the same time period, winning six times. Record time for the race still belongs to Earnestly, who won in a time of 2 minutes 10.1 seconds back in 2011. This year's winner's check is JPY150 million (about USD1.5 million).
Final declarations and the barrier draw will be available later in the week, and the 62nd running of the Grade 1 Takarazuka Kinen will be Race 11 on the Sunday card at Hanshin, with a post time here in Japan of 15:40.
Here's a look at some of the runners expected to play a part in the race:
Chrono Genesis : Last year's winner by six lengths is back for another try, and is bidding to become just the second horse in the history of the race to win in consecutive years (Gold Ship was the other one to do so, winning in 2013 and 2014). She is also looking to become just the sixth filly or mare to win since the race was established in 1960. Only unplaced once in 14 starts, which have included 7 wins, there's a lot going for her again here, and her trainer Takashi Saito is pleased with her preparations so far. "She got bumped quite badly last time in the Dubai Sheema Classic and it was an unlucky race for her, but she still ran well. Having returned and completed quarantine at Miki Horseland Park, she then went to Northern Farm Shigaraki to settle back in on her return. She came back to the stable on June 2, and in her first piece of work after that, she seemed a little heavy, but soon got switched on in her usual way of doing things," said the trainer. In the absence of the injured Yuichi Kitamura, leading jockey Christophe Lemaire will ride Chrono Genesis for the first time in the race, and after his first contact with the horse in training on the woodchip course at Ritto recently, he commented: "She seems in great shape, and it's important that she runs in a relaxed way, which she seems to do off a normal pace."
Lei Papale : The unbeaten 4-year-old filly by Deep Impact remains very much on an upward curve, as could be seen from her latest Grade 1 win in the Osaka Hai over 2,000 meters at Hanshin in April, to give her three victories at the Hanshin track from her total of six altogether. She would certainly be one of the main threats to Chrono Genesis. Trainer Tomokazu Takano said, "There was some concern with the ground last time, but she went straight to the front and ran very cleverly to go on and win well. I put a lot of that down to the jockey's efforts. After that, the horse had a break at Northern Farm Shigaraki, and she has recovered from her last race quite quickly and looks to be in good condition." Her regular jockey Yuga Kawada will once again be in the saddle.
Aristoteles : The Northern Farm bred 4-year-old colt is yet to win a Grade 1 race, but is knocking on the door, and ran a respectable race last time to finish fourth to World Premiere in the Grade 1 Tenno Sho (Spring) over 3,200 meters at Hanshin in early May. It also has to be remembered how close he came to beating Contrail in last year's Grade 1 Kikuka Sho (Japanese St. Leger). Assistant trainer Kenichi Shono said: "He found a good position in the race last time and ran well enough with a good rhythm. He's had a rest at the farm, but since his return to the stable on May 25, he's looking refreshed, and we'll get him tuned up as the race approaches." Four-time winner of the Takarazuka Kinen, Yutaka Take has been booked for the ride on the son of Epiphaneia.
Curren Bouquetd'Or : Coming off a third-place finish in the Tenno Sho (Spring), the 5-year-old mare was once again out of luck as she put in another big run trying to gain her first Grade 1 success. Among the seven second place finishes in her career, she can count the 2019 Grade 1 Yushun Himba (Japanese Oaks) and 2019 Grade 1 Japan Cup among them. Trainer Sakae Kunieda still has plenty of faith in her and hopes that this Sunday could be her day. "Last time she pressed on at the end to try and win the race, but just got caught and had to settle for third. It was her first time over 3,200 meters, and she did pull a bit. The shorter distance will suit, and she showed she can handle the Hanshin track in that last run," said the trainer.
Mozu Bello : For a horse that sold at a very reasonable price at the 2017 Hokkaido Select Sale, the 5-year-old by Deep Brillante has repaid his owners, Capital System Co. Ltd., handsomely, with prize money close to a twentyfold return on his purchase price. He's a tough character, and although his outright win percentage might not be the best, he's capable of producing runs similar to his last race, when he finished second to Lei Papale in the Grade 1 Osaka Hai back in April. Trainer Naoyuki Morita commented: "He's had his break at the farm, and there's no change with him after coming back to the stable. He's worked well uphill at his own pace since returning. We'll give him a stronger workout closer to the race."
Kiseki : Another horse that luck doesn't grace often enough, the now 7-year-old Kiseki is looking for his first win since his victory in the 2017 Grade 1 Kikuka Sho (Japanese St. Leger), although he has finished second five times since then, including the 2019 and 2020 Takarazuka Kinen races. He last ran a gallant fourth in the Grade 1 Queen Elizabeth II Cup in Hong Kong in April. His new trainer, Yasuyuki Tsujino, is getting the horse ready for his fourth try at this week's big race. "In Hong Kong last time, breaking a little slower than some of the others, he settled on the inside and was ridden patiently. He rallied well at the end to beat Exultant, which was impressive. On his return to Japan, he's recovered quickly and is showing his usual tough spirit," said the trainer.