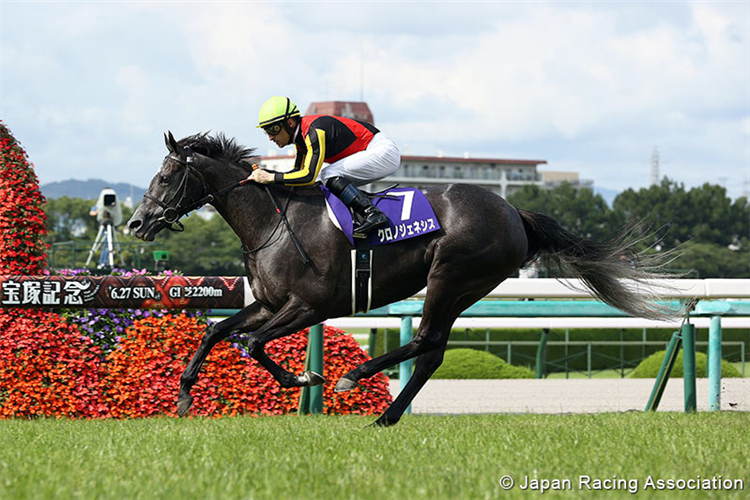 Odds-on-favorite Chrono Genesis claimed back-to-back Takarazuka Kinen title to become the first horse to do so since Gold Ship in 2013 and 2014. Coming off a close runner-up effort in the Dubai Sheema Classic in March, this win marked her fourth G1 and sixth graded victory. Along with her Takarazuka Kinen and Arima Kinen titles last year, she became the fifth horse and first mare to win three Grand Prix races. Her career earnings will surpass a billion yen to become the fifth mare to do so after Vodka, Buena Vista, Gentildonna and Almond Eye. Trainer Takashi Saito marked his fifth JRA-G1 title after last year's Arima Kinen with this mare, and jockey Christophe Lemaire, who rode her for the first time in this race, celebrated his 39th G1 win following his win in this year's Victoria Mile with Gran Alegria.
Chrono Genesis broke well from stall seven and settled around fifth while eyeing second favorite Lei Papale in front. Though surrounded by horses entering the lane, the Bago mare waited until finding an open space 300 meters out and exerted a powerful burst of speed with the fastest last three-furlong drive, overtaking the front two runners before reaching the wire with a comfortable 2-1/2-length margin.
"The mare was in very good condition and looked great at the paddock. We were able to race in good position behind Lei Papale. She stretched really well and was able to run the last 200 meters easily. (Regarding the possibility of her second overseas challenge,) she can race really well in soft track, so I think she will perform well especially in France," commented Christophe Lemaire while showing concern for her regular rider, Yuichi Kitamura, who was unable to ride her due to an injury from falling off a horse.
Seventh pick Unicorn Lion and Lei Papale broke smoothly from the first two stalls and immediately surged out to take the front. Continuing to lead the field with Unicorn Lion setting the pace and Lei Papale pressing the pace in second, the two dueled strongly entering the lane and, though overtaken by Chrono Genesis 100 meters out, held off the rest of the field by two lengths to finish second and third, respectively.
Other Horses:
4th: (10) Curren Bouquetd'or - stalked winner 3-wide around 5th, lacked needed kick at stretch
5th: (13) Kiseki - tracked leaders 3-wide in 3rd, in contention until 300m out, weakened
thereafter
6th: (12) Miss Mamma Mia - hugged rails 2nd from rear, circled wide, showed belated charge
7th: (8) Cadenas - trailed in rear, made headway after 3rd corner, angled out and passed tired
rivals
8th: (11) Mozu Bello - sat 3-wide around 8th, advanced to good striking position, failed to
sustain bid
9th: (9) Aristoteles - settled around 6-7th, showed brief effort until 200m pole
10th: (4) Wipe Tears - saved ground around 5th, gradually fell back in last 300m
11th: (3) Melody Lane - raced in 10th along rails, showed little at stretch
12th: (5) Admire Alba - traveled in 11th, never a factor throughout trip
13th: (6) Shironii - took economic trip around 8th, faded after turning final corner