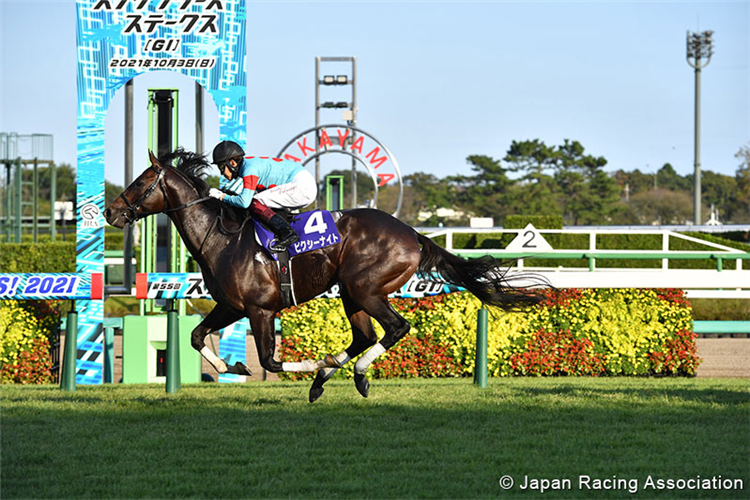 Third favorite Pixie Knight displayed a smooth and impressive run against his older foes to become the first three-year-old since Aston Machan in 2007 (and sixth since the Sprinters Stakes was given G1 status in 1990) to claim the title and his first G1 victory. The colt has also given his sire Maurice his first G1 title. Pixie Knight immediately broke his maiden in his debut start and landed his first graded win in the Shinzan Kinen (G3, 1,600m) this January. After a fourth and 12th that followed in the Arlington Cup (G3, 1,600m) and NHK Mile Cup (G1, 1,600m), respectively, the son of Maurice was pointed towards shorter distances instead where he immediately demonstrated his talent with runner-up efforts both in the CBC Sho (G3, 1,200m) in July and the Centaur Stakes (G2, 1,200m) three weeks earlier. Trainer Hidetaka Otonashi grabbed his 14th JRA-G1 win, his last in last year's Takamatsunomiya Kinen with Mozu Superflare. Jockey Yuichi Fukunaga, who celebrated his Tokyo Yushun (Japanese Derby) victory with Shahryar in May, has now landed 31 G1 wins overall.
Following a clean break, Pixie Knight ran on the rails in third a length behind Bien Fait who ran on the outside and a couple of lengths from pacesetter Mozu Superflare. As the field straightened away, the Maurice colt slipped through a narrow gap that emerged between the two in front, found his best stride and easily powered clear 150 meters out to cross the wire a two-length winner.
"I had several ideas and tactics of where to position him, but it turned out that we got the best position than anyone could have hoped for. From the beginning of his career, I've always believed in the strength and potential this colt obtains and have voiced it too, but to be honest, I never thought he would give such a strong performance and land a G1 win this fast. He's still not physically balanced yet but he will improve, mature and definitely become a target to beat in numerous future sprint races in or outside the country," commented Yuichi Fukunaga after the race.
Second pick Resistencia settled in fourth a 1/2-length behind and outside Pixie Knight, chased and successfully passed the two frontrunners 100 meters out but failed to threaten the eventual winner while holding off Shivaji in a fierce duel for the runner-up seat.
Sent off tenth favored, Shivaji broke from the innermost stall, followed Pixie Knight on the rails and after struggling to find room in early stretch, could not keep up with the burst of speed of the eventual winner but threatened Resistencia who closed in from the outside to finish a head behind the filly in third.
Race favorite Danon Smash sat three-wide in fifth to sixth right on the heels of rival Resistensia and remained a factor into the stretch but never unleashed his patented good turn of foot to finish sixth.
Other Horses:
4th: (6) Meikei Yell—advanced to 7th on outer route, accelerated well but failed to threaten top
3 finishers
5th: (16) Mozu Superflare—set pace from widest stall, outrun after 150m out
7th: (8) Bien Fait—tracked leader in 2nd, remained in contention until 100m out, weakened
8th: (9) Kurino Gaudi—traveled 3-wide around 7th, lacked needed kick
9th: (2) Mikki Brillante—saved ground around 7th, even paced
10th: (3) Loving Answer—ran around 12th, passed tired rivals at stretch
11th: (11) Gendarme—positioned around 7th, switched to outside rounding corners, never fired
12th: (7) Taisei Vision—trailed in rear, showed belated charge, fastest over last 3 furlongs
13th: (10) Eighteen Girl—sat 2nd from rear, circled wide, unable to reach contention
14th: (13) A Will a Way—hugged rails in 14th, angled out, never a threat
15th: (5) First Force—raced around 7th, showed little at stretch
16th: (15) Lord Aqua—traveled 3-wide around 13th, no factor