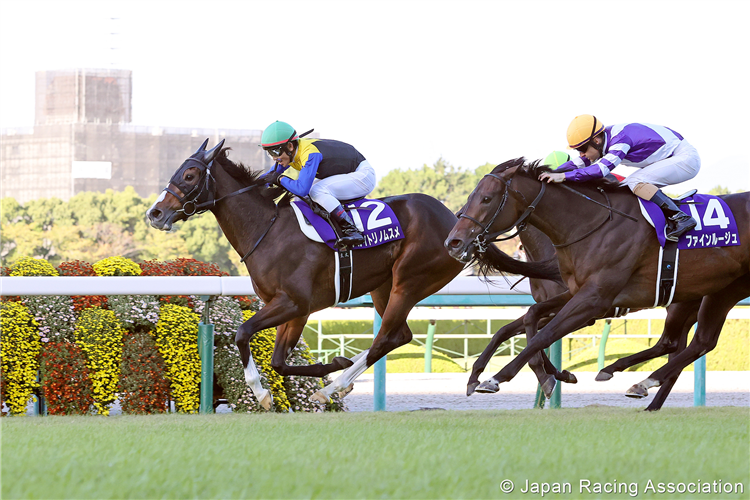 Fourth favorite Akaitorino Musume captured the last jewel of the fillies' Triple Crown, the Shuka Sho, to capture her first G1 title. Out of Apapane, 2010 fillies' Triple Crown winner, the Deep Impact bay finished seventh in her debut race in August last year then marked three consecutive wins by claiming the Queen Cup (G3, 1,600m) in February this year. Finishing fourth in the Oka Sho (Japanese 1000 Guineas, G1, 1,600m) in April, Akaitorino Musume came off a well-fought second, a length behind Uberleben, in the the Yushun Himba (Japanese Oaks, G1, 2,400m) in May. For trainer Sakae Kunieda, this win marked his 20th JRA-G1 title following his win in last year's Japan Cup with Almond Eye, and his third Shurka Sho victory following his wins with Apapane in 2010 and Almond Eye in 2018. Jockey Keita Tosaki captured his ninth JRA-G1 victory following his Champions Cup title last year with Chuwa Wizard.
Akaitorino Musume broke smoothly and traveled wide in good striking position, around sixth from the front, while eyeing Andvaranaut on the inside. The Deep Impact filly made headway turning the last corners wide, produced an impressive turn of speed entering the lane, overtook race favorite Sodashi at the 200-meter pole and frontrunner A Shin Hiten 100 meters out, and found another gear to pull away from Andvaranaut and hold of the strong challenge by Fine Rouge before the wire.
"There was a strong idle horse in today's race but I'm really glad we were able to claim the last leg of the Triple Crown. I was able to settle the filly in good position and race her in good rhythm. She responded willingly and stretched really well in the lane. I think she is a strong horse and felt that she has stepped up to the next level. I look forward to her performances going forward," commented Keita Tosaki.
Second choice Fine Rouge, breaking well from stall 14, settled around 11th and waited patiently until entering the lane when the Kizuna filly unleashed an explosive late charge and closed in on Akaitorino Musume with the fastest last three-furlong drive but finished half a length short in second.
Hugging the rails in fifth, third pick Andvaranaut turned the last two corners two wide, threaded through horses in the stretch while overtaking Sodashi and A Shin Hiten and dueled briefly with Akaitorino Musume but weakened in the last 100 meters, succumbing to Fine Rouge before the wire to finish third.
Quick out of the gate, race favorite Sodashi settled behind frontrunner A Shin Hiten to chase the pace in second. Though showing signs of making bid after entering the lane in second, the Kurofune filly failed to respond after entering the lane and dropped to 10th.
Other Horses:
4th: (5) A Shin Hiten—set pace, sustained lead until 100m out, showed tenacity
5th: (6) Slyly—hugged rails around 9th, quickened between horses in last 200m
6th: (2) Stellaria—raced around 11th, switched to outside, showed belated charge
7th: (10) Art de Vivre—tracked leaders in 3rd, remained in contention until 200m pole, weakened
7th: (15) Another Lyric—traveled 3-wide around 9th, even paced at stretch
9th: (16) Miss Figaro—ran in 13th, angled out for stretch run, lacked needed kick
11th: (1) Through Seven Seas—saved ground around 4th, gradually outrun in stretch
12th: (7) Sulfur Cosmos—settled around 7th, showed brief effort until 200m pole
13th: (11) Uberleben—broke poorly, raced near rear, unable to reach contention
14th: (8) Enthusiasm—traveled around 13th, never threatened
15th: (3) Cool Cat—sat along rails behind eventual winner, failed to respond
16th: (13) Ho O Ixelles—was off slow, trailed in rear, no factor