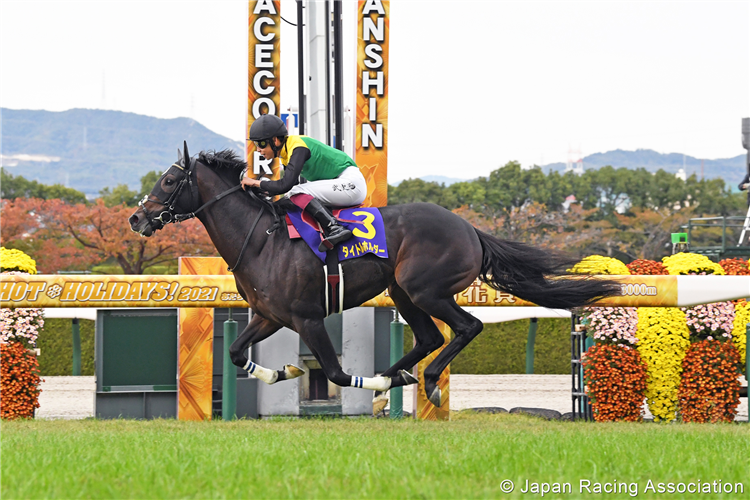 Fourth favorite Titleholder turned in a wire-to-wire victory—the first since Seiun Sky in 1998—in the 3,000-meter Kikuka Sho (Japanese St. Leger), becoming the first G1 winner for sire Duramente (by King Kamehameha), the 2015 winner of the Satsuki Sho (Japanese 2000 Guineas) and the Tokyo Yushun (Japanese Derby). Titleholder won his two-year-old debut over 1,800 meters in October last year and was second and fourth in his following Tokyo Sports Hai Nisai Stakes (G3, 1,800m) and Hopeful Stakes (G1, 2,000m), respectively. He kicked off his three-year-old campaign with his first grade-race victory in the Yayoi Sho Deep Impact Kinen (G2, 2,000m) and was runner-up in the Satsuki Sho (G1, 2,000m) but finished sixth in the Tokyo Yushun (G1, 2,400m) then was heavily beaten in his fall debut, the St Lite Kinen (G2, 2,200m), unable to escape traffic at the straight and finishing 13th. Trainer Toru Kurita picked up his fourth grade-race and first G1 title since opening his yard in 2011. Jockey Takeshi Yokoyama, won his second career G1 title after landing the Satsuki Sho with Efforia.
Titleholder made full use of his inside draw and rushed out to take the lead under Takeshi Yokoyama and drew away by five lengths from the rest of field, passing the first 1,000-meter mark in 60 seconds. As the field stretched out into a single file along the backstretch then closed in approaching the final turn, the Duramente colt continued to keep his lead into the straight and found another gear which enabled him to pull away again from his foes and cross the finish line uncontested to a five-length victory.
"We had a terrible race last time out so I was determined to win it this time and I'm glad it panned out. I personally thought that the distance was maybe too much to ask from this colt, but he showed otherwise and performed well above my expectations so I'm ashamed for doubting him in anyway. As far as the race, I concentrated in keeping him comfortable in a long race like this—he's an honest horse, in a way too honest and always gives his full effort—so knowing that once in front he would settle, I let him go as he liked and didn't try to hold him back too much. He has a lot to look forward to in the future but it would require a little skill as a rider to conserve his energy depending on the situations," commented Takeshi Yokoyama.
Orthoclase was reserved in mid division early and made headway following Stella Veloce into the stretch as the two joined Divine Love in a rally for second position and overtook that foe in the last strides to finish second best.
Divine Love chased the leaders in sixth along the rails, made her bid along the center lane after entering the straight in fifth, advanced to second 200 meters out while unable to reach the leader and was soon joined by Orthoclase and Stella Veloce on her outside and out-finished by the former while hanging on to third place by a nose.
Stella Veloce who appeared a little keen during the post parade was allowed to settle from a smooth break and was positioned between horses, fifth or sixth from the rear, and made headway along the outside 800 meters out. While having much ground to cover throughout the 3,000-meter trip from an outside draw, the Bago colt showed impressive effort although no match for the winner, finishing a head and nose behind the runner-up in fourth.
Race favorite Red Genesis was a fraction slow to pick up his speed coming out of the gate, racing third from last outside a rival and failed to reach contention.
Other Horses:
5th: (7) Deep Monster—saved ground around 8th, circled wide, showed belated charge
6th: (9) Veloce Oro—settled around 12th, quickened between horses, belatedly
7th: (13) Arrivo—traveled around 8th, responded well until 100m out, outrun in final strides
8th: (8) Air Sage—chased leaders in 3rd early, ran gamely up to 200m pole, weakened thereafter
9th: (2) Asamano Itazura—ran near rear, accelerated between horses, tied fastest over last 3 furlongs
10th: (17) Victipharus—raced 3-wide around 8th, checked 300m out, lacked needed kick
11th: (6) Sefer Rasiel—trailed in rear early, made headway to 2nd, weakened in last 200m
12th: (4) Road to Fame—took economic trip around 12th, unable to reach contention
14th: (10) Monte Dio—tracked leader in 2nd then 3rd, outrun in last 300m
15th: (16) Gratias—advanced to 4th from wide stall, ran out of steam 300m out
16th: (15) Weiss Meteor—traveled 3-wide around 14th, even paced at stretch
17th: (12) North the World—hugged rails around 15th, no factor
18th: (1) World Revival—disputed for lead, eased back to 5-6th, faded after 3rd corner