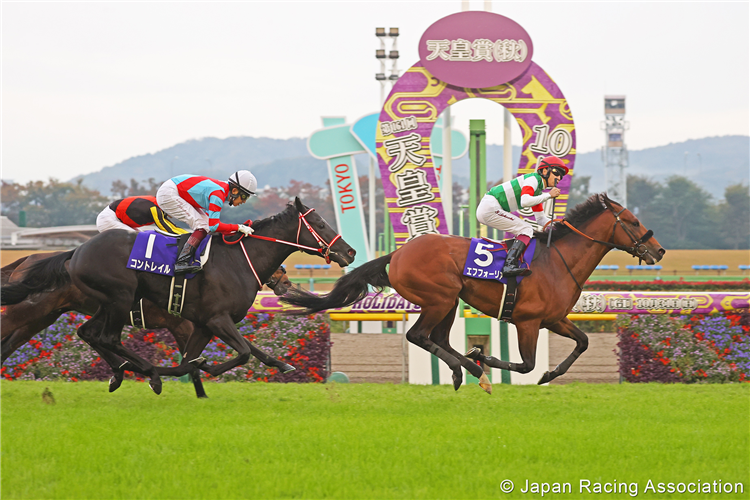 Third favorite Efforia captured this year's Tenno Sho (Autumn), winning a close race between the three strong favorites, to become the first three-year-old to win the race since Symboli Kris S in 2002. The Epiphaneia colt won this year's Kyodo News Hai (G3, 1,800m) in February and then the Satsuki Sho (Japanese 2000 Guineas, G1, 2,000m) in April to mark his fourth consecutive win since his debut last summer. He experienced his first loss in his previous start, the Tokyo Yushun (Japanese Derby, G1, 2,400m) in May where he finished just a nose second to Shahryar. Trainer Yuichi Shikato won his third JRA-G1 title after the Satsuki Sho this year. Jockey Takeshi Yokoyama captured his third JRA-G1 title following last week's Kikuka Sho (Japanese St. Leger) with Titleholder. With this win, Takeshi Yokoyama accomplished a grandfather-father-son Tenno Sho (Autumn) victory—his grandfather and former jockey Tomio won the title in 1969 and father and active jockey Norihiro in 2009.
Efforia settled sixth from the front, turned the last two corners wide, took the outer route entering the lane and responded willingly to the jockey's urging. The three-year-old bay displayed an impressive burst of speed, overtaking Gran Alegria passing the 200-meter pole and holding off the strong late charge by the race favorite to capture the Tenno Sho title in his first start against older horses.
"I cried with joy for the first time in my life, as I was very disappointed with the result of the Derby. He's a good starter and a clever racer so I decided to believe in his ability and ride him without thinking too much. We were able to race in an ideal position and I didn't insist on the inner course as I knew that he can handle it even if we had to turn a little wider. While the COVID-19 crisis is still lingering, the number of spectators is gradually increasing and I am grateful that we were able to win the race in front of many fans," commented Takeshi Yokoyama.
Race favorite Contrail hugged the rails in ninth after breaking smoothly from stall one, rounded the corners two wide and stirred to the outside at the top of the stretch to avoid traffic. The Deep Impact colt unleashed a powerful late charge that timed the fastest over the last three furlongs but, while dislodging the second favorite before the wire, was unable to catch up with the winner to finish a length behind in second.
Second pick Gran Alegria travelled around third in good striking position, advanced to second through the 3rd/4th corners and briefly took command 300 meters out but was unable to find another gear to hold off the strong challenges by the winner and the runner-up to finish a length and a neck behind in third.
Other Horses:
4th: (8) Sanrei Pocket—made headway to 6th along rails, responded well but no match for top finishers
5th: (15) Hishi Iguazu—sat outside winner around 7th, showed effort and improved position
6th: (4) Potager—tracked leaders around 3rd, remained in contention up to 200m pole, weakened
7th: (13) Persian Knight—settled in 15th, showed belated charge, 2nd fastest over last 3 furlongs
8th: (12) Last Draft—ran near favorite around 10th, even paced, never threatened
9th: (16) You Can Smile—positioned in 13th, angled out, lacked needed kick
10th: (11) Muito Obrigado—raced around 11th, circled wide, passed tired rivals
11th: (7) World Premiere—saved ground in 14th, checked 300m out, showed little
12th: (14) Curren Bouquetd'or—advanced to 3rd from wide draw, dropped back in last 200m
13th: (3) Mozu Bello—traveled around 11th, unable to reach contention
14th: (10) Kaiser Minoru—set pace, gradually fell back after 400m pole
15th: (6) Tosen Surya—chased leaders around 3rd, ran gamely up to 200m pole, faded
16th: (2) Cadenas—trailed in rear, no factor