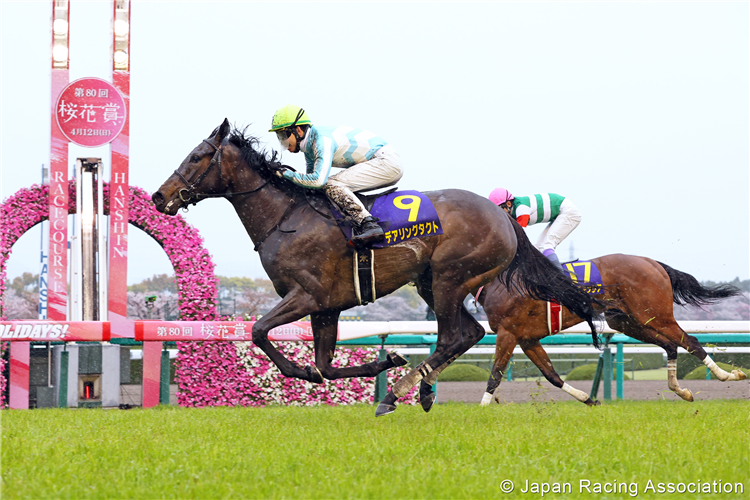 This week, following a win of the Osaka Hai by a female for the second year in a row, the girls are once again in the spotlight. This time, however, they make up the entire field.
The top-level action remains at Hanshin for the 81st running of the fillies' 3-year-old classic Oka Sho (Japanese 1000 Guineas) on Sunday, April 11. The Grade 1 event is the first race in Japan's filly triple crown and, at 1,600 meters, is the shortest of the three races (followed by the 2,400-meter Yushun Himba (Japanese Oaks) next month and the 2,000-meter Shuka Sho in October).
24 of Japan's top fillies have been nominated to the Oka Sho gate and 18 will make the cut. The winner's prize is JPY105 million.
The final field should boast three of the top four finishers in the Grade 1 Hanshin Juvenile Fillies last December and no matter what the racing action, the Oka Sho will look like it's straight from a fairytale, thanks to an appearance by the unbeaten stunning white filly Sodashi. She'll likely be the race favorite and will be meeting Juvenile Fillies runnerup Satono Reinas and fourth-place finisher Meikei Yell once again, as they try to turn the tables on her.
The Oka Sho is not one to favor the favorite. The race No. 1 choice has only won twice in the last 10 runnings and has only made the Top 3 five times. That said, double-digit picks have never won the race in the last decade and have only made the Top 3 twice in the same period.
All runners carry 55 kg. The Oka Sho (Japanese 1000 Guineas) is the 11th race on Hanshin's Sunday card of 12. Post time is 3:40 p.m. Gran Alegria set the current race record of 1:32.7 in 2019.
Following is a look at the expected top picks.
Sodashi - Sodashi is not only the field standout in looks, her record is a stellar 4 for 4, with two of those starts over 1,600 meters. She has a Grade 1 in her cap along with two Grade 3 victories, was awarded the JRA Award for Best Two-Year-Old Filly of 2020, is the first white horse to win a JRA top-level competition, and will be the first white horse to run in a Japan classic race. In addition, the daughter of Kurofune could become only the eighth filly in the history of the Oka Sho to bag the race unbeaten. Sodashi hasn't raced in four months, not since the Hanshin Juvenile Fillies, and a winner of that race hasn't won the Oka Sho since Apapane in 2010. After returning to Ritto, Sodashi has trained primarily up the hill course, and on March 31 clocking 52.4 seconds over the four furlongs, with a final furlong in 11.8 seconds. "She can be overly sensitive, so we brought her back to the training center early and gave her gate practice and a hard workout last week," said trainer Naosuke Sugai. "This week, I just plan to breeze her." Expected to be in the saddle on Sunday is jockey Hayato Yoshida, currently No. 5 in the jockey standings and gunning for his first win of the Oka Sho.

Satono Reinas - Following Sodashi over the line in second in the Hanshin Juvenile Fillies was Satono Reinas. She lost by a mere nose and that despite being slow out of the gate. But her speed in the final stage topped that of Sodashi's and she was able to make up the lost ground. Though she debuted a month earlier than Sodashi, the Deep Impact-sired Satono Reinas has had only three starts, all over the mile, and from them a record of 1-1-2. Based at the Miho stable of trainer Sakae Kunieda, Satono Reinas worked on March 31 over the woodchip flat course under current leading jockey Christophe Lemaire. She looked powerful, clocking 64.4 seconds over five furlongs with Lemaire urging her on only a bit just before the finish. Satono Reinas is also unraced since the Hanshin Juvenile Fillies, as Kunieda says he wanted to give her a rest. "She'd earned enough so I decided to give her some time off with an eye to this race," Kunieda said. "She hasn't changed that much physically from her last race, but she's much more relaxed now and has matured mentally." Nonetheless, the long trip from Miho to Hanshin was never a worry. Last time, Satono Reinas recorded no significant change in weight and remained calm throughout.
Meikei Yell - Meikei Yell suffered her first and only loss of her five-race career in her fourth start and first mile, the Hanshin Juvenile Fillies. Drawn wide and missing the break, she was forced to race from much farther back than her usual fourth position. Able to make up ground, however, she finished only 0.2 seconds behind Sodashi in fourth place. Sired by Mikki Isle, who usually led the field in his races and captured two Grade 1s wire to wire, Meikei Yell took on the Grade 2 Tulip Sho at Hanshin on March 6 and finished in a dead heat with Elizabeth Tower. The biggest concern with Meikei Yell is her reluctance to settle. In the Tulip Sho, she traveled in fourth position but jumped into the lead early from the final turn. "She did a good job letting off some steam with that last start and that made her easier to prepare this time," says trainer Hidenori Take. "I have no concerns about her physical condition, but key will be getting her to run more balanced." With regular rider Yutaka Take sidelined with injuries, pegged for the ride is jockey Norihiro Yokoyama, who has 27 G1 wins to his name but has yet to notch the Oka Sho. "If Norihiro Yokoyama is able to bring out her best, we'll just have to see how it goes," says trainer Take.
Akaitorino Musume - Daughter to 2005 Triple Crown winner Deep Impact and 2010 filly triple crown champion Apapane, Akaitorino Musume has some big shoes to fill. Like Satono Reinas, she's from the stable of Sakae Kunieda, and though chronically slow from the gate, has nevertheless notched three wins from four starts, with only one finish off the board. All of her outings have been over the mile and last out mid-February she topped Art de Vivre by a neck in winning the Grade 3 Queen Cup at Tokyo. Slow from the gate, she was still able to travel farther forward than usual in midfield and took the lead about halfway down the stretch. With three starts at Tokyo and one at Niigata, Akaitorino Musume will be racing to the right for the first time. It will also be her first time to haul from her Miho base to western Japan. "Even though she traveled farther forward than before in her last race and moved earlier, I watched it without worry," says Kunieda. "After that I kept her at the training center, so there hasn't been any gain in weight. I think she's matured both physically and mentally and I'm looking forward to seeing how she'll do to the right and with the long trip to the track." Jockey Takeshi Yokoyama is expected to have the ride Sunday.
Others to watch are Fine Rouge and Elizabeth Tower. Fine Rouge has been given one furlong longer in each of her three starts and jumped from her maiden win to victory in the Grade 3 Fairy Stakes at Nakayama in mid-January. Since, she has remained at Miho. Her versatility in racing styles and keen racing sense should stand her well.
Elizabeth Tower has had three starts, all over the mile and topped the Grade 2 Tulip Sho at Hanshin last out on March 6. She will most likely be piloted by Osaka Hai winning jockey Yuga Kawada. In only the second start of her career, Art de Vivre finished second to Akaitorino Musume in the Grade 3 Queen Cup. Based at Ritto, Art de Vivre won her debut racing to the right over the Kyoto mile.
The Maurice-sired Shigeru Pink Ruby shares her dam Moonlight Bay with 2019 Oka Sho runnerup Shigeru Pink Dia and captured the Grade 2 Fillies Revue at Hanshin on March 14. It was her second win from three starts, both wins coming over seven furlongs. "This time will be one furlong longer, but I'm hoping her excellent maneuverability will stand her well," says Ritto trainer Kunihiko Watanabe.