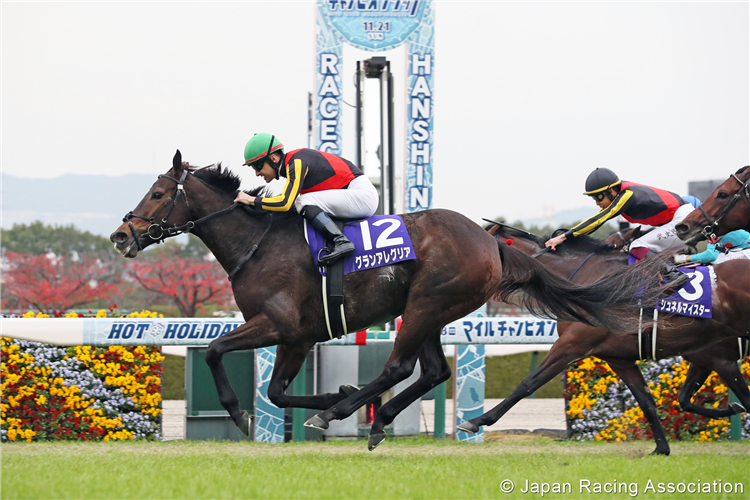 Race favorite Gran Alegria successfully defended her Mile Championship title to become the first back-to-back winner since Daiwa Major (2006-07) and sixth overall. The classy daughter of Deep Impact ended her stellar racing career which saw her win six G1 titles—she won the Oka Sho (Japanese 1000 Guineas) as a three-year-old; the Yasuda Kinen, the Sprinters Stakes and the Mile Championship when four; the Victoria Mile and the Mile Championship this year as a five-year-old—while also becoming the sixth female runner to exceed a career earning of ¥1.0 billion. Trainer Kazuo Fujisawa scored his 34th JRA-G1 victory—his first since the Victoria Mile with Gran Alegria—while the Mile Championship title was the sixth after with Shinko Lovely (1993), Taiki Shuttle (1997, 98), Zenno El Cid (2001) and Gran Alegria (2020), rewriting his own record for most Mile Championship titles won. Jockey Christophe Lemaire who also enjoyed consecutive Mile Championship victories along with Gran Alegria was last seen winning a G1 title in the Takarazuka Kinen with Chrono Genesis and has today reached a duo of milestones of 40 JRA-G1 victories and 1,500 JRA wins.
Gran Alegria was unhurried early and was rated a little further back than mid-division and just off the rails behind a slower than moderate pace led by Ho O Amazon. Making headway between horses from the 600-meter marker, the Deep Impact mare was angled out rounding the final turn for a clear path. While still having to make up ground along the widest lane, the multiple-G1 winner responded beautifully, edged closer with each stride and exploded into gear with a sharp turn of speed that timed 32.7 seconds in the last three furlongs to cross the wire by a 3/4 length margin.
"I am relieved and happy. The most important mission for me in her last run of her career was to bring out the best performance, her true form and she did just that. We were positioned a little further back but it didn't worry me much and she has this really good finishing speed at the stretch like she showed today. She's been a special horse since a two-year-old, winning all those big races and today she showed us again that she's of a different class. I will miss her," commented Christophe Lemaire.
Schnell Meister was sharp out of the gate and eased back to mid-field while saving ground along the rails, was caught behind horses at early stretch and was angled out slightly before the Kingman colt picked up to join the eventual winner to rally for the lead passing the furlong pole, overtaking the tired early leaders on the inside and holding gamely for second while missing by less than a length.
Danon the Kid broke smoothly from gate 13 and moved up to along the outside to sit three-wide in mid-division. The Just a Way colt made his move as the eventual winner passed by on his outside and while Gran Alegria shifted further out rounding the final turn, Danon The Kid pushed his way between horses and turned in a sharp turn of speed that was still not good enough to deter Gran Alegria on his outside and Schnell Meister on the inside but enough to out-rally the rest for third place.
Other Horses:
4th: (7) Indy Champ—hugged rails around 5th, rallied for lead, held on well while overtaken by top finishers
before wire
5th: (1) Ho O Amazon—set pace and led until 300m out, remained in contention, weakened in last 100m
6th: (4) Salios—settled around 3rd, took a command 300m out, weakened in last 100m
7th: (8) Darlington Hall—sat around 10th, responded well but lacked needed kick in last 200m
8th: (5) Sound Chiara—traveled around 5th, showed effort up to 200m marker
9th: (11) Catedral—was off a slow, ran around 14th, circled wide, lacked needed kick
10th: (6) Cadence Call—saved ground around 13th, angled out, showed belated charge
11th: (16) Rainbow Flag—trailed in rear, passed tired rivals at stretch
12th: (10) Lotus Land—settled 4-wide around seventh, checked 200m out, never threatened
13th: (9) Grenadier Guards—chased leaders around 3rd, ran gamely up to 200m marker, fell back
14th: (2) Kurino Gaudi—tracked leader in 2nd, faded after 200m pole
15th: (14) Ripresa—raced 3-wide around 10th, never fired at stretch
16th: (15) Sound Kanaloa—traveled 3-wide near rear, no factor