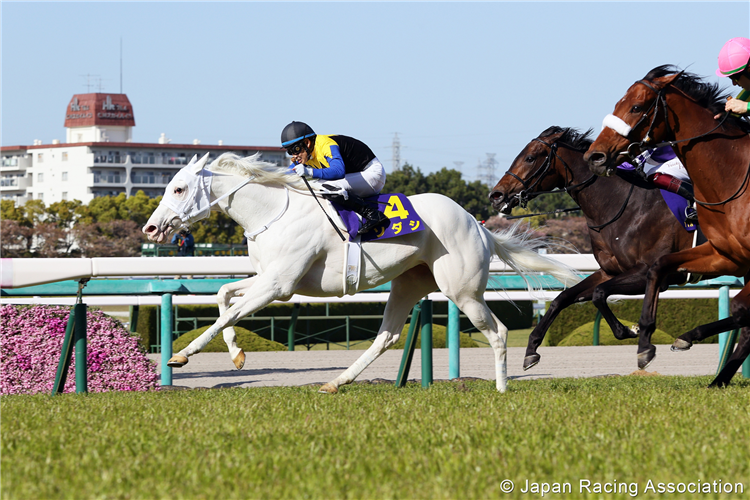 2020 JRA Award Best Two-Year-Old Filly Sodashi claimed the first jewel of the fillies' Triple Crown, the Oka Sho (Japanese 1000 Guineas) with intimidating speed at 1:31.1, breaking the track record set by Black Moon in 2017. The undefeated daughter of Kurofune, who has extended her winning streak to five, is the first white horse in JRA history ever to claim a classics title while she becomes the first Best Two-Year-Old Filly in 11 years to win the Oka Sho. This is the first JRA-G1 title for both trainer Naosuke Sugai and jockey Hayato Yoshida since their triumph with the filly in last year's Hanshin Juvenile Fillies. While Sugai now boasts 13 JRA-G1 wins and Yoshida has now three, Yoshida also celebrates capturing his first classic title.
Sent off a close second favorite, Sodashi broke sharply but settled patiently on the rails behind the pace briefly set by Stutti and then Meikei Yell who soon took over the lead. After entering the straight still in third, the Hanshin Juvenile Fillies victor had no trouble pinning the two in front and easily powered clear 300 meters out, holding off the fierce challenges from Satono Reinas and Fine Rouge for a neck victory.
"It's a great feeling. There was a lot of pressure with many doubting how strong a white filly could be, so I'm thrilled we were able to prove them wrong. I was a bit worried that the fast track would be a disadvantage, but she responded beautifully and ran well holding off the others closing in on us which I saw and made me drive her to the wire. Her potential is limitless and I look forward to her future starts," jockey Hayato Yoshida commented after the race.
Race favorite Satono Reinas was off slow after breaking from the farthest outside stall and sat near the rear unable to improve position in tight quarters. As the field straightened away, the Hanshin Juvenile Fillies runner-up finally found room shifting to the outside before the furlong marker and with an explosive turn of foot, closed furiously with the fastest stretch speed in threatening the winner but was a neck too late at the wire and was second.
Eighth pick and Fairy Stakes winner Fine Rouge closely stalked Sodashi running the rails and chasing her into the stretch, and accelerated powerfully but was caught by the fast-closing Satono Reinas in the final strides to finish a half-length behind the runner-up in third.
Other Horses:
4th: (5) Akaitorino Musume - sat outside winner around 3rd, chased front two runners in last 100m but
overtaken by Satono Reinas before wire
5th: (10) Art de Vivre - raced around 8th, switched to outside, showed effort but no match for top finishers
6th: (7) Kukuna - trailed in far rear, showed 2nd fastest late kick but belatedly
7th: (6) Stutti—set pace early until first 700m, led again at early stretch, outrun in last 200m
8th: (9) Enthusiasm - traveled around 11th, driven and sustained bid but unable to threaten
9th: (17) Ho O Ixelles - positioned 3-wide around 15th, angled out, passed tired rivals
10th: (14) Minnie Isle - settled around 13th, showed effort until 100m marker
11th: (11) Ginestra - tracked leader in 2nd or 3rd, gradually fell back after final corner
12th: (1) Stripe - saved ground around 15th, lacked needed kick at stretch
13th: (13) Elizabeth Tower - raced 4-wide around 8th, checked by rival at early stretch, even paced
14th: (3) Blue Bird - took economic trip around 13th, failed to respond along rails
15th: (16) Songline - traveled 4-wide around 11th, never fired at stretch
16th: (15) Shigeru Pink Ruby - prominent early around 3rd, fell back after final corner
17th: (12) Yoka Yoka - sat 3-wide around 3rd, tired at top of stretch
18th: (8) Meikei Yell - was off a bit slow, advanced to lead, faded after 300m marker