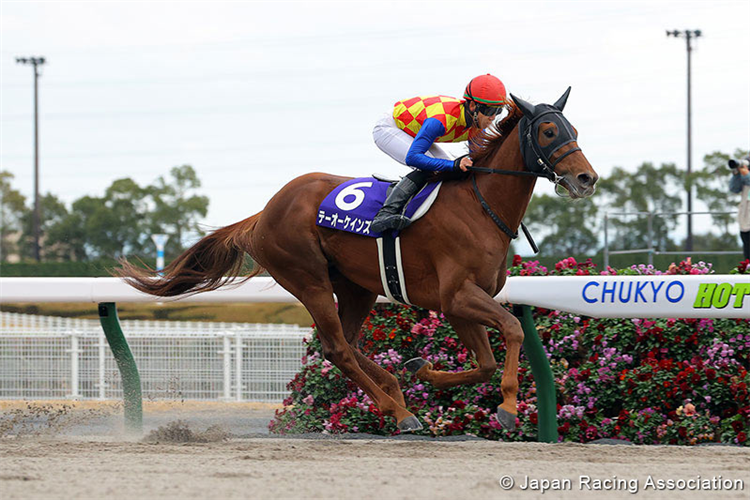 Race favorite T O Keynes claimed this year's Champions Cup to register his first JRA-G1 title with a six-length margin, the largest margin set since the race moved to Chukyo Racecourse in 2014. Having raced only on dirt since his debut in October of his two-year-old season, the son of Sinister Minister marked a win and two thirds during his debut year and landed three more wins out of seven starts the following year, which included his first graded challenge in NAR's year-end Tokyo Daishoten (G1, dirt, 2,000m) where he finished sixth. T O Keynes kicked off this season with three consecutive wins, which included the Antares Stakes (G3, dirt, 1,800m) in April and the Teio Sho (dirt, 2,000m) in June, and came off a fourth in the JBC Classic (dirt, 2,100m) on November 3. This win marked trainer Daisuke Takayanagi's first JRA-G1 and third JRA graded title and jockey Kohei Matsuyama's fifth JRA-G1 win following his victory in the Shuka Sho with Daring Tact last year.
T O Keynes, overcoming his weak start, broke smoothly from stall six and traveled two wide around sixth from Sodashi who set a slow pace. Though meeting traffic at the top of the stretch, the four-year-old chestnut shifted to the outside toward a narrow space outside Inti and, once finding an open space, broke loose from the pack 300 meters out and produced a remarkable turn of speed that timed the fastest last three furlongs to pull away for an overwhelming six-length victory.
"Though the JBC Classic result was disappointing due to the slow start, he broke smoothly today, thanks to the gate practice he went through at the stable. I was able to ride him in good rhythm and he responded remarkably well turning the fourth corner, so everything was perfect. I think he's a very strong horse and I'm glad I was able to bring out his strong performance," commented Kohei Matsuyama.
Defending champion Chuwa Wizard traveled wide toward the rear of the front pack, around 10-11th from the front, and rounded the last two corners the widest of the field. The King Kamehameha brown ran persistently in the stretch, passing his rivals one by one, and, while no match for the winner, managed to overtake Another Truth 50 meters out for a runner-up effort.
Fourteenth pick Another Truth settled around fifth outside the race favorite, closed ground turning the last two corners wide and was at the top of the field running side by side with the eventual winner 300 meters out. Though unable to follow T O Keynes's fast closing speed and overtaken by the runner-up 50 meters out, the seven-year-old chestnut dueled strongly with Inti before the wire to notch third place.
Other Horses:
4th: (4) Inti—tracked leader in 2nd, took lead at early stretch, soon overtaken by winner, weakened in last 100m
5th: (3) Sunrise Nova—positioned around 13th, showed 3rd fastest late kick but belatedly
6th: (9) Auvergne—ran around 8th, dropped position turning last corners, accelerated in last 200m
7th: (15) Meisho Hario—made 3-wide trip around 11th, driven after 3rd corner, lacked needed kick
8th: (8) Suave Aramis—settled along rails near rear, passed tired rivals after meeting traffic 200m out
9th: (5) Air Spinel—saved ground around 8th, showed brief effort, outrun in last 100m
10th: (2) Casino Fountain—hugged rails inside winner around 5th, failed to respond at stretch
11th: (16) Cafe Pharoah—raced 3-wide around 11th, made headway to 6th, showed little at stretch
12th: (1) Sodashi—set pace, maintained lead up to 400m pole, dropped back
13th: (10) K T Brave—trailed in rear, gradually advanced, never fired at stretch
14th: (12) Clincher—sat 3-wide around 7th, found little room after entering stretch
15th: (7) Sunrise Hope—chased leaders around 3rd, checked at early stretch, faded
16th: (14) Danon Pharaoh—traveled in 13th early, fell back to last in backstretch
THE CHAMPIONS CUP (G1)
Age: 3yo and up Type: OPEN