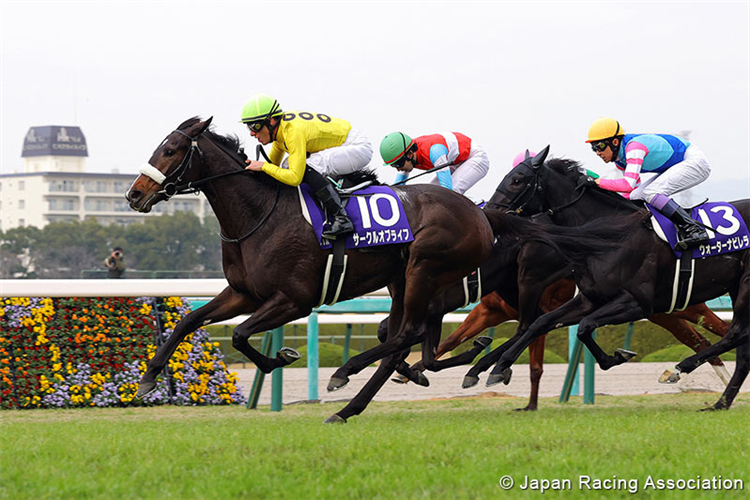 Third favorite Circle Of Life marked her first G1 victory in this year's Hanshin Juvenile Fillies, her third win in a row from four career starts to become the champion two-year-old filly of 2021. Kicking off her career in August with a third over 1,800 meters, the filly broke her maiden in her following start at a mile and landed her first grade-race title in her next Artemis Stakes (G3, 1,600m) on October 30. Trainer Sakae Kunieda picked up his 21st JRA-G1 title, the first since with Akaitorino Musume (the Shuka Sho) in October, and his second victory in this race after with Apapane in 2009. Jockey Mirco Demuro, whose last G1 victory this year was in the Yushun Himba (Japanese Oaks) with Uberleben, is now a winner of 34 JRA-G1 titles.
Circle of Life, after a smooth break, was unhurried while the race opened with a rush of horses scuffling for a good position in front and traveled in mid-field and three-wide throughout most of the trip. Still way behind turning for home, the Epiphaneia filly still had plenty of energy left to carry her further out for a clear path and mow down the stretch to reach contention after the furlong pole and engaged in a four-horse rally in the last 100 meters. While still having to brush off her foes once taking command with just 50 meters to the wire, the improving filly prevailed to a half a length victory.
"She was great today, she had a good break, and we had a smooth trip. We went wide at the stretch but the track was really good on the outside and the horses (in previous races of the day) seemed to stretch well along that path. My filly was closed well over the smooth track so I trusted her to make it and indeed she exhibited strong finishing speed. I was certain in the last 200 meters that she would win. I've ridden her since her debut and she really takes it in her stride in new surroundings and unfamiliar tracks so she has plenty of energy to use in the race. I'm sure she can further extend her distance in future races so I'm really looking forward that too," commented jockey Mirco Demuro in the post-race interview.
Eight favorite Lovely Your Eyes was smooth out of the gate and was checked briefly as the horses in front disputed for the lead. Settling between rivals in mid-division around sixth along the backstretch, the Logotype filly met traffic into the stretch but escaped smartly for a clear run along the center lane inside Water Navillera who assumed command before the furlong pole. Joined by the eventual winner and Namur who loomed to contention from the inside, Lovely Your Eyes gave her all stretching her legs to out-finishing Water Navillera by 1/2 lengths while short of the winner by the same margin for second.
Water Navillera was smartly positioned in third along the rails and had a smooth trip and a clear run at the homestretch where she assumed command at early stretch. She continued gamely while joined by foes in the last 100 and while sustaining her bid to the end, was outrun by the first two finishers for third.
Race favorite Namur broke poorly and cost her the race as she traveled well behind the pace while saving ground. Her jockey smartly guided her along the inside route after turning for home and the filly showed a good turn of speed to reach contention in the critical stages but was unable to sustain her bid in the last strides and finished fourth, one-plus lengths from the winner.
Other Horses:
5th: (1) Namura Clair—hugged rails around 11th, switched to outside at early stretch, showed effort but no match
for top finishers
6th: (16) Belle Cresta—settled 4-wide around 13th early, advanced after 3rd corner, failed to sustain bid
7th: (8) Sternatia—traveled 3-wide around 6th, lacked needed kick
8th: (5) Statistics—sat 2nd from rear, angled out, passed tired rivals
9th: (12) Anegohada—ran 3-wide around 4th, remained in contention up to 200m pole
10th: (7) Kimiwa Queen—took economic trip around 4th, showed response up to 200m pole
11th: (14) Saku—made headway from last to 13th, circled wide, never fired
12th: (9) Sea Cruise—positioned 3-wide around 13th, showed little at stretch
13th: (4) Toho la Vie en—chased leader in 2nd, faded after 300m out
14th: (15) Dark Page—set pace from wide draw, maintained lead until early stretch
15th: (6) Tana the Wing—raced around 13th, never threatened
16th: (18) Personal High—sat 4-wide around 6th, outrun at stretch
17th: (2) Namura Lycoris—saved ground around 6th, gradually fell back
18th: (3) Hinokuni—traveled around 10th, unable to reach contention