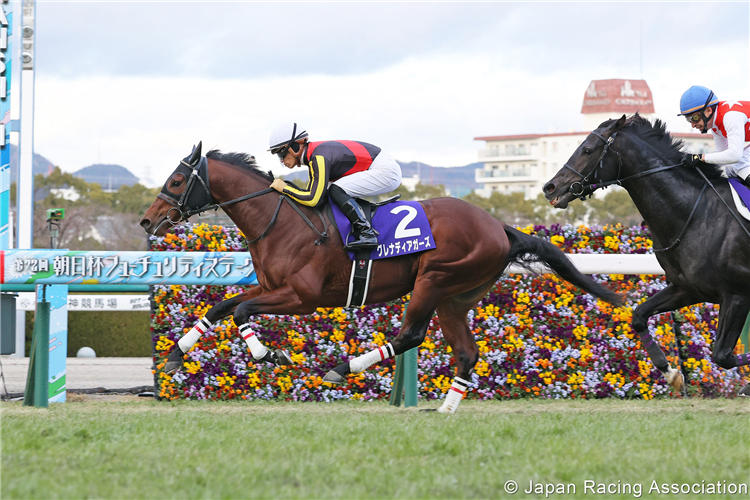 It's the turn of the colts this coming Sunday, when Hanshin Racecourse once again stages a Grade 1, with the Asahi Hai Futurity Stakes run over a mile on the outer turf course at the Kansai track. It'll be the 73rd running of the race, which started as the Asahi Hai Sansai Stakes, and was originally run over 1,200 meters. The distance was changed to a mile in 1962, and the race was run at Nakayama until 2013, after which it was transferred to Hanshin. It became a Grade 1 in 1984, and an international Grade 1 in 2010. It's a race for 2-year-olds, with the exclusion of geldings, and the colts carry an allotted weight of 55kg.
This year sees 19 nominations for a maximum 18 runner field, and just to show the competition involved, six of the nominated horses are unbeaten in their short careers so far.
Some lead up races to this Sunday's big one has included the Grade 2 Daily Hai Nisai Stakes, run over a mile at Hanshin in November, the Grade 3 Sapporo Nisai Stakes, run over 1,800 meters in September, and the Listed Hagi Stakes, run over 1,800 meters at Hanshin in October. Four first favorites have won in the past ten years, with Salios the last one to oblige in 2019. Foreign jockeys do well in the race, having won six times in the past decade, while Miho Training Center based runners have also won six times in the same time period, although it must be remembered they were closer to home until the race was switched to Hanshin in 2014.
Record time for the race belongs to the Frankel colt, Grenadier Guards, who took out the race as the seventh favorite last year, and did so in a time of 1 minute 32.3 seconds. The winner's purse this year is JPY 70 million. The race is timed to start at 15:40 Japan time, and will be Race 11 on the Sunday card at Hanshin.
Here's a look at some of the horses bidding for a win in the race:
Serifos : Trainer Mitsumasa Nakauchida won the race last year with Grenadier Guards, and while leading the trainers' table this year, he sends out this unbeaten colt by Daiwa Major here, who has won both the Grade 3 Niigata Nisai Stakes and the Grade 2 Daily Hai Nisai Stakes, as well as one other race in the three times he's been to the races. Visiting jockey Cristian Demuro has been booked for the ride, and the horse looks sure to be one of the favorites, as he tries to keep his unbeaten record intact. Serifos runs in the colors of the G1 Racing Co. Ltd.
Geoglyph : There's no doubting the potential of the chestnut colt by Drefong, who came home a four-length winner in the Grade 3 Sapporo Nisai Stakes over 1,800 meters at Sapporo in September. He won his only other race on his debut at Tokyo in June, also winning over 1,800 meters. Assistant trainer Yu Ota said, "He ran well in the Sapporo Nisai Stakes, even though he was a bit too relaxed. Returning from the farm recently, he looks sharp, and the jockey reports the horse to be in good shape in training. With two wins over 1,800 meters, there shouldn't be any problem over a mile." Geoglyph looks set to be ridden by Christophe Lemaire, who has ridden the colt in both his starts to date.
Danon Scorpion : Another unbeaten colt, the son of Lord Kanaloa is coming off a win in the Hagi Stakes over 1,800 meters at Hanshin in October, and won his other race on his debut in June, also at Hanshin, over the course and distance of the Asahi Hai Futurity Stakes. Step by step, he looks good for a shot at a Grade 1, and in a recent piece of work at Ritto on the woodchip course under race jockey Kohei Matsuyama, he posted a six furlong time of 81.9 seconds, with a final furlong time of 11.7 seconds, his third time to clock under 12 seconds in recent trackwork. The horse was bred at K.I. Farm and is trained by Takayuki Yasuda.
Dobune : The colt by Deep Impact was purchased for quite a sum at the 2021 Chiba Thoroughbred Sale, and has got his career off to a good start, winning both his races since September, the latest being the Kikyo Stakes over 1,400 meters at Chukyo in October, after winning a 1,500-meter race on his debut at Sapporo. He's trained by Koshiro Take, and the trainer recently said: "He's an intelligent horse and knows a lot already, as well as being quite relaxed. He can certainly take on a Grade 1 with the ability he shows, although he will need to run to his best." Jockey Hayato Yoshida looks set for the ride on Dobune.
Do Deuce : Trainer Yasuo Tomomichi and jockey Yutaka Take team up here with the Heart's Cry colt, who is out of the American bred mare Dust and Diamonds, who in turn is from a strong line of other American bred horses. Do Deuce won on his debut at Kokura in September, and since then has won his only other race, the Listed Ivy Stakes over 1,800 meters at Tokyo in October. He's developing the right way, and has been working well, if only lightly, on the woodchip course at Ritto, as he also aims to stay unbeaten in the big race on Sunday. "He's a horse with a lot of power and has good racing sense. He showed what a good finish he has when winning the Ivy Stakes last time," said the trainer recently.
Otaru Ever
: A confirmed frontrunner in what he's shown so far, the striking dark bay colt by
Leontes
cuts quite a dash when he's out in front, racing in the green and white checked colors of owner Ikuko Sumitani. He finished third in the Grade 3 Niigata Nisai Stakes, behind Serifos, over 1,600 meters in August, and he led all the way to win the Shumeigiku Sho over 1,400 meters last time at Hanshin in November. He's already repaying some of the JPY 45 million he cost at the 2020 Select Sale, and he's an interesting entry here.