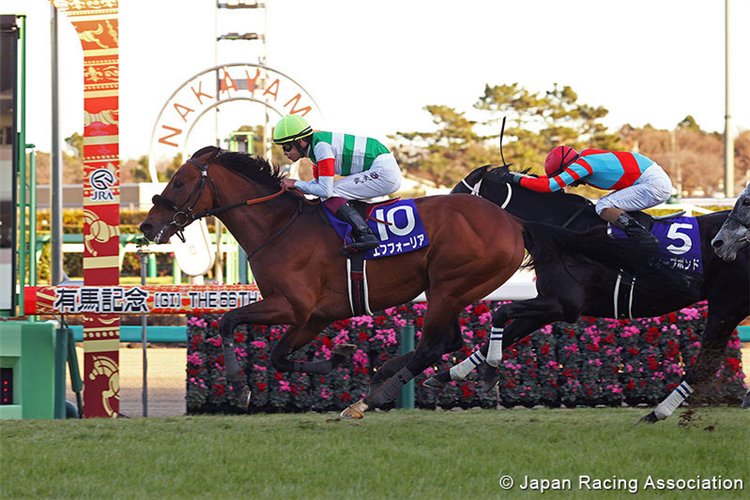 Race favorite Efforia prevailed in this year's Arima Kinen, registering his third G1 victory following his Satsuki Sho (Japanese 2000 Guineas) and Tenno Sho (Autumn) triumphs. Defeated only once in his seven career starts, the Epiphaneia colt now reigns at the pinnacle of his foes as he tops the list of the most money earned in the 2021 season. As a three-year-old, his earnings of 719,347,000 yen stands in second behind Orfevre's record (805,524,000 yen) in 2011. Both trainer Yuichi Shikato and jockey Takeshi Yokoyama claimed their fourth JRA-G1 win following their Tenno Sho (Autumn) victory with the colt in October. Takeshi's father is active jockey Norihiro Yokoyama who also won the Arima Kinen in 1996 and makes them the second father and son to win the title following Kunihiko and Yutaka Take.
The field broke evenly with Panthalassa gunning for the lead followed by Win Kiitos and Titleholder while Efforia was relaxed on the heels of biggest rival Chrono Genesis in mid-pack. As the pace setter's five-length lead began to fizzle rounding the final turns, Efforia slowly made headway from the outside, hit the top of the lane in front of Chrono Genesis fourth from the frontrunner, took over the lead after the furlong marker and shook off Deep Bond, who showed a stubborn challenge beside him, in the final strides for a 3/4-length victory.
"He wasn't in the same perfect condition today as in the Tenno Sho (Autumn) in which he was 120%, but his potential proved he still could give a remarkable performance even with the added distance—2,500 meters was the longest he's ever run. Unlike in the Derby, he was relaxed and positioned well and was able to show his true strength," commented jockey Takeshi Yokoyama after the race before bowing deeply in front of the fans.
Fifth pick Deep Bond, after sitting in sixth and three lengths ahead of Efforia, moved up with the field after the third corner and was driven to enter the lane in third. Skillfully guided by jockey Ryuji Wada to the outside, the Kizuna colt ran strongly dueling with the eventual winner in the last furlong but failed to keep up while holding off the rest of the field by 1/2 length for second.
Defending champion and second choice Chrono Genesis was settled in around seventh behind Deep Bond and right in front of Efforia, chased the winner into the straight and showed effort battling Stella Veloce on her outside, but was unable to threaten the top two finishers and capped off an extraordinary racing career in third.
Other Horses:
4th: (9) Stella Veloce—sat behind winner in 10-11th, showed tied fastest late kick, belatedly
5th: (16) Titleholder—tracked leader in 2nd, inherited lead at final corner, weakened in last 100m
6th: (11) Aristoteles—raced 2nd from rear, gradually made headway, showed effort until 100m out
7th: (13) Akai Ito—traveled 3-wide in 12th, circled wide, lacked needed kick
8th: (3) Mozu Bello—was off slow, ran in 13th, switched to outside at early stretch, never threatened
9th: (8) You Can Smile—settled 3rd from rear along rails, angled out, passed tired rivals
10th: (15) Kiseki—sat 3-wide around 7th, advanced to 3rd up to final corner, outrun in stretch
11th: (6) Win Kiitos—took economic trip around 3rd, fell back at stretch
12th: (12) Shadow Diva—prominent early around 3rd, faded after final corner
13th: (2) Panthalassa—set pace, opened gap over five lengths at one point, outrun in last 300m
14th: (1) Persian Knight—saved ground around 5th, faded after 200m pole
15th: (4) Melody Lane—hugged rails around 10th inside winner, never fired
16th: (14) Asamano Itazura—trailed in far rear, no factor