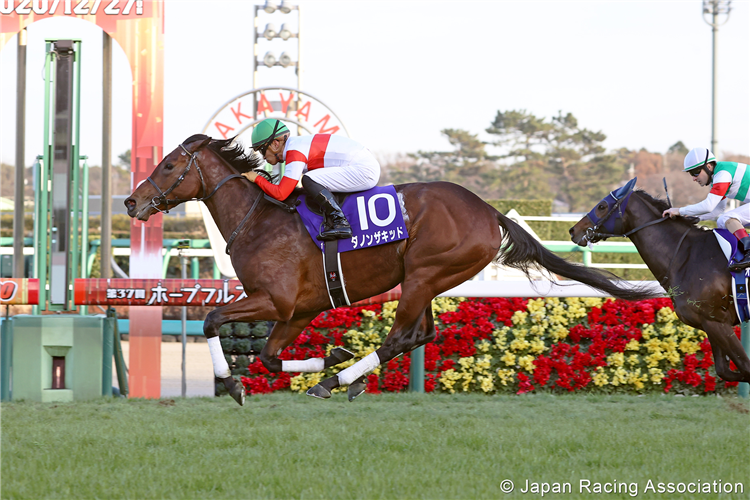 With the Arima Kinen (The Grand Prix) behind us, there remains one more JRA G1 race in 2021 - the 38th running of the Hopeful Stakes on Tuesday, Dec. 28. The race is open to 2-year-old colts and fillies, though this year's 15 nominees are all colts.
The Hopeful Stakes, with a current first-place prize of JPY70 million, has a history that spans decades and, even when known by other names at a different course, the race has always been important to the up-and-coming young talent. The Arima Kinen brings together fan favorites, both young and old, and many horses cap their careers with the race. The Hopeful Stakes, on the other hand, is about new beginnings. It is a link to the new year and, in many cases, to the Classic races in the spring.
The Hopeful Stakes actually dates from 1984, when it was begun as the Radio Tampa Hai Sansai Himba Stakes, a Grade 3 for 2-year-old fillies and run over the Hanshin mile. The distance of the race was lengthened to 2,000 meters in 1991, opened to colts as well, and renamed the Radio Tampa Hai Sansai Stakes. In 2014, the race finally received its current name, moved the venue from Hanshin to Nakayama, and was upgraded to Grade 2. Only in 2017 did the Hopeful Stakes finally take on its current status as a Grade 1 event.
When seeking the top finishers for the Hopeful Stakes, relevant data can only be gleaned from the four runnings since 2017. Open-class experience on the resume is a strong point. All but one of the top two finishers from the last four years had competed in an open-class race before going to the Hopeful Stakes. Having too much experience, on the other hand, has not translated well to reach the top spots. All but one of the 12 horses finishing in the Top 3 over the last four years had prior experience in no less than two starts and no more than four. Also, all but one had two prior wins before racing in the Hopeful Stakes. Additionally, all 12 had never finished lower than third in their career to date and all but one had won or finished second in races of 1,800 meters or above. The last four winners were all race favorites.
There will be racing at both Nakayama and Hanshin on Tuesday. The Hopeful Stakes will be the 11th race on Nakayama's card of 12. Post time for the race is 15:25 local time. All horses will carry 55kg.
Some of the expected popular picks are:
Command Line : A dark bay by Deep Impact, trained by Sakae Kunieda at Miho Training Center, Command Line aced his 1,600-meter debut at Tokyo in June. Then he returned after four months off for a leap up to the Grade 3 Saudi Arabia Royal Cup, also over the Tokyo mile. He aced that as well, and with his sire's ability over longer distances, prospects of a third win are believed high.
Killer Ability : Another colt by Deep Impact, Killer Ability has recorded one win from his three career starts. He debuted over 1,800 meters at Hanshin and finished fifth, then won over 2,000 meters at Kokura with a course record time of 1 minute, 59.5 seconds. Last out, he finished second in the Listed Hagi Stakes at Hanshin. He just missed the win by a neck, but put five lengths between him and the third-place finisher. Trained by Takashi Saito, based at Ritto Training Center, it will be the colt's first race at Nakayama. Whether he will be able to settle well will be key.
Justin Palace : Justin Palace, who is also by Deep Impact, was purchased at the 2020 Select Sale for JPY209 million. Trained by Ritto trainer Haruki Sugiyama, the brown colt has two wins from two starts, both over 2,000 meters and in both he raced from second position. He debuted at Chukyo in September, and then won the Kigiku Sho, a 1-win class race over the Hanshin 2,000 meters. Not only will this be his first trip east, but he will be racing amid 14 others, nine more than he has met before.
Onyankopon : An Eishin Flash colt, Onyankopon boasts Japan's first and only Dubai World Cup winner Victoire Pisa as his dam's sire. Onyankopon captured his debut race over the Nakayama 2,000 meters. Next out in the Hyakunichiso Tokubetsu, a 1-win class race at Tokyo, he finished first again over the same distance. Based at Miho, Onyankopon has yet to encounter difficulties under way, but according to trainer Shigeyuki Kojima, the colt is not one to easily lose his composure.
Lagulf : Trained at Miho by Yoshitada Munakata, the dark bay Lagulf has two wins from three starts, with his first two starts staged at Niigata. Last out, in the open-class Fuyo Stakes over the Nakayama 2,000 meters, he showed that he has no problem with racing to the right. Both his wins were clinched with superb acceleration just before the finish line, which makes this Maurice colt a formidable opponent in the final strides.
Fidele : A Heart's Cry colt, Fidele also went for the pretty sum of JPY209 million at the 2020 Select Sale. He won his debut over the Kokura 1,800 meters in July. He went to the Grade 3 Kyoto Nisai Stakes after that and finished in third-place. He was only a nose behind the runner-up and had posted a 12kg weight gain returning from nearly five months off. Improvement is expected.
Satono Helios : The Epiphaneia colt Satono Helios debuted amid a strong field over the Niigata 1,800 meters in August. He finished in fourth place, nine lengths off the winner Equinox, who captured the Grade 2 Tokyo Sports Hai Nisai Stakes after that. Also, Circle of Life, who won the Grade 1 Hanshin Juvenile Fillies, was the third-place finisher. Following the debut, Satono Helios won a maiden race at Chukyo, then captured the 1-win-class Erica Sho after that. Both starts were over 2,000 meters, and his times in both were 2-year-old course records, 2:00.0 and 1:59.7, respectively. Having only just raced on Dec. 11, his condition on raceday will be key.
Born This Way : Another Heart's Cry colt, Born This Way has had four starts and made the Top 3 in all the races. He scored wins in his most recent two, both over the Nakayama 2,000 meters. After his first win, he returned after nearly three months off looking one size bigger, and scooped a wire-to-wire win in the Habotan Sho on Dec. 4.