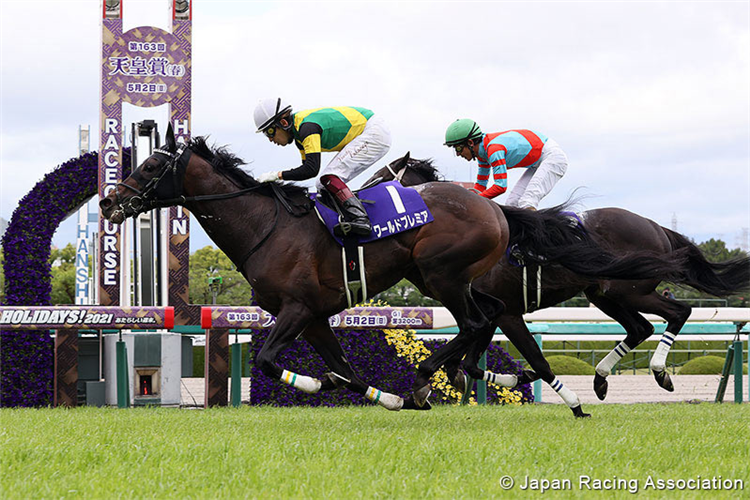 The month of May kicks off with a marathon tradition, the Grade 1 Tenno Sho (Spring). This year marks the 165th running of the Tenno Sho, held twice a year - the spring version over 3,200 meters, the fall version at Tokyo over 2,000 meters.
Japan's longest Grade 1 race on the flat, the Tenno Sho (Spring), though usually run at Kyoto, is back at Hanshin for the second year in a row as renovations at its regular venue continues. It is the last Grade 1 at Hanshin before Tokyo showcases the next five top-level competitions over the next five weeks. The next Grade 1 at Hanshin will be the Takarazuka Kinen in late June.
The 18 nominees for the 18 berths of this year's Tenno Sho range in age from 4 to 8. There are two heavyweights by result -- last year's Tenno Sho (Spring) runnerup Deep Bond and Titleholder, the winner of the 2021 Kikuka Sho (Japanese St. Leger). The only mare among the nominees is Melody Lane, who is half-sister to Titleholder. If she were to win, she would become only the second mare to win the race, for the first time in 69 years.
Important races leading up to the Tenno Sho (Spring) are the Grade 2 American Jockey Club Cup, the Grade 3 Diamond Stakes, the Grade 2 Hanshin Daishoten and the Grade 2 Nikkei Sho.
The race at Hanshin starts in the backstretch and the horses continue from the gate into the outer course, which sweeps around and down into the stretch. After executing the hill stretch and passing what will be the finish line, the field circles once again, but this time turns onto the inner course when coming out of the backstretch. After straightening for home, there's 360 meters to go and the hill again before the finish, where a first-place prize of JPY200 million awaits the winner.
The Tenno Sho (Spring) will the No. 11 race on the Sunday card at Hanshin, with a post time locally of 15:40. Weights are set at 58kg, with an allowance of 2kg for fillies & mares.
Here is a look at the expected top picks.
Deep Bond : Finished second here to World Premiere last year, the Kizuna-sired 5-year-old is still looking to claim his first Grade 1. This will be his sixth Grade 1 bid in Japan, and his past five have seen him finish off the board only once. Excluding his Arc attempt last year, his last five runs have brought three wins. Last year, he went to the Tenno Sho (Spring) after winning the Grade 2 Hanshin Daishoten over 3,200 meters at Hanshin. This year, he returned from a second in the Arima Kinen (The Grand Prix) to win the Hanshin Daishoten again. The margin was only 3/4 length, but with 11-some-second lap times over most of the last kilometer and a powerful stretch drive, he's looking better than ever. "He is much more mature now. If he can just get a normal trip, he should get good results," trainer Ryuji Okubo commented. Jockey Ryuji Wada, who has won the Tenno Sho (Spring) once before, will be in the saddle.
Titleholder : 2021 Kikuka Sho champion Titleholder also scooped his prep, the Grade 2 Nikkei Sho over 2,500 meters at Nakayama in March. The 4-year-old Duramente colt will be running under 1kg more than he's experienced to date, but he looks right on track in his training, with jockey Kazuo Yokoyama noting "dramatic improvement" in the colt's work last week. Yokoyama, who has ridden Titleholder's last two starts, is set for the ride and hoping for his first big win. If the colt wins here, he would make him the fifth Kikuka Sho winner following Gold Ship, Kitasan Black, Fierement and World Premiere, to capture the Tenno Sho (Spring).
T O Royal : Taking on his first Grade 1 is T O Royal, a 4-year-old colt by Leontes. He made it four in a row with his victory in the Grade 3 Diamond Stakes over 3,400 meters at Tokyo, which was his first start over anything longer than 2,400 meters. "He had always been built rather slightly and was somewhat delicate, but for his last race, he'd put on muscle and was lean," trainer Inao Okada said. "I had always thought that from his build, he would be good over longer distance and he has gotten stronger with each race." His record of three wins, a third and a fourth from five starts at Hanshin bodes well, but the colt raced under only 54kg in the Diamond Stakes. The Tenno Sho assigned weight will be a leap up, and 2kg more than he's carried in his career thus far.
Iron Barows : Another new face in Grade 1 competition is Iron Barows, a 5-year-old son of Triple Crown winner Orfevre. Though always a versatile runner, with a formidable late kick that put him in the top three in 10 of his previous starts, Iron Barows showed prowess in racing from a forward position in his last two Grade 2 runs, both over 3,000 meters - the Stayers Stakes and the Hanshin Daishoten. He finished second in both, and his trainer Hiroyuki Uemura is looking forward to what he can do here. "The competition is strong, but this one's heart and lungs are also strong. He won't be lacking for stamina," the trainer stated.
Machaon D'Or : Fourth in the Grade 2 Hanshin Daishoten last out was the 4-year-old Machaon d'Or, son of six-time Grade 1 winner Gold Ship. He had been returning after almost four months off for the Hanshin Daishoten, after winning the Manyo Stakes, an open-class race over the Chukyo 3,000 meters in January. Though the colt is unreliable at the break, he tends to wrap things up with decisiveness. In the Hanshin Daishoten, Machaon d'Or clocked 34.9 seconds over the final three furlongs. That was the field's second-best time and only 0.3 seconds behind winner Deep Bond, who clocked 34.6 seconds. If he does get off to a good start, Machaon d'Or is more than capable of holding his own racing from a good position or midfield.
Heat On Beat : A 5-year-old by King Kamehameha, Heat on Beat is one of three horses (in addition to You Can Smile and Valcos) nominated by trainer Yasuo Tomomichi. Heat on Beat is a highly consistent horse, with four wins and a total of 14 finishes in the top three from his 18 career starts. Over the last year, he has raced exclusively in graded events, and the most recent one was the Grade 2 Nikkei Sho, where he finished third and 0.1 seconds behind Titleholder. The Tenno Sho (Spring) will be his longest race yet, by three furlongs. A lack of concentration coupled with impatience have worried his connections, but his performance in the Nikkei Sho indicated that he is learning some patience and should be able to take on the extra ground. Likely sharper this time out, good things are possible if the 5-year-old bay can keep his cool.
Others to watch are:
The 6-year-old Silver Sonic is a highly consistent stayer, who made Top 3 in his last three starts. All have been over 3,000 meters or up, including a third in the Hanshin Daishoten. If it's stamina that's called for, this horse has it, and Jockey Yuga Kawada in the saddle adds a vote of confidence.
Tagano Diamante , sidelined by a bowed tendon for nearly a year, returned in early January for a fourth and a second in two starts in the 2,000-2,200 range. In 2020, however, he had recorded a win and a second from three starts over 3,000-3,600 meters. Back at this distance on his third start after his layoff may prove the charm.
The 7-year-old You Can Smile has had nine starts over 3,000 meters or further, and he's made the board in all but one. He returned after three months for a fifth-place finish in the Hanshin Daishoten. A bit of rain could work in his favor.
Fourth in the 2019 Kikuka Sho and 15th here last year, Divine Force captured his first graded-stakes race, the Grade 2 Stayers Stakes in early December. He usually races from rear of midfield, and has a chance if the race unfolds to favor his late speed in the homestretch.