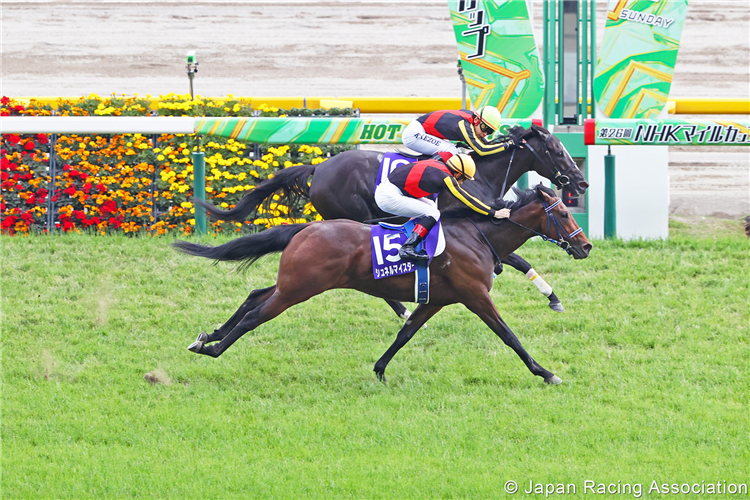 With the spring Grade 1 races in Japan being held at a number of different racecourses, the top-level action now returns to Tokyo Racecourse, where for the next five weeks, racing fans can enjoy some of the greatest races the country has to offer. Starting this coming Sunday (May 8), the Grade 1 NHK Mile Cup will be the first in the sequence, and it's a race for 3-year-olds, run on the turf track at Tokyo.
A fairly recent addition to the Grade 1 calendar, the first NHK Mile Cup (previously known as the NHK Hai from 1953 until 1995) was run in 1996, principally to allow 3-year-olds to take on the shorter trip of the race, as opposed to the Grade 1 Tokyo Yushun (Japanese Derby).
A couple of horses have managed to win both races, namely the great King Kamehameha in 2004, and Deep Sky in 2008. This year sees the 27th running of the race, which is open to fillies and colts, with no geldings permitted to run. There is a maximum field size of 18, and the horses carry a set weight of 57kg, with a 2kg allowance for fillies.
The first three horses in the betting have performed well in the last 10 years, with seven of them winning, and three of those were first favorites. The last first favorite to win was Major Emblem in 2016. The race also produces surprises, as could be seen with Meiner Ho O (2013), and Lauda Sion (2020), both of which were well over the odds of 25/1. The race record is held by Danon Chantilly, winning in a time of 1 minute, 31.4 seconds in 2010. This year's winner's check is JPY130 million (in the region of USD1 million). Two official trial races for this Sunday's big race have been the Grade 3 Arlington Cup, run at Hanshin in April, and the Grade 2 New Zealand Trophy, run at Nakayama, also in April.
The Grade 1 NHK Mile Cup will be Race 11 on the Sunday card at Tokyo, with a post time of 15:40 locally. Final declarations and the barrier draw will come out later in the week.
Here is a look at some of the runners among the 21 v cx nominations:
Serifos : The much-anticipated reappearance of Serifos as a 3-year-old will happen this Sunday, as the son of Daiwa Major looks to follow up on his three wins as a 2-year-old, as well as his second place finish in his last race, the Grade 1 Asahi Hai Futurity Stakes last December. Hailing from the stable of Mitsumasa Nakauchida, the colt is expected to have plenty of support in the market. Assistant trainer Taku Fukunaga said: "He has had a nice break at the farm since the Asahi Hai Futurity Stakes, and he came back to the stable on April 1. He seems well refreshed and there doesn't seem to be any big change with him. He is relaxed, and has become more mature. There is no problem with the way he's moving." Jockey Yuichi Fukunaga has been booked for the ride on Serifos, and he currently has 34 JRA Grade 1 wins to his name, including two this year, the February Stakes and the Satsuki Sho (Japanese 2000 Guineas).
Danon Scorpion : Third in last year's Grade 1 Asahi Hai Futurity Stakes, Danon Scorpion has had a couple of runs this year, and is coming off a win in the Grade 3 Arlington Cup over a mile at Hanshin in April. He is now three wins from five career starts, and trainer Takayuki Yasuda recently commented on the Lord Kanaloa colt: "It might not have been quite as good a run in the Arlington Cup as it was for the Asahi Hai Futurity Stakes, but compared to the Kyodo News Hai, he ran a good race last time. I think with that result, we can look to this next Grade 1 with him." Jockey Yuga Kawada has three wins on the horse from the four times he's ridden the colt, and will take the ride again here.
Industria : Bred at Northern Farm, the colt by Leontes was considered a little unlucky last time, despite finishing fifth to Ask Victor More in the Grade 2 Hochi Hai Yayoi Sho (Deep Impact Kinen) over 2,000 meters at Nakayama in March. Trainer Keisuke Miyata said, "He had to race wide on the corners in his last race, so it meant he lost a bit of ground overall, and although he finished well, it wasn't the best race for him. The rotation's fine for him, and we've been paying attention to his hooves, and taking care with him since his return from the farm." Australian jockey Damian Lane has just arrived in Japan, and will take the ride on Industria.
Jean Gros : The American bred colt by More Than Ready has won four of his eight career starts, and looks dangerous when he's up with the pace, or even when running away with things, as he did last time when winning the Grade 2 New Zealand Trophy over a mile at Nakayama in April. He is trained by Hideyuki Mori, and assistant trainer Ryo Shimizu recently said: "He kept finding more in his last race and was able to pull off the win. I think it showed how he's come on a lot both physically and mentally. He shows no sign of any damage after that run, and is in good condition back at the stable at Ritto."
King Hermes : Even though he finished third to Danon Scorpion last time in the Grade 3 Arlington Cup over a mile at Hanshin in April, he was coming back from an injury, and connections remain upbeat on the son of Lord Kanaloa. Hailing from the all-conquering stable of trainer Yoshito Yahagi, assistant trainer Yusaku Oka had the following to say about the horse: "He was rather unsettled in the early part of the race last time, and was a bit put off by the temporary running rail. In the homestraight also, he didn't run as straight as he might have and showed his inexperience. Despite these things, he still battled on well when he got the gaps and managed to finish third, which was a good run after his layoff." Stable jockey Ryusei Sakai takes the ride on King Hermes, and is still looking for his first JRA Grade 1 victory.
Purpur Ray : The colt by Isla Bonita will be back to a mile again this time, a distance he has won over twice, although not at Tokyo, and his trainer Naosuke Sugai is looking forward to this next challenge after the colt's win in the Grade 3 Falcon Stakes over 1,400 meters at Chukyo in March. "He drew the inner most gate last time in the Falcon Stakes, but he concentrated well throughout the run, and he managed to produce a good finish to win. I was pleased with his performance in that race and he should be fine stepping up to a mile again this time," the trainer said. Jockey Mirco Demuro knows the horse well, having ridden him in all his races, and is set to ride him again here.
Matenro Orion : Always in the first two in four starts, including two wins, the colt by Daiwa Major was a beaten favorite last time out when he had to settle for second behind Jean Gros in the Grade 2 New Zealand Trophy. It still looks as if he can be a force among the competitive field this time around though, and assistant trainer Masaki Kon recently said: "He was a bit soft in the finish last time, not negotiating the final rise so well, but he still showed that he has a good turn of foot. Previously he was a little immature, but after his break at the farm and his return to Ritto, he's settled back in well and seems more relaxed."
Toshin Macau : The colt by Big Arthur won over 1,400 meters at Tokyo two starts ago, and while he could only finish fifth to Purpur Ray in the Grade 3 Falcon Stakes last time, trainer Mizuki Takayanagi thought he was a bit unlucky in that race. "He had to carry more weight than the other horses last time, but I think the distance was suitable for him. He didn't get to run on well at the end, but things just didn't go his way. He has had a break at the farm with this race in mind, and since being back at the stable, he's been moving well."
Taisei Divine : It will be the first time for Taisei Divine to run at Tokyo, and he has only won once in his career so far, but he's finished second in his last two races, the latest being the Grade 3 Arlington Cup at Hanshin in April. His last effort pleased trainer Tomokazu Takano, who commented: "He ran well last time in the Arlington Cup and so nearly beat the winner, which I consider to be a strong horse. He broke well and found a good rhythm, and it was a performance that showed what he's capable of."