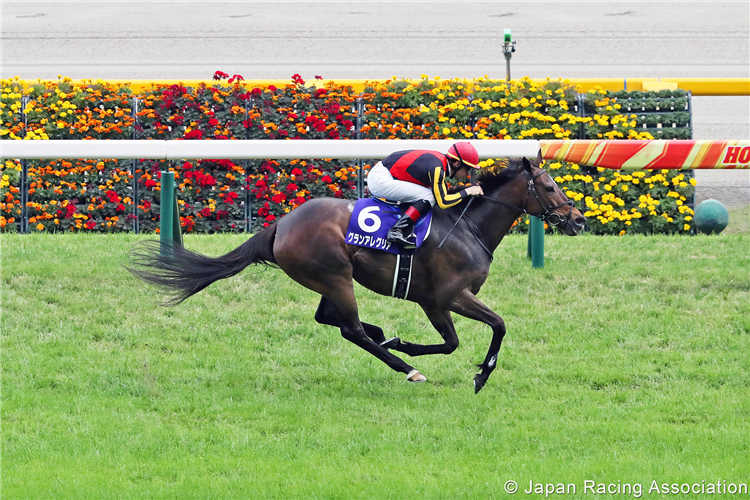 Following on from last week's Grade 1 NHK Mile Cup, this week Tokyo Racecourse sees the older fillies and mares step out for the Grade 1 Victoria Mile, once again run over the tough 1,600 meters on the track's turf course. The race came into being in 2006 (Dance in the Mood was the first winner) to give older fillies and mares the chance to take each other on over the mile, and in the interim years, the race has seen some big-name winners add the race to their glittering CVs. There were three vintage years from 2009 to 2011, when Vodka, Buena Vista, and Apapane all won, to further enhance their careers, and more recently Almond Eye (2020) and Gran Alegria (2021) both lit up the racecourse, with the pair of them winning by a comfortable four lengths margin in their respective years of victory.
This year there are 22 nominations for a maximum 18 runner field, and the race will see the return of Best Three-Year Old Filly of 2020, Daring Tact, after a long layoff through injury. It will be something quite spectacular if she can win this time in her comeback race. There have only been five winning favorites in the history of the race, and in the last 10 years, 4-year-old fillies and 5-year-old mares have won the race four times apiece. All runners carry a set weight of 55kg. Record time for the race is held by Normcore, winning in a time of 1 minute, 30.5 seconds in 2019. This year sees JPY130 million (just over USD1 million) going to the winner. Some of the nominated horses are coming off runs in the Grade 1 Osaka Hai, run over 2,000 meters at Hanshin in April, and the Grade 2 Sankei Sports Hai Hanshin Himba Stakes over a mile, also at Hanshin in April.
The 17th running of the Grade 1 Victoria Mile will be Race 11 on the Sunday card at Tokyo, and post time locally is 15:40. Final declarations and the barrier draw will come out later in the week.
Here is a look at some of the fillies and mares expected to take on the race:
Daring Tact : The now 5-year-old mare returns to the racecourse for the first time since she finished third in the Grade 1 Queen Elizabeth II Cup in Hong Kong in April 2021. Her jockey, Kohei Matsuyama, has also recently returned from injury, so it would be great to see the pair combine again for a big result here. Trainer Haruki Sugiyama said, "She hasn't raced for over a year now, and we've been paying particular attention to her legs, but there are no problems. The jockey has also been making sure she's running with a good rhythm and setting good times, and also reports that given the horse's age, her stride now is not quite as big as it was before."
Lei Papale : It will be the first time for the 5-year-old mare by Deep Impact to race at Tokyo, but she's tough enough, and still boasts a 50% win strike rate, despite having to settle for second last time in the Grade 1 Osaka Hai over 2,000 meters at Hanshin in April. Trainer Tomokazu Takano commented: "Even though she didn't win the Kinko Sho in March, or the Osaka Hai after that, they were still creditable runs for a horse like her. The way things have gone with her, she seems to have become bigger and more muscular, and so the timing seems right for her to take on the distance of a mile, so we've decided on this race." Lei Papale is to be ridden by Yuga Kawada, who won last Sunday's Grade 1 NHK Mile Cup in some style.
Resistencia : Even though she couldn't sustain things last time over 1,200 meters in the Grade 1 Takamatsunomiya Kinen at Chukyo in March, her sixth place finish just 0.3 of a second off the winner was by no means disappointing. It must also be remembered that she finished second in the Grade 1 NHK Mile Cup over the Tokyo mile in 2020. Trainer Takeshi Matsushita said, "She started favorite last time, so there was a bit of pressure on her. It became a difficult race when she got to the front and set the pace, but even though she got caught at the finish, I wasn't too unhappy about the way things turned out. She went to the farm after that, and since returning to the stable, she looks good and is moving well."
Sodashi : The 4-year-old filly also returns here, to the delight of her legion of fans, as she bids for glory once again and tries to notch her first win since last year's Grade 2 Sapporo Kinen. She last ran in the Grade 1 February Stakes at Tokyo over a mile, her second start on dirt, and finished a very creditable third. Trainer Naosuke Sugai commented on the eye-catching filly: "I thought it was a good result last time in the February Stakes. It seems that she's suited by the mile at Tokyo, with just the one turn over that distance. She has had her break at the farm, but in recent training since being back, she's been running well and showing good speed."
Fine Rouge : The Kizuna filly has just been seen once this year, when finishing second in the Grade 3 Tokyo Shimbun Hai over a mile in February, and before that she was also second in last year's Grade 1 Shuka Sho over 2,000 meters at Hanshin last October. Only unplaced once in eight starts, she has to be a force to be reckoned with. Assistant trainer Yu Ota said: "It got a bit tight for her at the finish last time, whereas the winner had a nice smooth run down the outside, and that certainly made a difference. In recent work since coming back from the farm, we're just trying to improve on things when she changes leads."
Songline : Another filly by Kizuna, Songline boasts a pretty good win strike rate, and she grabbed the headlines last time when winning the Grade 3 1351 Turf Sprint in Saudi Arabia in February. Two of her four career wins have come at Tokyo, and she finished second in last year's NHK Mile Cup. Trainer Toru Hayashi recently said, "She is in very good condition after her stay at Northern Farm Tenei, and since returning to the stable, she's been showing just how well she can run in her recent work. Mentally and physically she's in great shape."
Andvaranaut : Her two races in 2022 have seen her finish eleventh and second, the latest being the Grade 2 Sankei Sports Hai Hanshin Himba Stakes over a mile at Hanshin in April. Her third place finish in last year's Grade 1 Shuka Sho should also not be forgotten. Trainer Manabu Ikezoe is hoping she'll show her best in this next race. "She ran well last time, with just the one turn in the race, although she didn't quite produce her best finish. Since then, she's been at the farm, where she's been taking things easy in preparation for her next race," the trainer said. Jockey Yuichi Fukunaga gets on well with the horse and is booked to ride this time.
Meisho Mimosa
: The daughter of
Heart's Cry
caused a bit of an upset last time, when on her 26th career start she won her first graded race, namely the Grade 2 Sankei Sports Hai Hanshin Himba Stakes over a mile at Hanshin in April. The 5-year-old mare started ninth favorite, and battled on gamely at the finish to stake her claim for another try at a big race this time too. Assistant trainer Akishi Higashida said, "It was the third time she'd worn blinkers in her last race, but she put in a strong run and I think the blinkers helped her in that race. She ran much better than I thought over the 1,600 meters, and among that field, I could give her high marks."