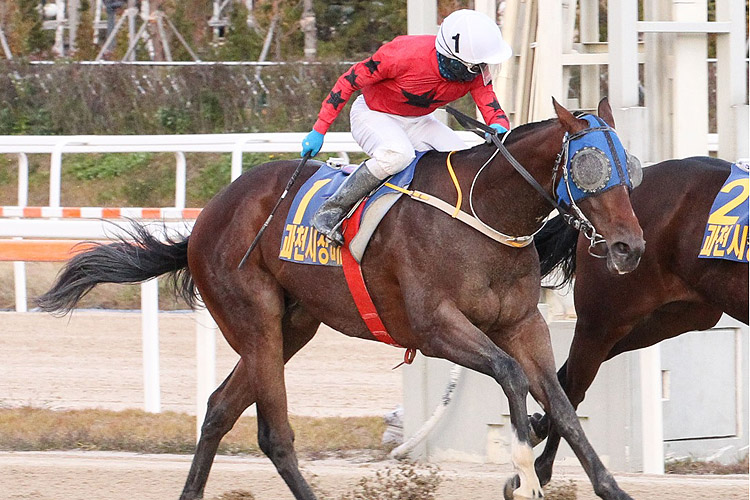 The three-year-old son of Rock Hard Ten blitzed his rivals in the first leg of the Triple Crown, the KRA Cup Mile, beating the runner-up and Oaks fancy Dae Wan Ma by a staggering eight lengths.

Global Chukje has now won five of his six career starts and gave every sign with the dominant win that the 1800m distance on Sunday will be ideal.
Connections of the Seoul based galloper may be forced to rethink their tactics going into the feature on Sunday, with Global Chukje drawing barrier twelve in the fifteen-horse field at Thursday's barrier draw.
Speedy types including Delta Brother, Do Kki Blade and Gabo Day have all drawn inside barrier four suggesting that should jockey Yoo Seung-Wan work forward, he runs the risk of being caught wide.
Global Chukje sat outside race leader Good Dancer in the KRA Cup Mile before YooSeung-Wan made his move as they entered the Busan straight.
Given the speed engaged on Sunday, Global Chukje may be forced to sit behind the leading division as being caught wide in the two-turn feature may prove costly.
Global Chukje's trainer Choi Sang-Sik acknowledged at Thursday's barrier draw the awkward gate will be a challenge.
"This is a really hard race and the start is going to be very competitive, so we'll have to fight hard for a position" Choi Sang-Siktold the Korea Racing Broadcasting Channel (KRBC).
"He's a very good horse in training, everything has gone smoothly. It's only one month between the races so monitoring his condition has been the main thing".
With Dan Wan Ma going to the Korean Oaks and Precede ruled out due to lameness, Kim Young Kwan's Glitterfinished closest to Global Chukje when fourth in the KRA Cup Mile.
The son of Officer who settled just worse than midfield and made up ground down the centre of the track, will appreciate if the Derby is ran genuinely throughout.
Glitter's rider Seo Seung-Un is happy with how his mount has progressed, stating the Busan based galloper has settled in well since arriving in Seoul.
"He's a bit of a character, he can have a temper, but he has been calmer since arriving in Seoul which is a good sign for him" Seo Seung-Un said.
"I think he is in a much better place than before the KRA Cup Mile"
Seo Seung-Un believes the favourite will take some beating and will not be letting the KRA Mile Cup winner out of his sights.
"I think I need to stick close to Global Chukje, he's the best right now but three-year olds grow up every day; Wonderful Fly impressed me at Busan as well"
Wonderful Fly was a beneficiary of Thursday's barrier draw, when he was allocated barrier five after having to jump from the outside in the KRA Cup Mile.
The Korean bred who ran an admirable seventh in the Busan feature, will be ridden by accomplished jockey Moon Se Young who replaces Lee Chan-Ho.
Wonderful Fly's effort in the Listed Sports Seoul Cup, the start prior to the KRA Mile Cup was eye-catching when flooding home to finish a head behind the Oaks favouriteDae Wan Ma.
With six of the fifteen runners engaged in the Derby coming out of the KRA Cup Mile, the main interest of the remaining runners lies with Do Kki Blade and True King.
Do Kki Blade produced a strong front-running performance in Class 4 company last start to win over 1700m.
Do Kki Blade's rider Kim Yong Geun will be looking to employ the same early speed tactics after drawing barrier two.
Trainer Park Dae-Heung who saddles up both Wonderful Fly and Do Kki Blade, is excited about his chances of winning his first Korean Derby in a training career that, just like the race itself, is in its twenty-second year.
"The run of Do Kki Blade in the Breeder's Cup was disappointing, but he wasn't right, so he went for a wind operation" Park Dae-Hung said.
"His recovery wasn't smooth but he's back now, that win resuming was really good and he's doing great"
Wonderful Fly made a good impression on Park Dae-Hung earlier this week.
"We were really happy in the Sports Seoul Cup, so we went to the KRA Cup Mile but even though the wide draw really hurt him, he still ran well"
"This week Wonderful Fly impressed me the most on Monday, but Do Kki Blade is right where we want him now"
Trainer Kim Nam-Jung will be hoping True King can continue on his winning way.
The Hansen three-year-old has produced strong victories over 1800m and 1600m at his past two starts.
Whilst True King has been positioned in the leading division at his past two wins, rider Lee Hyo-Sikbelieves his mount has an element of versatility going into the feature.
"He's by Hansen so I worried about the distance, but his last win showed me it's not a problem" Lee Hyo-Sik said.
"Tactics can be flexible; I think I can close if need be as long as we are in touch on the corner"
Sunday's feature is the second leg of Korea's Triple Crown and should Global Chukje be able to salute, all eyes will turn to the running of the Group 2 Minister's Cup on June 16.