That's all different this year though as typhoon Lingling closes in on the Korean Peninsula and the conditions may well play a big role as Korea seeks a first home win in either race.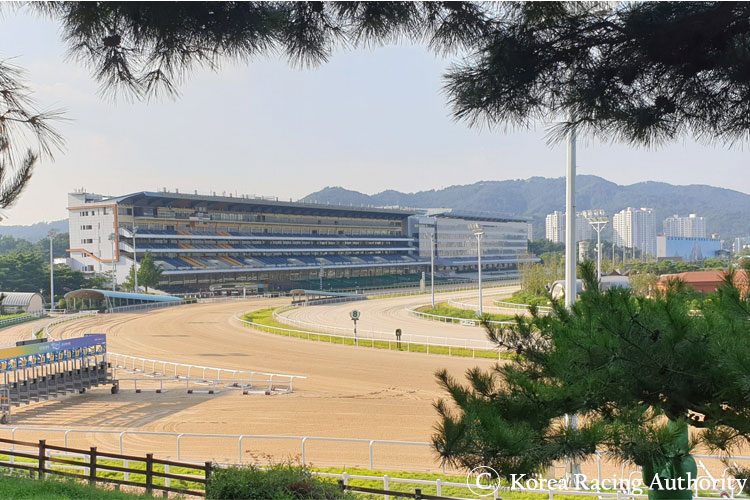 If the typhoon hits, it's forecast to be on Saturday so things should have calmed down in time for race day but with Seoul already on the receiving end of torrential rain, the track is sure to be at its wettest and one of the quirks about the Seoul track is how it plays when it's wet.
The sand track isn't sealed when it rains, and the effect is that its deepness, so often difficult to handle for visiting international runners, is mitigated. This results in faster times and it would be no surprise at all if the track record – in the Korea Sprint at least – comes under threat. But who's going to threaten it? This year, it could be the turn of the locals.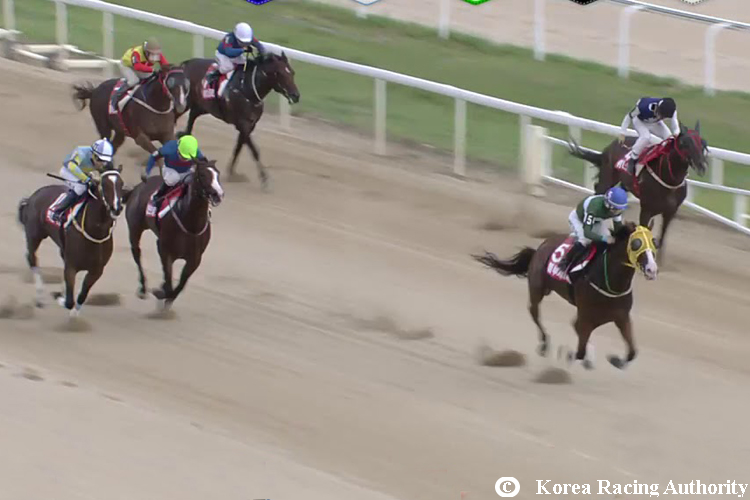 The prime candidate is Blue Chipper. He's Korea's latest big hope and could well be the real deal. After several injury setbacks, the four-year-old Tiznow gelding is now finally getting a string of runs under his belt and each time he has been more impressive. He ran in his first group race at the end of July, dominating the Busan Owners' Cup (KOR G3) over a mile and drops back in trip to take on the Sprint, which this year has prize money of 1 billion Won for the first time.
At Thursday's barrier draw, Blue Chipper drew gate 13 which on the face of it may not be ideal although Lee Ju-hyeon, assistant trainer to Kim Young-kwan was philosophical. "It is what it is, really. If we've got the best horse, then it doesn't really matter what gate we have, we can overcome it."
The one that Blue Chipper will have to chase into the first corner is likely to be fellow local hope Gaon Champ. The four-year-old colt ascended to the top of the local sprinting ranks by ending Doraonpogyeongseon's two-year reign in the KOR G3 SBS Sports Sprint in early June.
There were nervous moments at the draw for connections of Gaon Champ, who needs a fast start, when he was one of only two names still to be called and with only gates 6 and 16 remaining. However, veteran Wonder Bolt was called up next and his jockey Cho Han Byul pulled out the widest gate leaving Gaon Champ's rider Lim Gi Won a relieved man. "We were hoping for the best with the draw and were very worried when there were just two numbers left. But it's worked out great. We've got a good horse here and we'll go well."
Other local winners from the draw were Doraonpogyeongseon and Spring Back, while the American trio of Fast Pass, Holy Legal and Heartwood can also be very satisfied with their barriers. The Sprint though, could well be staying in Korea this year.
Despite some American star-quality in the shape of Harvey Wallbanger and Lone Sailor, the Korea Cup looks to be there for the taking for the home side and all eyes will be on Dolkong, in what will be his first start at his home track of Seoul since last December.
Earlier this year, Dolkong created a stir at the Dubai World Cup Carnival by romping home in the Listed Curlin Handicap, before running a game third – and wide all the way – in the G1 Al Maktoum Challenge Round 3, earning a berth in the Dubai World Cup as a consequence.
Dolkong has raced just the once since coming home, making a late charge to win the KOR G2 Busan Mayor's Cup at the end of June and it would be no surprise to see him charging home late down the outside in Sunday's Cup. He's not the only local in the hunt though.
In that Mayor's Cup, Moonhak Chief ran a close second and the four-year-old colt looks a real up and comer. He will be ridden by current top local jockey Moon Se Young while trainer Kim Soon Keun was upbeat about his prospects. "He's been training as well as he ever has, and the recent form shows his ability." Moonhak Chief has drawn the widest gate but that shouldn't be problematic.
Sunday is set to be wet and it's set to be wild in what appear the most open Korea Cup and Sprints to date.