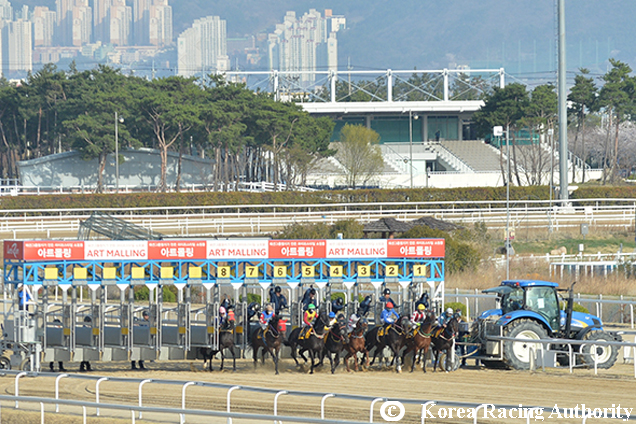 Great little maiden to start with and six of the full field of fourteen come in having placed on their respective latest starts. We going to tentatively go with (1) BEASTLY, who ran 2nd, well-beaten by a good winner but showing plenty of ability himself, over this this distance on October 31st. Ioannis Poullis can take advantage of the inside draw to put him on the speed and he can lead all the way. (8) BANJIUI GIJEOK comes in off two very encouraging showings as well. She's a half-sister to some talented, if occasionally fragile, runners and surely has wins in her. (2) STAR EYE hasn't shown much in the way of speed but nevertheless has a 3rd and 2nd to show for two outings and will be dangerous while (13) THE FIRST FACTOR has demonstrated solid progression across three starts and can continue that today. There are three debut-makers and among them, (6) ALIVE STAR looks the best, having trialed up well three weeks ago.
| | |
| --- | --- |
| Selections | (1) Beastly (8) Banjiui Gijeok (2) Star Eye (13) The First Factor |
| Next Best | 6, 5, 3 |
| Fast Start | 1, 3, 5 |
Busan Race 2: Class 6 (1200M) Allowance / KRW 22 Million
(13) SAGARMATHA was an eye-catching winner on debut over this distance on October 31st leading almost the whole way around for an easy score. There is no penalty for it so she gets another crack at class 6 and as we have noted over the past few weeks, the form from those races has tended to hold up well so we will put her on top here, despite the wide draw. Having won a trial in the summer (9) GODDESS MOON looked the part on debut in October, running a useful 2nd at this distance and she should go close again today. (6) YEONGGWANGUI POWER also put in a solid showing first-up over 1000M and the addition of Djordje Perovic can only be a benefit this time. (1) SEOBU QUEEN and (3) SUNLIGHT BOY are others who have hinted at ability and could come into the equation.
| | |
| --- | --- |
| Selections | (13) Sagarmatha (6) Yeonggwangui Power (9) Goddess Moon (1) Seobu Queen |
| Next Best | 3, 4, 2 |
| Fast Start | 3, 4, 6, 9, 13 |
Busan Race 3: Class 5 (1400M) Allowance / KRW 25 Million
(8) TOP LUCKY was narrowly beaten into 3rd place last start at this distance in a fast time on a dry track. He has beaten a couple of his rivals here recently and with Franco Da Silva in the saddle today, can make a return to the winner's circle. (3) ULTRA PHOENIX was a last start winner at class and distance and as she suffers no penalty for it, has to warrant respect in similar company today. She's well drawn to be prominent from the start. (4) PINEUI KKUM won at this class over 1200M at the end of October. He also has a 2nd place to his name at this distance and is firmly in the hunt for at least a place. (12) STRONG MIND is better than his last start 7th suggests and has outside placing chances while (14) DARK TEMPLAR is inconsistent but has found the money in similar company in the past.
| | |
| --- | --- |
| Selections | (8) Top Lucky (4) Pineui Kkum (3) Ultra Pheonix (14) Dark Templar |
| Next Best | 12, 1 |
| Fast Start | 3, 4, 8, 12 |
Busan Race 4: Class 4 (1400M) Allowance / KRW 28 Million
Competitive looking race but the Bart Rice/Djordje Perovic combination is too tempting to ignore. (5) YEOKJEON MYEONGSU ran 2nd on debut over 1200M in October having previously won a trial and while he is up in distance today, the Super Saver gelding looks to have excellent claims. He's not alone. The experienced (1) SEONGSAN POWER doesn't exactly win out of turn but rarely fails to pick up a cheque and should be close again today. (7) POKPUNG EONDEOK remains a maiden after six attempts but has the fastest time at the distance courtesy of a very good runner-up finish last start three weeks ago. (11) ROCKY SKY and (3) HANBIT YEONGGWANG came home 2nd and 6th respectively when they raced each other over 1200M a month ago and both should be in the minor money frame today.
| | |
| --- | --- |
| Selections | (5) Yeokjeon Myeongsu (1) Seongsan Power (7) Pokpung Eondeok (11) Rocky Sky |
| Next Best | 3, 8 |
| Fast Start | 1, 5, 6 |
Busan Race 5: Class 3 (1400M) Allowance / KRW 32 Million
We're going with Perovic again. (2) GOLDEN WINNER has prevailed on four of nine occasions with plenty of these back down the track behind him. He won at class and distance two starts back with dropped back from a mile is the one to beat. The super-experienced (10) GANGHAN JILJU took thirty-four starts to make his breakthrough but immediately followed it up with another win and then two 3rd place finishes at this class. A very good apprentice keeps the weight light here and he looks set to be involved in yet another finish. (1) MAN OF THE MATCH and (3) YEONGGWANGUI FIGHT came home 5th and 6th when they raced each other at 1800M last month. They have both been beaten by Golden Winner recently but look to have placing chances here. So too (4) TANGENT.
| | |
| --- | --- |
| Selections | (2) Golden Winner (10) Ganghan Jilju (1) Man Of The Match (3) Yeonggwangui Fight |
| Next Best | 4, 12, 11 |
| Fast Start | 1, 2, 9, 12 |
Busan Race 6: Class 1 (1200M) Allowance / KRW 40 Million
(1) SSONSAL is turning into a top-class sprinter and having dispatched a number of the better ones who go here over 1400M on October 16th and getting no penalty for it, there is little to suggest he can't do the same again over 1200M today. (11) DORAONPOGYEONGSEON got the closest to Ssonsal that day in 2nd. He's a multiple Group winner at this distance and while he had an apprentice taking weight off that day, he is no stranger to going close under big imposts and he can play a role late on here. (4) RAPIDO MAN won back to back races at class 3 in the summer to get promoted to this level. He looked well when winning a trial two weeks ago from an excellent draw can prove he belongs at this level. (8) A PURE GOOD MAN and (9) MORNING DAERO are others who could place.
| | |
| --- | --- |
| Selections | (1) Ssonsal (11) Doraonpogyeongseon (4) Rapido Man (8) A Pure Good Man |
| Next Best | 9, 12 |
| Fast Start | 1, 3, 4, 9, 12 |
Seoul Race 1: Class 6 (1200M) Allowance / KRW 22 Million
(10) ACHIM GISANG made all to win on debut on October 23rd over this distance having previously looked impressive in a trial. Due to getting no penalty that day, she gets another crack at class 6 today and it is very hard to imagine anything beating her. If she does manage to go wrong somewhere, then (6) TOUGH MAN is the logical contender to take advantage. He ran a useful enough 2nd on debut over 1000M a month ago and looks to have some potential of his own. It's slim pickings amongst the others though. (1) ALPHA DOK has a couple of creditable runs to his name and while he hasn't raced since July, looked well in a trial just last week. (14) ROYAL YEONGGWANG was 5th behind Achim Gisang last start and that too is enough to put him in with a shout of minor money today.
| | |
| --- | --- |
| Selections | (10) Achim Gisang (6) Tough Man (1) Alpha Dok (14) Royal Yeonggwang |
| Next Best | 7, 2 |
| Fast Start | 6, 7, 10, 12 |
Seoul Race 2: Class 6 (1200M) Allowance / KRW 22 Million
Both (1) DAEHAN JILJU and (7) BAEKRANG ran 3rd on their respective debuts, both of them over today's distance. Both had previously shown good speed when winning trials and they look set to dispute the honours between them here. Based on their first starts, Daehan Jilju is marginally favoured. (10) SEO E BEONJJEOK came home 5th behind Daehan Jilju on his second start. He came from way off the pace and get a bit closer this time. There are five debut-makers and among them (3) SPEED GUY looks most likely to make an impact first up. He won a trial in good order two weeks ago and is nicely drawn to get to the lead here. (13) GOLD K came through the same trial as Daehan Jilju all the way back in August and could be an interesting outsider.
| | |
| --- | --- |
| Selections | (1) Daehan Jilju (7) Baekrang (3) Speed Guy (13) Gold K |
| Next Best | 10, 9 |
| Fast Start | 1, 3, 7 |
Seoul Race 3: Class 6 (1200M) Allowance / KRW 22 Million
Two last start winners get another crack at class 6 here and they will fill out the top two selections. (4) QUEEN OF BEST was the better looking of the pair with an all the way score over this distance on October 16th. That was her third career start, and she has shown improvement across each of them. Under the same conditions there is no reason why she can't win again. (6) MIR CAPTAIN ran well for his win too on what was a slower racing track. He came from just off the pace to score handsomely and a repeat can't be ruled out. The draw does (13) SAENAE CHOICE no favours as her 2nd place last time was achieved with a fast start from an inside gate but she has been knocking on the door for a while now and could place here. There are three first-time starters among whom (5) CHEONBISEONG is the pick having put in a useful looking just two weeks ago.
| | |
| --- | --- |
| Selections | (4) Queen Of Best (6) Mir Captain (13) Saenae Choice (5) Cheonbiseong |
| Next Best | 1, 3 |
| Fast Start | 1, 4, 5, 13 |
Seoul Race 4: Class 5 (1200M) Allowance / KRW 25 Million
No fewer than six of these raced against each other at class and distance on October 23rd. It was (6) DAEJI YEOGEOL who came out on top that day, coming from off the pace to win by a full five-lengths. Accordingly, she is likely to be favourite again and she has every right to be, but it's no foregone conclusion. (2) GLORY FIGHTER got the closest that day running 2nd in what was her best finish to date and she can go close again but a bigger challenge may come from (3) HWANGGEUM POWER. Following a very good win in July, she finished in midfield behind Heungbaragi in August's Rookie Stakes before finishing 5th in the Daeji Yeogeol race. Moon Se Young picks up the mount today and she looks a chance. Among those who don't come out of that race, (13) BIG PLAN was a winner himself at class and distance in October and should be taken seriously here, although the draw is a big concern. (8) ADELE MUSTANG is up in class after a good score over 1000M in August and will be on pace from the start with solid claims to go close.
| | |
| --- | --- |
| Selections | (3) Hwanggeum Power (6) Daeji Yeogeol (8) Adele Mustang (13) Big Plan |
| Next Best | 2, 4, 12 |
| Fast Start | 5, 7, 8, 9, 13 |
Seoul Race 5: Class 4 (1200M) Allowance / KRW 28 Million
There will be a strong favourite here as (3) GOOD VOW looks set to return to the winner's circle. He won back to back races in July and August and while he could only manage 3rd on reappearance in October, he still managed to finish in front of several of his rivals here and it will be a big surprise if he doesn't do so again. Of those he beat last time, (1) NALARA HILL looks to have the best chance of getting closer today. She was 4th in that race after running 2nd the start before. (2) KING OF SUNDAY has consistently run good times and comes into contention following a good 2nd behind Carving Cross a month ago while (8) GLOBAL CHEONHA beat three of his rivals here on the way to 2nd place at class and distance in October. He can mix his form but looks to have a good chance of a place.
| | |
| --- | --- |
| Selections | (3) Good Vow (8) Global Cheonha (2) King Of Sunday (1) Nalara Hill |
| Next Best | 14, 11 |
| Fast Start | 3, 8 |
Seoul Race 6: Class 1 (1800M) Allowance / KRW 40 Million
(4) MIGHTY GO is turning into a very good horse with five wins from six starts, stopping the clock in some very good times in the process. He steps up in class to the top level for the first time today and perhaps more significantly, it marks his first appearance racing around two turns. He's met all his challenges extremely well up to now and he is the pick to meet them again. It helps that one of his main rivals here is also more noted as a sprinter. (1) JJANG KONG comes in having run 2nd to a track-record breaking Eoma Eoma over 1400M in October. That appears to be his best distance, but he should go close. One who the distance definitely suits is (2) SUPER SOCKS. He has won at this class over 1900M and while his latest couple in July and August were a little lackluster, he comes in here fresh and with solid claims. (5) DARK PLAYER and (6) JANGSAN POWER are others in at least the placing hunt.
| | |
| --- | --- |
| Selections | (4) Mighty Go (2) Super Socks (1) Jjang Kong (5) Dark Player |
| Next Best | 6, 3 |
| Fast Start | 4, 5, 7 |
Seoul Race 7: Class Open (1400M) Gyeonggi Governor's Cup – Allowance / KRW 275 Million
The locally bred fillies and mares get the chance to run for what is, by current standards a big prize. These races are always tough to call but Korean Oaks winner (2) UARYUNG backed up that form with a smart win over today's distance on October 23rd. She's a winner of four from six now and could well be the one they need to beat today. (11) RAON FIRST didn't go to the Oaks but was instead sent for the Ttukseom Cup where she ran a strong 2nd behind Dia Road, beating the likes of Silver Wolf. She's going to have to work hard to get the lead today, but once she gets there, she won't be easy to dislodge. (8) WISH ME was 4th in the Oaks but returned to Seoul to pull off a super win on a good-rated track at this distance on October 16th. It was only at class 4, but the winning time was faster than the class 3 run over the same distance on the same day and she looks right in this. (7) GEOSEN JILJU led in both of her recent wins and while she came up short at 1400M last time can be given another chance here. (14) GO UP has run some excellent times at this distance as well and while the draw does her no favours, she can't be ruled out. Nor can Luna Stakes winner (4) WHITE QUEEN. She didn't perform in either the Oaks or a November Seoul appearance, but has talent and can go well from a good draw.
| | |
| --- | --- |
| Selections | (2) Uaryung (8) Wish Me (11) Raon First (14) Go Up |
| Next Best | 4, 7, 13 |
| Fast Start | 3, 4, 7, 9, 11, 14 |
Seoul Race 8: Class 3 (1400M) Allowance / KRW 32 Million
Tricky race this, especially with two of the main fancies, (13) DAEGUN POWER and (14) K TOP KING, having drawn the widest gates. Daegun Power ran 3rd in what is essentially a race of reference here, over 1400M on October 23rd, having previously registered a fast class 4 win over 1300M. (10) HWANGGEUM JUMEONI was the best of those who go here that day, finishing in 2nd but the form could well be overturned. Also capable of overturning it is (7) GAON FORCE, who ran 4th in that race, having drawn wide. He is already a class and distance winner and from a much more favourable gate this time, could be the one to beat. As for K Top King, he won back to back races in fine style in the summer before running 5th of 14 on his first try at this class in what was a strong race on October 16th. Lim Gi-won is going to have his work cut out but if he can find a forward position early, he can win. The wildcard is (2) ACHIEVE. He races for the first time since December of last year but looks to be well on the evidence of two trial wins in October and November. From a great draw, he will surely hit the front early and could well go all the way.
| | |
| --- | --- |
| Selections | (7) Gaon Force (2) Achieve (14) K Top King (13) Daegun Power |
| Next Best | 10, 12 |
| Fast Start | 2, 14 |
Seoul Race 9: Class 4 (1200M) Allowance / KRW 28 Million
Interesting race to conclude with which brings together fourteen imports. Four of them are previously unraced including the pick and likely favourite (9) GOOD PILSEUNG. The Distorted Humor colt looked a potential talent when winning a trial in late October and in what is not the toughest of races to debut in, he has every chance. Second in that trial was (10) BLACK MUSK. He's by Flat Out and also makes his debut here and his time too was fast enough to make him likely to be a real player f irst-up too. Continuing the theme of promising debut-makers, (5) QUICKLY SUN led in his trial before ultimately finishing a close at hand 2nd. Expect the Chitu colt to be on pace from the gate here and to go close. As for the ones with prior racing experience, the only one that really jumps out is (6) UNICORN BRAVO, who should have come on for his 4th place on debut on October 23rd, when he beat a couple of the others who go here.
| | |
| --- | --- |
| Selections | (9) Good Pilseung (6) Unicorn Bravo (5) Quickly Sun (10) Black Musk |
| Next Best | 4, 14 |
| Fast Start | 3, 4, 5 |