The Singapore season runs calendar year, with December now a month off.
Walker has fashioned an outstanding record in Singapore where he has been champion trainer in 2015, 2017 (record 87 wins), and 2019, while also finishing runner-up three times, third, and fourth.
Walker ventured to Singapore in 2010, where he has made every post a winner for Te Akau Racing after joining the operation straight from school.
The talented trainer won the New Zealand Trainers' Premiership on five occasions before extending that success to the Lion City.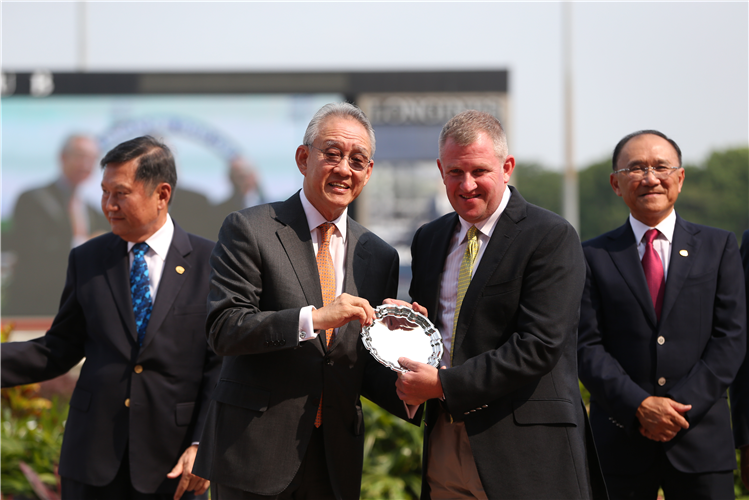 "I've not been losing sleep over the Premiership, to be honest, but it's great to win it again after all the hard work throughout the year," Walker told the Singapore Turf Club.
"I have to thank my owners and a great team of staff. We must not forget I'm just the captain of the ship and I need a whole crew behind me."
Trivia buffs would not have missed the pattern – 2015, 2017, 2019 and 2021 – for his crowning years, but Walker didn't think there was anything odd to the biannual success. It's all about stable management and horse turnover.
"The key to it is to have new horses coming through, and I've been lucky in that regard," he said.
"My greatest supporter is now Fortuna Racing; they have more horses (15) than Te Akau (10) now.
"All my thanks to John Galvin who has been building up a new stable."
Walker admits to being one of the lucky ones, with a full stable that won $2.89 million in prizemoney in a time when Singapore Racing has fallen into decline, with COVID-19 a body blow to the sport that was already under pressure in the jurisdiction.
Trainers the ilk of Lee Freedman and Cliff Brown called time on their Singapore stints this year, while the volume of races and prizemoney distributed has dropped substantially.
"I've been here for 11 years and won four champion trainer titles, something which I never thought I would achieve when I first arrived," Walker said.
"But what I remember more from my first year is what the Club looked like then. How I wished we could go back to those days.
"I still believe Singapore is one of the greatest countries in the world to live in. I wish the government could get behind racing to get it going again, like the way it's done in Australia where every state gets behind its racing and have been a real catalyst.
"We can't hide behind COVID-19 all the time, as I believe we can get it under control. Racing has got to turn around as it's not sustainable for us anymore.
"I'm the lucky one with a full barn, but some of the other trainers don't have that. Still, we've got to hope we can ride out the storm as I really don't think this is rock bottom."
The former Matamata trainer was the youngest New Zealand premiership winner with his first trainer's title coming in 2003/04 when only 31, subsequently eclipsed by Te Akau Racing's current mentor, Jamie Richards, when winning aged 30 in 2019/20.
Adept at handling both bloodstock and livestock, Walker grew up on a dairy farm in Rahotu, about 30 minutes out of Opunake.
"I was very lucky that I met Dave (Ellis, Te Akau principal) when I was young," Walker said.
"I think, fundamentally, when you're starting out, you need someone to back you not only financially but Dave has been in the game a long time and can read a race better than most people I've met and he's never afraid to back off a horse, give it a spell when it needs a spell, and there's always another day with him.
"And that's part of the success of Te Akau. There are a lot of horses that were given time and of course when you give them time it costs more money, so you've got to have someone that understands racing completely and Dave's very fortunate that he does.
"Both Jamie and I have been very fortunate that we've had the backing of Dave and his wife Karyn."
Te Akau principal David Ellis, who has provided opportunities for a host of young people over the years opportunities to so many people in racing, recalled employing Walker when just out of school.
"Mark had been out once to Te Akau Stud on a horse float, and next time he gave me his CV," Ellis said.
"I didn't have any positions but read his CV that night and thought this guy has got something. He'd just finished school, had a bursary to go to university, intelligent, and I thought I'd give him a job on a three-month trial and we've worked together ever since.
"He stands out as a leader in every respect. He was a great show jumping rider and a genius with what he can get a horse to do.
"When he was only 26 years old he had trained the favourite for the Melbourne Cup and not only is he an extremely good judge of a horse, but he is the best trainer I have ever seen in preparing a horse to peak for its main target.
"He is always the first trainer to the track each and every morning and probably the most dedicated guy I have ever met.
"Mark is now a director and shareholder in Te Akau Stud Limited and our partnership has been incredibly successful.
"Mark took up the training role for Te Akau in Singapore ten years ago to give us a fresh challenge, provide new and lucrative opportunities for our owners, and to be part of a terrific racing jurisdiction.
"He understands the importance of keeping horses happy in order for them to do their best and seems to have an unbelievable way of understanding the individual characteristics of each horse. I think that's why he's so successful.
"That, plus he's such a hardworking and professional guy. He's always working and thinking about how to get the best out of the horses he trains."
Walker's apprentice jockey Hakim Kamaruddin also claimed both the champion apprentice and champion senior rider title and will be given further opportunities to blossom in New Zealand, subject to visa approval.
"There is potentially so much more improvement to come out of Hakim," Walker said.
"That's why I'm sending him to New Zealand where the opportunity to ride for Te Akau all around the country will be the making of him."