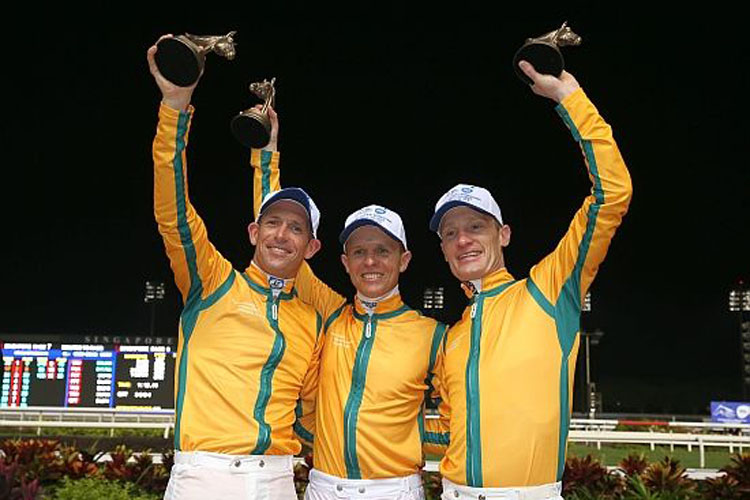 Zahra landed the Singapore feature race aboard the John Meagher-trained Mayo's Music back in 2004 when he was then a young 22-year-old jockey venturing out at his first overseas stint.
The Raffles Cup was then run over 1800m but was for the first time shortened to a mile last year. Now slated as the first Leg (used to be the second Leg) of the Singapore Triple Crown series, the $800,000 race will be run on September 22.
Zahra, who has since added another 10 Group 1 wins (mostly at his Melbourne base, like the 2016 Australian Guineas aboard Palentino, but he's also won the 2018 Australian Derby on Levendi in Sydney) to his glittering resume, has been booked to ride the Cliff Brown-trained Mister Yeoh in this year's Raffles Cup.

The son of Wanted ran a cracking third to Countofmontecristo at his last outing in the Group 2 Merlion Trophy (1200m). The licensing committee has yet to give its approval for Zahra.
Figuring among the Top 10 in Melbourne in recent years, the Perth-born Zahra has become a well-sought international rider of late, having recently won a race in the Shergar Cup in UK and was also a member of Team Australia, the winning team of last year's Premier Gateway International (PGI) Jockeys Challenge at Kranji.
Brown has also gone overseas to book a rider for stablemate Elite Excalibur, US-based Brazilian jockey Luan Machado. In this case, it is arguably more of a spin-off given Machado's main assignment is in the Group 3 El Dorado Classic (2000m) on September 20 when he will reunite with Elite Quarteto, a horse he knew as Quarteto De Cordas for having won four times on him in Brazil, including a Group 1 race.
Brown said that Zahra's booking on his dual Group 2 winner (Singapore Three-Year-Old Classic and EW Barker Trophy, both over 1400m) was also the connections' idea.
"Nick Turnbull (owner of Mister Yeoh) is in Melbourne and was the one who picked Mark Zahra for Mister Yeoh in the Raffles Cup," said the Australian handler.
"The Brazilian jockey is on Elite Excalibur and Michael Rodd will ride What's New."
The talented mare, who claimed this season's first two Legs of the Singapore Four-Year-Old Challenge, the Group 3 Silver Bowl (1400m) and the Group 2 Stewards' Cup, is getting close to a return since her meritorious fourth place to Sun Marshal in the third Leg, the Group 1 Singapore Derby (1800m) on July 21.
While it was visiting Adelaide apprentice jockey Raquel Clark and Ben Thompson who rode What's New at her 4YO series wins, it's Brown's No 1 jockey who will be back in the saddle on the Casino Prince mare.
Rodd, who was the winning partner at three of What's New's four other wins, was back aboard at her comeback barrier trial on Tuesday. They finished second to King's Speech (Joseph Azzopardi).
"It was okay. She finished well and has done all we wanted her to do since she's come back in work," said Brown.
"She will run in the Raffles Cup first-up, and probably the QEII Cup if all goes well, but definitely not the Gold Cup."
Brown was referring to the second Leg of the Singapore Triple Crown series, the Group 1 Queen Elizabeth II Cup (1800m) on October 20 and the third and last Leg, the Group 1 Dester Singapore Gold Cup (2000m) on November 10.
"She won't run 2000m, but she's got to step it up in the Raffles Cup," said Brown who won last year's renewal – as well as the QEII Cup – with Debt Collector.
"It's one thing to run against her own age group in the 4YO series and another to run at weight-for-age against those better horses. Time will tell if she's up to it.
"As for Elite Excalibur, he didn't run in the Committee's Prize, the 59kgs would have killed him. He's good, too, and I'm happy with the way he has come through."
A closing third to Star Emperor in the Group 3 Jumbo Jet Trophy (1400m) at his last start on July 28, Elite Excalibur was meant to run in the Group 3 Committee's Prize (1600m) on August 18, but did not get a chance to defend his title earned in last year's renewal after he was withdrawn. The race was won by lightweight chance I'm Incredible.