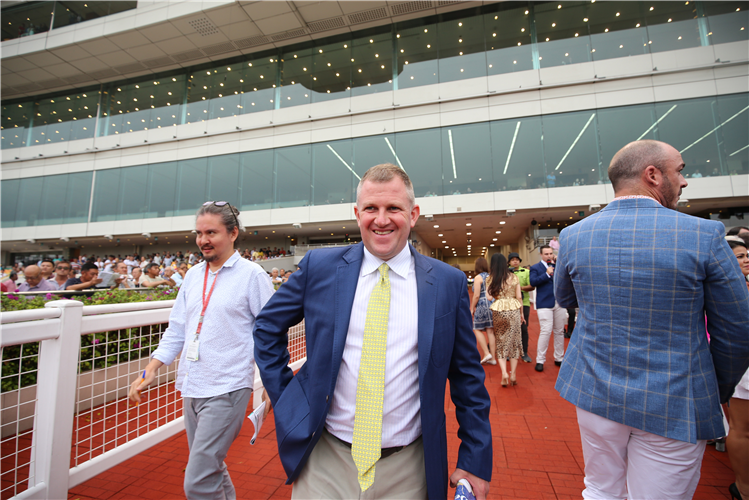 Five timer for Walker
Hunting down his ninth premiership, expat Kiwi trainer Mark Walker bagged five wins on Sunday at Kranji Racecourse.
Walker won the opening race of the card with Savabeel gelding What You Like and went on to win the next three races, with Amazing Choice securing the five timer later on the night.
"It was really good and things fell into place," Walker said. "You don't get days like that often. There's still a long way to go in the premiership, but the horses are running very well.
"It was pretty tough through the (COVID-19) lockdown when we were short staffed and short of riders, so it's been a really good team effort to keep everything going.
"We'd had five (wins) in a day previously in New Zealand, and I think we did one other day in Singapore but (Manoel) Nunes weighed in light on the last winner and it was disqualified."
While Covid-19 is causing ongoing ramifications world-wide, Walker has appreciated some of the solace that is being experienced in New Zealand.
"I've really enjoyed watching the Super Rugby from back home," he said.
"We've done pretty well restricting the virus in Singapore, but not as good as New Zealand has.
"We're really happy to be back racing because the lockdown period did have an impact on racing and we've just got to battle the best we can through this.
"We've nearly got our staff numbers back to full strength. There have been some long and frustrating days, though, but we're getting back close to normality."
Auckland Racing Club stakes announcement for 2020/21 season
The Auckland Racing Club (ARC) has announced that it will be increasing stakes above minimum levels for this season by contributing close to $1,000,000 of its own monies.
"It gives the Club great satisfaction to be able to offer stakes top-ups for this season," ARC chief executive Paul Wilcox said.
"First and foremost, we are a racing club and everything we do is with an eye on maximising our returns to stakeholders.
"While we have topped-up stakes to around this level for the past three seasons I am thrilled that we have been able to achieve this again for the 2020/21 season, particularly after the difficulties the last few months have posed for us all.
"I seriously cannot wait to get this new season off and racing at Ellerslie and am delighted that our Club has been able to once again make this commitment to industry participants."
Stakes for some of Auckland Racing Club's races across the 2020/21 season include:
– Group 1 Vodafone New Zealand Derby (6 March 2021) retains its stake of $1m
– Group 1 Barfoot & Thompson Auckland Cup (13 March 2021) retains its stake of $500,000
– The Group 3 SkyCity City of Auckland Cup (1 January 2021) to be run for a stake of $200,000
– The Group 3 Haunui Farm King's Plate (6 March 2021) will be run for a stake of $100,000
– The Dunstan Feeds Stayers Championship Final (1 January 2021) will be run for a stake of $100,000
– The 1500m Championship Final (26 December 2020) will be run for a stake of $80,000
– The Listed Hallmark Stud Handicap (26 December 2020), the Listed Shaw's Wires Ropes Uncle Remus Stakes (26 December 2020) and the Listed Mufhasa FastTrack Stakes (6 March 2021) will each be run for a stake of $60,000
– Non-black type races run on 26 December 2020, 1 January 2021 and over Auckland Cup Week (6 & 13 March 2021) will be run for $50,000
– Rating and Open races run on Feature meetings between 28 November 2020 – 20 February 2021 will be run for stake money of $5,000 above the minimum