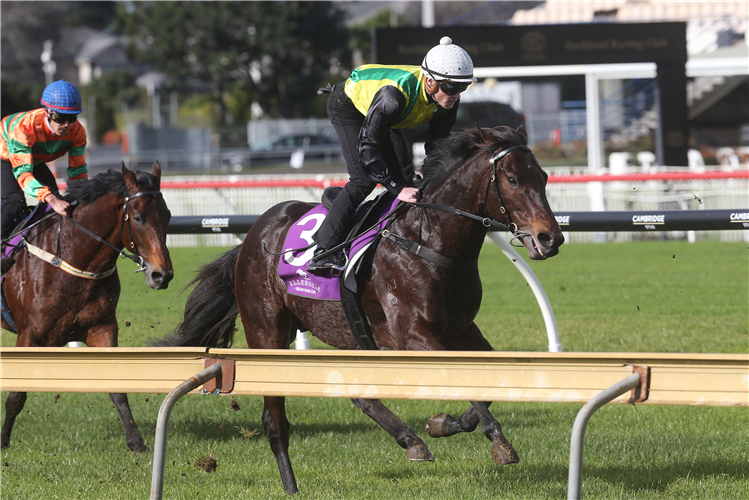 The six-year-old entire finished three lengths behind trial winner Beauden and co-trainer Andrew Forsman was happy enough with what he saw from The Chosen One before he heads to Australia.
"The Chosen One could be Melbourne-bound, so whether he has time for a trial at Taupo I am not too sure," said Forsman, who trains in partnership with Murray Baker.
The son of Savabeel is likely to begin his Melbourne campaign in the Gr.2 Feehan Stakes (1600m), following a similar path to two years ago.
"Two years ago he kicked-off in the Feehan and that is something we have spoken about starting in that race, and that rolls around quickly enough," Forsman said.
"If that is the case, he probably needs to be on the plane the day of those Taupo trials, so we might have to work a bit of a day out in-between now and then and see if we can give him another day out in public to help bring him on and get him ready for that."
Forsman was also pleased with stablemate Frontman's hit-out in the same trial, but his spring assignments are likely to be closer to home.
"The Frontman will definitely go to Taupo and perhaps kick-off at the first meeting at Hastings," Forsman said.
"A mile to 2000m (is possibly his best distance), I don't know that he really stays," Forsman said of the Gr.1 New Zealand Derby placegetter.
"He is quite a compact, strong horse. He has got a bit of speed too, so if we keep him fresh and to these local tracks with a bit of give in the ground rather than going to Melbourne this preparation, and perhaps look at Australia in autumn."
Last season's gun three-year-old Aegon also had his first hit-out of the season, finishing last in his 900m trial, albeit not asked for a supreme effort and not more than a couple of lengths from the winner Khama Lass, with Forsman citing the heavy track conditions as a contributing factor.
"He went around under his own steam," Forsman said. "Leith (Innes, jockey) said he began well, but as soon as he hit the ground he did struggle in it, which was quite interesting.
"We thought all along that he probably does get through wet ground, but perhaps not. Although it is very heavy ground out there.
"He went to truck into it at the top of the straight and Leith took a hold of him and didn't want to get stuck into him.
"He was only two to three lengths off the winner without any pressure, so that was exactly what we wanted to see."
The A$7.5 million Golden Eagle (1500m) remains Aegon's major goal this spring and Forsman said he won't be overly taxed ahead of the rich feature.
"The Tarzino (Gr.1, 1400m) is an option to kick-off in," Forsman said. "He will have time for another trial between now and then.
"That is an ideal race for him to start off. We don't want to over-race him before we get to the Golden Eagle.
"I think he is a horse at his best when he is on the fresh side, so that is something we will need to work out in the next two to three weeks."
Meanwhile, Forsman is pleased with Sydney-based Quick Thinker's progress ahead of the spring.
The stable also has Melbourne Cup aspirations with the So You Think entire, who will likely remain in Sydney for the early part of the spring.
"He is coming along really well," Forsman said. "He hasn't had too long off, so he should be a relatively fit horse. He is going to have another jumpout on Thursday.
"He could potentially resume on Saturday-week. It will be weather dependent with him. We don't want to run him on good to dead ground, we are looking for those slow to heavy tracks.
"Ideally, he will stay in Sydney through to the Metropolitan (Gr.1, 2400m), which is his primary target.
"If he can get a bit of give in the ground and run well there, then we will consider going to Melbourne."
Both The Chosen One and Quick Thinker were featured in the early nominations for the Caulfield and Melbourne Cups on Tuesday and Forsman said it is quite exciting having two qualified chances for the time-honoured Cups.
While COVID-19 enforced travel restrictions continue to hinder their preparations, it is nothing new to the Cambridge trainers who trained The Chosen One to a third placing in the Gr.1 Caulfield Cup (2400m) and fourth placing in the Melbourne Cup last year under similar circumstances.
"With COVID, you don't know what is going to happen next. It does make it tough when you are trying to train horses and you don't have access to them," Forsman said.
"We are lucky that we have Bjorn (Baker) over there looking after Quick Thinker for us and Aleisha Legg (stable travelling foreperson) is very experienced in travelling to Melbourne, so that is a big help.
"It is great to have two horses that could, or should, be in the race. Hopefully the Europeans can't make it out."