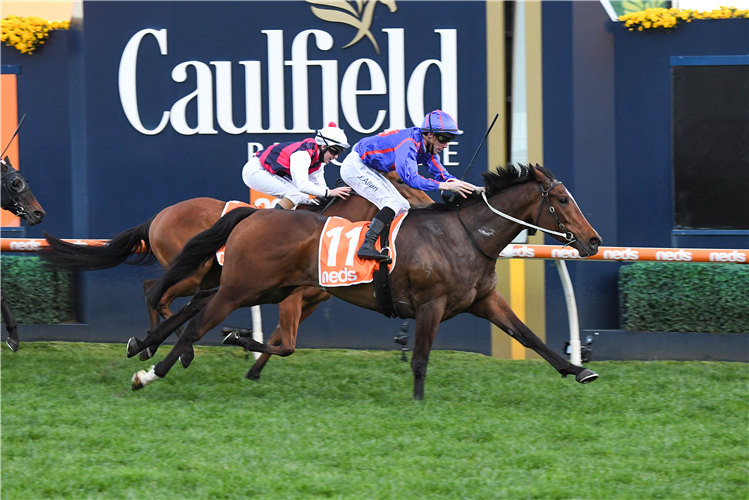 Boss had been chasing the ride for some time and was given the green light on Monday to ride one-kilogram over the four-year-old's 50kg allotted impost this weekend.
The Mick Price and Michael Kent Jr-trained gelding reminds Boss a lot of fellow Kiwi-bred Kolding, who he rode to victory in the Epsom Handicap two years ago.
"He reminds me of a horse I rode called Kolding. They have similar profiles," Boss told RSN927.
"Kolding went to Brisbane and won a stakes race (Gr.2 Queensland Guineas, 1600m) and you could see he was trending in the right direction and his rating was going to go up but he was going to get into an Epsom with a light weight.
"This horse (Ayrton) has a similar profile (having won the Gr.3 Gunsynd Classic at Eagle Farm in June)."
Gaytron has had two lead-in runs in Melbourne prior to Saturday's test, including a first-up win over 1400m at Caulfield last month and a third placing in the Listed The Sofitel (1400m) at Flemington last Saturday.
"I thought his first-up win was very good and I thought his second-up run was even better than his first, even though he got beaten," Boss said.
"I am pretty confident that if he (jockey John Allen) had his time again he would have ridden him different. He was just in the wrong spot from the get-go. I thought he was very brave.
"In a funny twist of fate, he would have got re-handicapped going into the Epsom (had he won), and he might have gone around with 52kg, or maybe more.
"He got into the race at 50kg and I will ride him at 51kg. He is a horse that looks like he is heading in the right direction to run well."
Boss has also been buoyed by co-trainer Mick Price's high opinion of the son of Iffraaj.
"The weight is a massive factor and Mick has got a very good opinion of this bloke, and he has from the get-go," Boss said.
"Mick is a wonderful judge and he has had some amazing horses over the years, so he knows what it takes to win a good race.
"I just think he fits the bill (for an Epsom) and he might go on to a Golden Eagle (A$7.5 million, 1500m) after this, who knows."