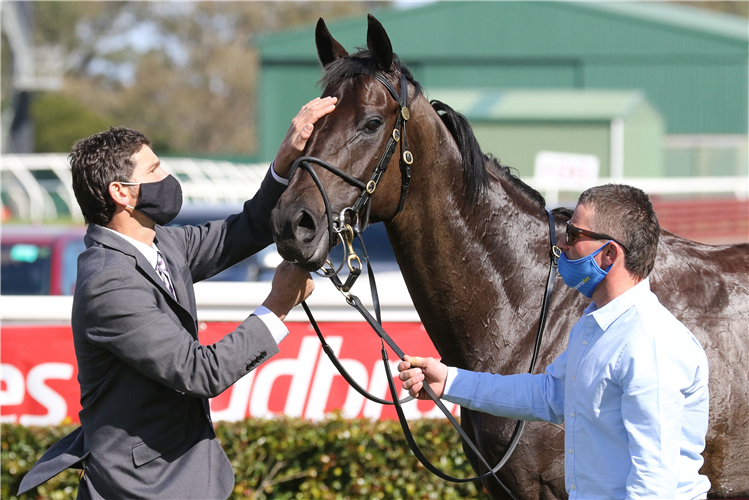 The Waikato horseman, who trains in partnership with his wife Emma-Lee, is currently campaigning a handful of their team in Melbourne, with much success, headlined by Elephant's Gr.3 Sandown Stakes (1500m) win last Saturday.
"We are very happy with the way the team is going, they are all doing the job, so that is always good to see," Browne said.
"Sometimes you turn up to do these things and you don't get the results, but they are all running really well at the moment, so we are happy.
"Elephant has bounced through Saturday really well. It's probably the best of his runs yet. He was nice and fresh this morning, so we are really happy with him.
"He is just one of those horses who keeps putting in 100 percent every time you go to the races. It's very exciting with him.
"We are looking at the Toorak (Gr.1, 1600m) next, depending how we end up in the weights."
While excited about heading deeper into spring racing with his team in Australia, Browne is also keen to head home in the next month, but that is all dependent on securing a much sought-after spot in an MIQ facility or the trans-Tasman travel bubble reopens.
"I am just trying to find a way home eventually, but we will figure that out," Browne said.
"I am not too sure when they will open up (more MIQ spots), but hopefully I will be able to get a slot. It's just the luck of the draw with MIQ.
"I might be here until after Christmas, but we will see."
Ideally Browne would like to return to New Zealand in early November and leave The Jericho Cup (4600m) aspirant Border Leicester in Australia until his crack at the Warrnambool feature later that month, but he isn't holding his breath.
"If I can get a spot I will probably come home in early November and he (Border Leicester) will stay over here," Browne said.
"I might have to be a bit flexible. If you draw the right number you have to get organised."
Border Leicester has had four races in Australia to date, placing over 3080m at Mornington earlier this month, and he will continue his march towards The Jericho Cup at Moonee Valley later this week.
"Border Leicester is running again on Friday at The Valley in a 2000m race," Browne said.
"He is going well and has already got a few points, he came second the other day.
"It's a nice race for him on Friday. He is a bit one paced, but he keeps on wanting to stay."
While Border Leicester is wanting to stay, the same can't be said for his co-trainer, who will continue to have his fingers-crossed in the next round of the MIQ lottery.