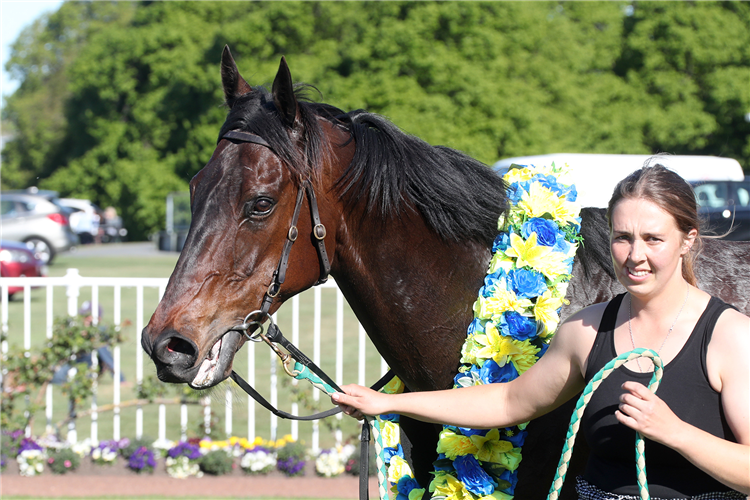 The Christchurch trainer admitted she was still coming to terms with nearly causing a boil-over in one of New Zealand Cup week's most prestigious races but said that performance had raised the bar for future assignments.
O'Reilly six-year-old gelding Seriously rates as one of the horses to beat in Sunday's Positive Signs + Print (1400m), a race that could set the three-win galloper on a path towards the Gr.1 Thorndon Mile (1600m) at Trentham in January.
"Cromwell suits frontrunners so that's a reason we're going down there but also a lot of his owners are based in Queenstown and they wanted to see him," Cunneen said.
"He'll run on Sunday then go out for a couple of weeks and we'll look more towards Trentham than a race like the Timaru Cup at this stage.
"If he can continue on in the same sort of form as his Coupland's run, we'll look at (the Thorndon Mile). If not we'll dodge it, come back to Riccarton and look at those races on our home turf in the autumn.
"He's actually improved on the run in the Coupland's. He's a lot more confident. He never missed a feed after that. He bounced through it really well and I expect another big run from him on Sunday."
Seriously began his career with Riccarton trainer Neill Ridley and transferred to Terri Rae after Ridley died in October last year before joining Cunneen for his current preparation.
Cunneen, who did her early stable education under Shane Kennedy and Anna Furlong, then Jamie Richards and Pam Gerard, worked for Ridley while she completed her studies as a beauty therapist and makeup artist.
She is now full-time training a team of five horses, with Seriously undoubtedly her main flagbearer after his Coupland's second placing.
"It was a bit of a shock really. We'd paid up for the Coupland's because he'd trialled really well at the start of his prep," she said.
"He didn't get a lot of luck in his three starts beforehand but it was just a bit of a roll of the dice. The owners said 'since we've paid up, let's give it a crack'.
"With Terry Moseley unavailable because he was riding Zoltan, we ended up with Chris Johnson and he rode him perfectly. He went super; he just kept on fighting.
"It was a huge thrill. It took quite a while to sink in. It was quite unbelievable because I think he was my 20th starter as a trainer and my first runner in a black-type race. It was very exciting. I was just hoping he'd cover the costs to get him into the race.
"He won three races last season between Neill and Terri Rae but I think he doubled his stakes earnings with that one run."
Among Seriously's part-owners is Ridley's son Steve.
"Steve has been very good to me. Throughout my time with the Ridleys, a lot of the owners in this horse were involved in other horses so I've got to know them really well," she said.
"I've got a great team behind me and they are happy to back me with a couple of horses in the stable."
Seriously set the pace in the Coupland's but back to 1400m, Cunneen was happy to leave tactics to Johnson for Sunday's race.
"He'll get handy but whether he leads or not, we'll just leave that up to Chris," she said.
"Terry Moseley always thought he was a 1400m horse but then Chris got on the other day and said I think this horse will see up to 2000m. We'll just play around the 1400m to a mile and he might finish his season in the autumn in a race like the Canterbury Gold Cup over 2000m."
Cunneen also heads to Cromwell with William Wallace, a newcomer to her stable, set for Sunday's Loveracing.nz Cromwell Cup (2030m).
The Darci Brahma nine-year-old joined Cunneen last month from the stable of former trainer Adrian Bull, who still retains ownership along with his wife Robyn.
"I've gotten to know the Bulls well over the last couple of years and struck up a good friendship with them," Cunneen said.
"This horse has been with me since the Spring Classic (Listed, 2000m) and with him now rated 80, Adrian said he thought he might be better placed down here now.
"He's bright and well and while he does get back and Cromwell doesn't really favour backrunners, Brett Murray has been riding him work and getting on well with him and we've got a plan to put him in the race sooner."
Cunneen is relishing her training role and has high hopes for promising three-year-old Bornholm, who has the Southern Guineas races on his target list for the new year.
"I've just got five in work and I enjoy doing my own thing with them," she said.
"I'm lucky because I don't have any staff. I just do it myself and Brett Murray and Terry Moseley come in and ride work for me. I enjoy chipping away, doing my own thing with the horses."