The race, which was run over 2,000m and had a total prize fund of £500,000, featured nine top-quality challengers from Europe, taking on four of the best locally-trained runners, of whom Rustang, representing champion trainer Allan Smith, appeared sure to keep the valuable prize in the kingdom.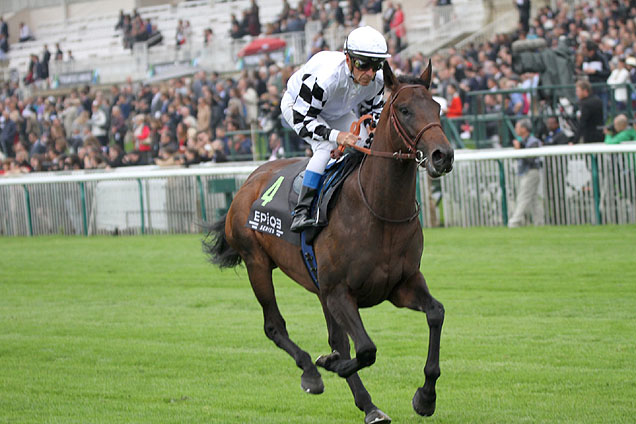 After going to the front before halfway under jockey Lee Newman, a last-minute substitute for the injured Gerald Mosse, Rustang still held a lead of more than ten lengths 400m from the finish and was six lengths clear entering the final 200m.
However, as the leader's stride began to shorten, the chasing pack closed in and Royal Julius was brought with a long, steady run on the outside of the track under former French champion jockey Stephane Pasquier, which took them to the front less than 100m from the winning post.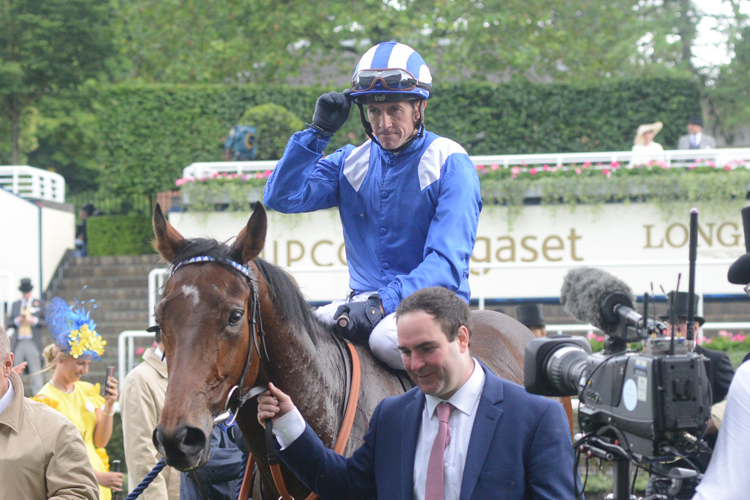 Royal Julius claimed the first prize and a magnificent solid silver trophy fashioned by Garrard for owner Jean-Jacques Biarese by threequarters of a length from Turgenev , trained in Britain by John Gosden, who also did his best work in the late stages and overhauled Rustang by a head. Afaak , representing British trainer Charles Hills, finished a close fourth.
Reynier, who has been training for five years, said: "The conditions were ideal for my horse, who needs a strong pace on good ground, and Stephane, who had never ridden him before, rode a brilliant race. He had a wide draw but that did not worry me, because he was able to keep out of trouble before making his run in the straight.
"Royal Julius is a small horse but he has a big heart and a great mind. That made all the difference today.
"I would like to thank everyone associated with the race for welcoming us to Bahrain so well."
Pasquier, one of seven international champion jockeys taking part in the race, added: "It has been exciting to ride in Bahrain and I am delighted to have won the first edition of this important race."
Robert Havlin, rider of Turgenev for Sheikh Mohammed's Godolphin operation, took the narrow defeat in his stride, saying: "The pace was very quick from the start but my horse showed plenty of spirit in the straight. This is a lovely track and it's been a great experience."
Reflecting on the success of the day, HH Shaikh Isa bin Salman bin Hamad Al Khalifa, the REHC vice chairman, said: "It means everything to us to welcome top-class horses and their connections to the kingdom of Bahrain. After the success of Bahraini-owned horses this year at Royal Ascot, in France and at the Breeder's Cup, it is only natural that we should host an important international race such as this.
"I wish to thank His Majesty King Hamad bin Isa Al Khalifa. He has always pushed us to progress Bahrain and this was his brainchild.
"We are thrilled to be where we are in the international racing calendar, and we have long-term aspirations to stage more such races."
Shaikh Salman bin Rashed Al Khalifa, the REHC executive director, added: "We are all very happy with the result, and thanks go to our High Committee for making the event happen. It was a beautiful day.
"We will learn from the first experience, but it was satisfying that the horses trained in Bahrain put up such strong competition."
The event was staged in association with the locally based commercial partners Gulf Air, Bapco and Batelco.
As well as being shown live locally on Bahrain TV, coverage of the feature race was broadcast to more than 60 countries worldwide through the UK-based Racecourse Media Group's distribution network, taking the event to regions throughout Europe and from the Caribbean to China and Australia.