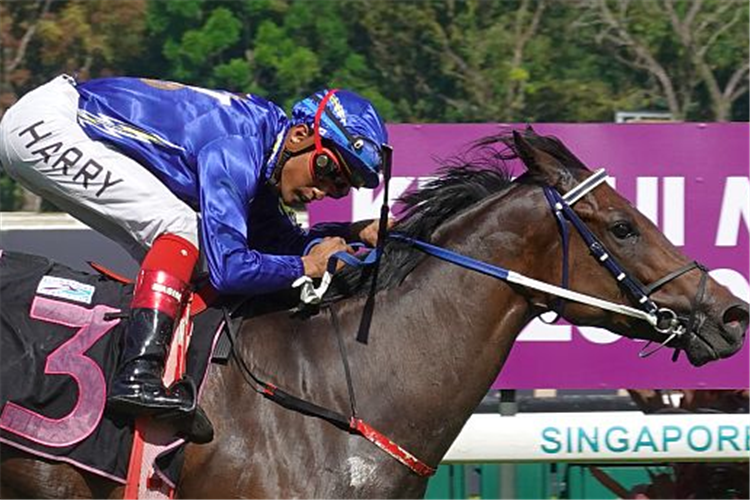 With his 36th birthday falling on $300,000 Group 1 Queen Elizabeth II Cup (1800m) day, the Malaysian lightweight jockey would of course love nothing more than a double celebration.
But after falling from the highs of the Kranji Mile in May to the recent lows, it's the spark Minister showed in the last couple of weeks that has really reignited A'Isisuhairi's hopes.
Not many would disagree the Street Sense five-year-old has been rather plain since his Group 1 Kranji Mile triumph, not even 'Harry', as he is better known, or trainer Donna Logan.
Granted, the former Listed Windsor Mile winner - when trained as Bye Bye Hong Kong by Andrew Balding in UK for his same Thai connections, the King Power Stable - was not expected to be too prominent at his two comeback runs over 1200m and 1400m, but his unplaced last start over a more appropriate distance of 1600m in the Group 1 Raffles Cup on September 18 fell way short of his usual standards.
He had every chance buried away on the rails in centerfield, but just looked tapped for toe when Lim's Lightning and the rest dashed away in the home straight.
With four weeks to go to the first half of his two main missions (the other one being the Group 1 Singapore Gold Cup over 2000m on November 11), Logan and A'Isisuhairi had to put their heads together to fix the problem.
They couldn't really fault a prep where no stone had been left unturned, but something told A'Isisuhairi the gelding had become a touch complacent with routine.
It called for a bit of tweaking just to mix things up, like the headgear.
Blinkers were given a run, and while A'Isisuhairi won't shout bingo until he races in them this Saturday, he got a bit of his swagger back.
"He didn't do much in the Raffles Cup. As a jockey, I know when a horse isn't travelling well," said A'Isisuhairi.
"He didn't show his usual good finish, and we were all disappointed with his run.
"As we all know, he's also not easy to get around. So, Donna and I then came up with a plan, we decided to put blinkers on, we just wanted to sharpen him up.
"Minister has always been in good form last year, but to me, he had been getting used to that situation. As he's also got a bit older, it was time we showed him who's the boss and it's time to wake up.
"He trialled well with the blinkers on, and also did a grass gallop with them on this week (Tuesday). For now, we also put the blinkers on for slow work, just so he gets used to it."
When asked how far Minister had come within the winning grass gallop before the Kranji Mile, A'Isisuhairi said he was close.
"At the grass gallop before the Raffles Cup, he was sour and I was struggling to get him around. He was supposed to work with Super Dynasty, but I ended up going my own way," he replied.
"Last Tuesday, he did his grass gallop alone with the blinkers on, and he gave me a good feel. I really felt he wanted to get on with it – I think he's come back to business, he's back on his game.
"I expect him to do well this Saturday, where the 1800m will suit him better and he can finish off with his good turn of foot."
Since claiming his first 'black type' win with Trudeau in the Group 2 EW Barker Trophy in 2013 when he was still an apprentice jockey, A'Isisuhairi remains the only local rider to have notched at least one Group race every season without fail since.
A second QEII Cup after Wild Geese for his former master Steven Burridge in 2014 would bring up the dozen, but currently, he is not too hard to please.
After a fairly prolific first-half that more or less mirrored his healthy strike rate of 11-12% from his memorable 2020 season when he finished as the top local rider (fourth overall on 28 winners), the New Zealand-trained hoop has seen his win percentage plummet to 6-7% in the last couple of months.
Only two winners – Tony's Love (September) and Tiger Leap (October) – have bumped his score up to 19, but he remained upbeat he can still edge closer to his 2020 score, and why not starting from this weekend itself.
"The quality of horses I've been riding were average, not the sort you'd expect to win," he explained.
"Thank goodness, I rode a winner (Tiger Leap) for Burridge, my old boss, two weeks ago. I think things are picking up.
"I got seven rides this week. Other than Minister, I think Dr Kardo (in the $50,000 Debt Collector 2018 Class 4 Division 2 race over 1400m) trialled very well and Zoffspeed (in the $30,000 I'm Incredible 2019 Class 5 Division 1 race over the Polytrack mile) also has a good chance."