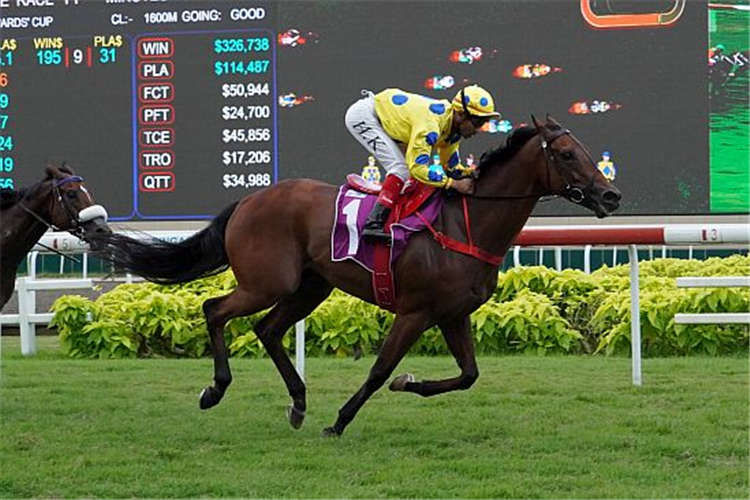 The Australian saddles outside chance Mr Malek in the $300,000 Group 1 Raffles Cup (1600m) when less than two months ago, the Swiss Ace five-year-old was on everybody's lips as the next winner of the Group 1 Singapore Derby (1800m) if his two consecutive wins in commanding style, including the Group 1 Stewards' Cup (1400m), were anything to go by.
Mr Malek fell short of those expectations. Excuses such as the hard track were offered, or the trip was too far, but maybe he just wasn't good enough as another subsequent defeat to Lim's Lightning – incidentally the Raffles Cup favourite - when dropped back to 1400m might suggest.
Burridge is under no illusion the only horse currently raced by former Singapore champion owner Oscar Racing Stable isn't the flavour of the month anymore. At level weights, his chances of turning the tables on Lim's Lightning, Minister or even Big Hearted look slim, but the glorious uncertainty of the turf is what keeps Burridge's hopes alive.
"To be honest, Lim's Lightning will be hard to beat. We don't meet him better at the weights, he is well in on weights," he said.
"He beat us five lengths last time and he gets three kilos off us. Mr Malek then had a freshen back to 1400m (after the Kranji Mile), and steps back up to the mile, which will suit him better, but it still won't be easy with the weight turnaround.
"And there are other good horses like Big Hearted and Minister to beat as well, but Mr Malek has come through his last race very well. I'm very happy with his condition.
"You never know what can happen in a race. If circumstances are in his favour, he may bounce back."
Burridge put the eight-time winner through a barrier trial last Tuesday, with his last-start partner Wong Chin Chuen in the saddle and again booked this Saturday.
"It was just a nice pipe opener. I didn't want to give him anything too taxing," he said.
"Jimmy rode him well last time, he'd done everything I asked him to do. He knows him better now."
Caught four wide early, Mr Malek swung for home with the leaders So Hi Class and Grand Koonta in his sights, but made no attempt to reel them in, just coasting along to fourth place, just under three lengths off the winner So Hi Class.
Whether Mr Malek presses on to the next Big Two (Group 1 Queen Elizabeth Cup over 1800m on October 16 and Group 1 Singapore Gold Cup over 2000m on November 14) will be contingent on the Raffles Cup run, but that Derby distance of 1800m still felt like unfinished business to Burridge.
"Provided he pulls up well and comes through this run okay, I will then run him in the QEII Cup," said Burridge who will be aiming to bag his fourth win in the royal race after winning with King And King (2006), Trigger Express (2008) and Wild Geese (2014).
"I think the run in the Derby has toughened him up. He was three wide that day, it was no one's fault.
"With the right run, I think he can get up to 1800m. The Gold Cup is another story, one step at a time."