The Michael Clements camp and her legion of fans had been a little despondent after her first-up fourth in a Class 2 race over 1100m a month ago, where the general feeling was that trademark sizzling toe of hers might be on the wane.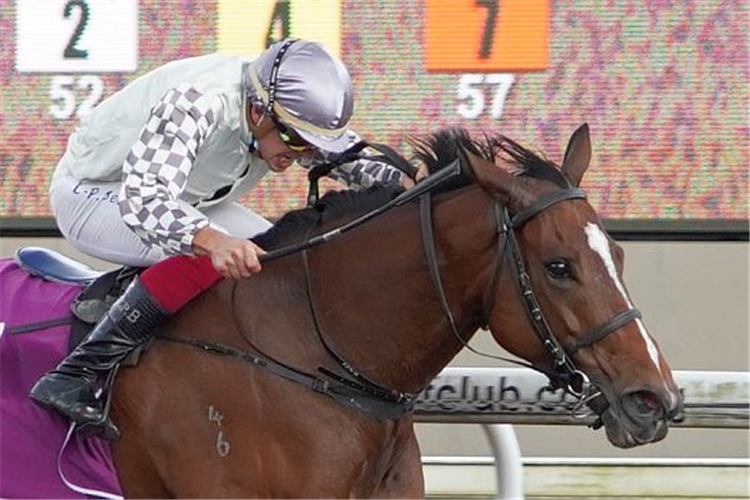 But with the benefit of one run under the belt, the Fighting Sun five-year-old went on to prove she had never lost that greatest asset of hers with an impressive return to her favourite tactics in the race she had been aimed for all year long.
A wide barrier still cast some doubt whether she could vie for the lead, but regular partner Louis-Philippe Beuzelin backed his judgement.
After chewing Clements' ears off all week he could feel the real Celavi was back in trackwork, he rode her like the best horse in the race.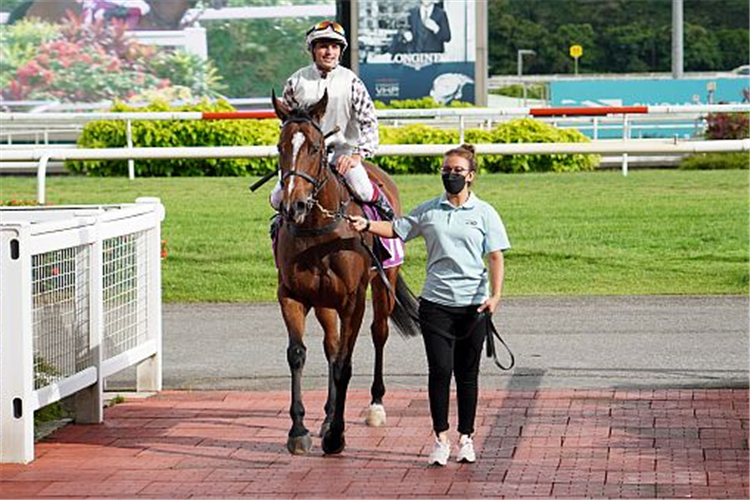 At barrier rise, the French jockey bustled up the $20 chance to first come upsides expected leader Fame Star (Simon Kok Wei Hoong), and then hold the throttle.
It's one of those sliding doors moments in racing where you either sit or take a gamble by rolling forward, either way, you commit. Knowing what he had under him, Beuzelin opted for the latter – and that was probably the defining move.
Celavi was still able to catch her breath from the halfway mark, and by the home turn, it was evident she had her rivals on the backfoot.
Favourite Kharisma (Marc Lerner) was too far back, with the moderate midrace sectionals not helping his cause.
From last place, Gold Star (Wong Chin Chuen) was in the same boat. Hooked to the outside, he began his run to the line, but Celavi was never in any real danger of getting pegged back by anyone.
Stablemate Starlight (Shafrizal Saleh) did emerge from the pack at the 300m, but tried as he might, he could only cut the margin down to 1 ¼ lengths.
Fame Star proved harder to pass than thought, but Starlight didn't shirk the fight for that Clements 1-2, eventually staving Fame Star off by a head. The winning time was 1min 11.1secs for the 1200m on Polytrack.
Celavi has now taken her record to seven wins, one second and one third for stakes earnings that have exceeded the $300,000 mark for the Celavi Stable.
After Clements handed the Singapore champion trainer title back to Mark Walker (the champion for the third time in 2019) at the last meeting, that wonderful result in the last feature of a season, which he still described as successful as the runner-up, certainly lifted his spirits.
"It's great to win the race we have earmarked for Celavi for some time. It's great when a plan comes together like that," said the Zimbabwean-born handler.
"We had programmed that race for her for a while. At her last start, she didn't have the pace but the race brought her on.
"She had an ordinary barrier (10) today, but it was okay. We thought she should be able to get across.
"We knew Fame Star would lead and the plan was to settle in behind Fame Star as we were concerned if she is outpaced.
"It turned out she had the control of the race when Louis pressed on to go forward. We know she is capable of doing it at both ends, but I was a bit anxious she was used up too much.
"But she was strong up the straight, she wasn't vulnerable at all. She was able to go all the way.
"Starlight is a promising horse but has been a work in progress. He's taken a long time to settle down even if he was a Group 2 winner (Singapore Three-Year-Old Classic over 1400m) as a three-year-old.
"Mentally and physically, he still needs some time to improve, but today he showed a lot of merit by coming up with the goods at level weights.
"We knew he needed a strong pace. He could have run in a Class 3 race (two weeks ago), but the pace is not as strong as in a Cup race.
"I'm really excited about his future."
Clements graciously accepted losing the crown to Walker this year, and was in no case finding any excuses.
"The last two years have been exceptional, the best I've had in my time in Singapore," said Clements who relocated from Zimbabwe in 1998.
"We had the most winners month-on-month for so long, but it's difficult to follow up, and that's why the last four or five months have been below par for us.
"Still, it's been a good season in retrospect and I now look forward to next year."
The same sentiments were more or less echoed by Beuzelin, Clements' go-to jockey in the last couple of years, although the support felt a little more staggered at times this season.
The Barbadian-raised and English-trained jockey, who had set lofty goals earlier in the year, even cherishing title ideas, didn't beat around the bush in his self-critique.
A final score of 26 winners and an overall seventh place on the jockeys' premiership would probably see some give themselves a pat on the back, but Beuzelin called his performance "mediocre", even if Celavi's Merlion Trophy win – his only silverware for 2021 - did restore some gloss.
"I had faith in my filly. I've been telling Michael that she was back to her best," he said.
"She was probably only 80% fit when she came back, and gave the winner (Entertainer) eight kilos. She still pulled up very well from that first race.
"I just told Michael we had to make sure we keep her ticking over, and I was so confident she had peaked at the right time for the big race.
"In the backstraight, they made me work to find a good spot. I had to keep at it as she needs the fence to run her best races.
"I was able to give her a breather midrace. At the 300m, she was still going well as I had conserved some energy, but I was a bit worried inside the last 100m.
"I could feel Starlight, a horse I know well for having won on him at his last start and I also worked him on Tuesday, but my filly never faltered.
"It had been out of question I would ever switch to Starlight for the big race. Celavi is my mare, I ride her all the time.
"She was the one who put me on the map in Singapore, and kicked off my association with Michael's yard. I'm like her, I ride my heart out like she runs her heart out.
"She has saved my season, which to be honest, has been very mediocre. There's been a lot of ups and downs, with mainly suspensions breaking up my momentum.
"It's been tough in terms of rides and support, too, but I have gained a lot of wisdom from that experience. It can only put me in good stead for next year which will be even more competitive in the riding ranks.
"This is my Holy Grail and I'm so stoked I won that race, especially on my favourite filly. Some people have written me off a bit too soon, but I've proven that I can get the job done when I'm given good rides – and today was the perfect example.
"I take this opportunity to thank the owners of Celavi, a group of people from overseas mainly, and Michael for trusting in my ability, for having stuck with me, and also for having put me back on her after (Mohd) Zaki won twice on her when I was suspended.
"I also thank her track rider Muneer who is always there to gallop her as I've been slowing her down in her gallops! Congrats on a job well done!
"I'm going back to France for Christmas this Tuesday, it's my first time in three years. I'm really looking forward to catching up with my family, friends and relatives.
"Above all, I need the break. It's been a long season, and it's time to recharge and come back next year. I'll miss the first two meetings through suspension (Konan for careless riding), but I can't wait to give it another crack.
"I'll continue to work hard for Michael as I get along very well with him and everyone at the stable. That last win in a Group 3 race for them was a super nice finishing touch."