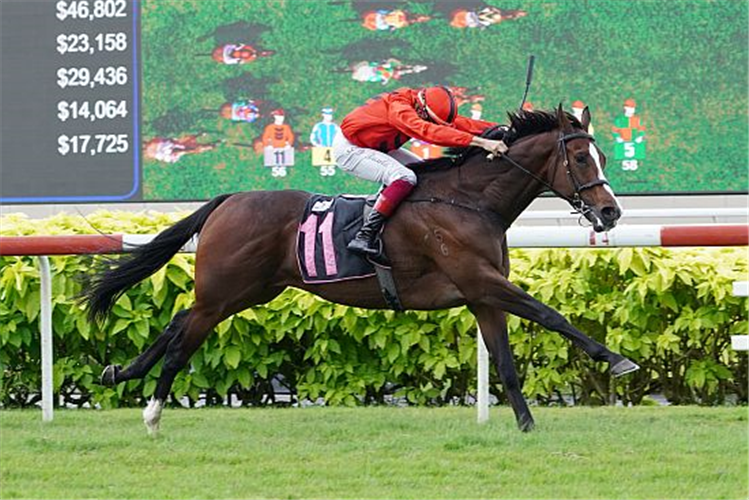 The Excelebration five-year-old's rapid rise from Restricted Maiden to Class 3 level in a dozen starts courtesy of his smart record of five wins and three seconds has indeed tagged him as one of the horses to watch in 2022.
Recency effect has also reinforced that impression.Heartening Flyer was the one who brought last season to a close with a slashing win under Manoel Nunes in the last race, a Class 3 race over 1200m.
He goes up in grade in Saturday's $85,000 Class 2 race over 1400m, pitting himself against the likes of Katak, Nepean, ex-stablemate So Hi Class, and even a former Singapore Gold Cup winner in Mr Clint (2019), albeit not quite the force of old now after his leg issues.
Drawn favourably in two, Heartening Flyer is likely to start as one of the favourites. Trainer Michael Clements is himself confident the Tivic Stable-owned gelding is not punching above his weight, but he would still like to see some tangible results before aiming even higher.
"Heartening Flyer's always showed us a good amount of ability, but things didn't work out when programming him towards better races last year," said Clements.
"I think this year could be his year to be prepared towards better races, like the Kranji Mile for instance.
"He's quite versatile, he's a horse who can race on the speed or come from behind. The 1400m will suit him down to the ground on Saturday, but he can go over even further."
If a start in a race like the $1 million Group 1 Kranji Mile (1600m) on May 21 comes to fruition, he will first have to master the Class 2 opposition he is sinking his teeth into this week.
"It's a competitive field, but Katak is the main form line. He showed decent form in the Cup races at the end of last year and produced his best at his last start when he ran a decent fourth in the Singapore Gold Cup," said Clements.
"He's a horse with a high reputation in South Africa, but who has only started to acclimatise. So, to me, he's the horse to beat.
"So Hi Class (formerly trained by Clements and having his first run for trainer Jason Ong) is obviously a horse I know well. He's a very genuine Class 3 horse and always gives his absolute best.
"But whether he's up to that level is a different matter. When things go his way, he's a genuine horse, though I think the 1400m will be on the short side for him."
Clements also saddles Elite Incredible and Trumpy in the 1400m event, but after the Argentinian duo's disappointing performances in the Singapore Gold Cup, he is not holding his breath for a form turnaround on Saturday.
"They both ran below expectations in the Gold Cup," said Clements.
"Elite Incredible went too hard in the lead, and the track was too firm. I think it was also too far for him, he was simply outclassed.
"The trip is also on the short side for both of them this Saturday, but I think Trumpy can run on strongly.
"For Elite Incredible, it'll just be a pipe-opener, and we'll then take them race by race.
"They are Class 3 horses, but as there's not a lot of depth in the better races these days, they can still get into these races."
Riders booked for the Clements trio are Shafrizal Saleh on Heartening Flyer, Oscar Chavez on Trumpy (Lizard Island six-year-old's only win in Singapore came with the Panamanian up) and apprentice jockey Simon Kok Wei Hoong combining with Elite Incredible (two-time winning Valid Stripes six-year-old) for the first time.
With Heartening Flyer given only 51kgs to carry, it was always going to be a battle for Nunes to stay on board.
"Manoel can only ride at 52.5kgs lowest. So I knew already I had to get someone else and Shafrizal was the obvious pick," said Clements.
"As we all know, Shafrizal rides a lot of work for us and has had a lot of success with Tivic's horses. He also knows this horse well even if he hasn't won on him yet.
"He rides him in trackwork and just galloped him on Monday. It was a very good hit-out."