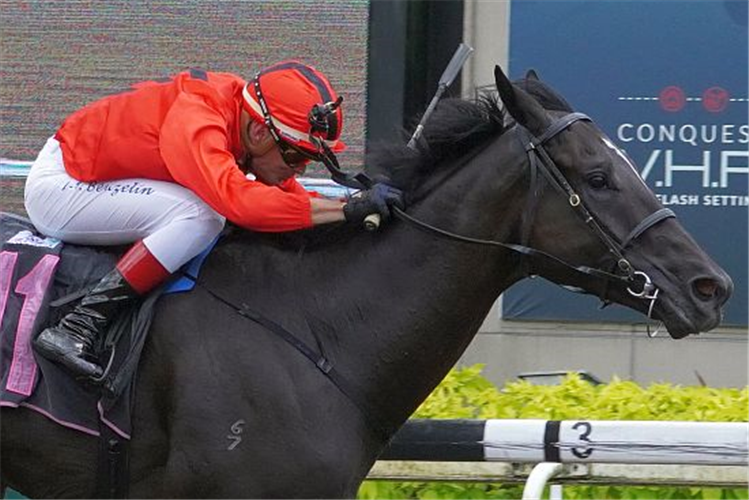 The giveaway was their partnership at the barrier trials on Thursday morning when the Michael Clements-trained and Tivic Stable-owned gelding strode to a nice third to Whiz Fizz.
With leading three-year-old prospects Boomba and Elliot Ness also in the mix as potential rides, not to mention Clements (Duric often rides for the Singapore champion trainer) has also nominated Tiger Roar, Ablest Ascend, Tuesday and Starlight, the four-time Singapore champion jockey admitted it was not an easy decision to make, but neither did he take a stab in the dark.
He said Prosperous Return 's freshness and scope for further improvement swung it for him.
"It wasn't an easy decision at all. I also had Boomba and Elliot Ness I could ride, but I can't ride them all," said Duric.
"I'm giving Prosperous Return first call, he's the fresh horse coming up from a break, and I hope it works out fine.
"He's won three out of four. He's an extremely powerful type of horse, he's big and strong and you can ride him anywhere.
"As he gets more mature, I think he can go up to a pretty high level. If he stays sound, he could measure up as a weight-for-age horse in the future.
"He trialled well this morning. He'll improve from that trial as he was very fresh."
Duric hopes his knowledge of the other two three-year-olds has helped him in pulling the right rein.
When a jockey is spoilt for choice, the happy headache can often turn unhappy, hence leaving Duric with no other choice but to resort to splitting hairs in that painful elimination process.
He said Group 3 Singapore Golden Horseshoe (1200m) winner Boomba was the one who was the hardest to find a chink in the armour in.
"I've got nothing against the other two as they're both very good horses, but Boomba was the toughest one to drop," said Duric who partnered the Tim Fitzsimmons' son of Showcasing at his last two starts, including the last-start win in a prep Class 4 race over 1400m on June 5.
"He won the two-year-old race, and is probably one of the best three-year-olds in the race. But I think coming back from 1400m to 1200m is a bit of a query.
"Elliot Ness is also a good horse and I won once on him (Restricted Maiden race over 1100m on April 24), but I suspect he's just a Polytrack horse. He was disappointing on grass at his last start (fifth to Leslie Khoo's Strong N Smart, one of the Sprint contenders, in a Novice 1200m on May 22).
"That's how I basically narrowed down my choice to Prosperous Return."
After missing last Saturday's meeting when he became indisposed, Duric returns this Saturday with the hope his smallish book of five rides can help keep the yellow jersey on his back. He currently sits on top on 24 winners, three clear of Danny Beasley.
None of them stand out, but the Australian hoop can learn from a few excuses around his previous losing rides aboard Mystery Power (laid out), Red Rover (field-shy early) and Wind Of Dubai (saddle slipped) to make amends. The other two rides are Reignite and Surge.