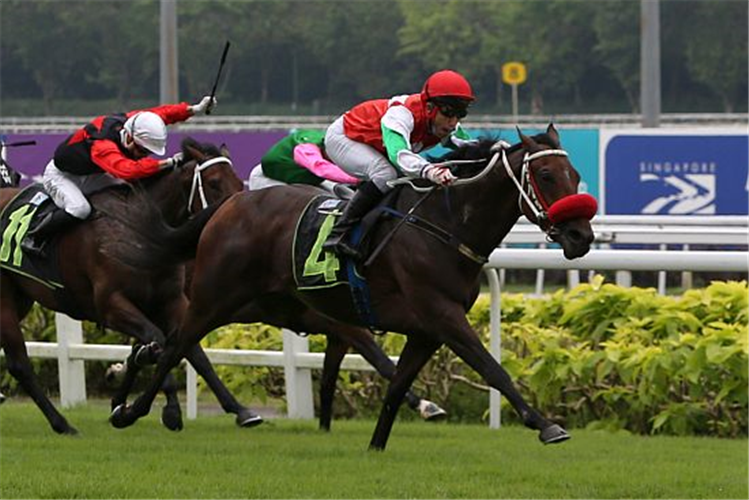 The son of He's Remarkable was bought for a song at only NZ$6,000 by trainer Jerome Tan, among a bunch of cheap buys that also included two progeny of little-known New Zealand sire Remind, Classic Thirtysix and Khao Manee.
Amazing Breeze is the first among Tan's "cheapies" to hit the jackpot when he unleashed a barnstorming finish in the $75,000 Restricted Maiden race over 1200m on Saturday to get off the mark at his fourth Kranji outing.
Incidentally, he becomes the first progeny of Mapperley Stud resident stallion He's Remarkable to salute at Kranji. Two sons of the Pentire stallion, Maestro and My Money began their careers in Singapore, but only won three races between them when they moved across the Causeway, with My Money (previously with Tan Kah Soon and Leslie Khoo) only just breaking his maiden status at his very first Malaysian (32nd career start) start in Penang on May 5.
All up, seven He's Remarkable's (three are deleted) have competed across the Malayan Racing Association circuit for a record of four wins in 112 starts, but Tan obviously did not give those stats too much weight when he took a shine to Amazing Breeze in a New Zealand paddock.
"I bought him for very little money in New Zealand. He was the most forward of the lot (a fourth, Master Player by Tiger Prawn, is the only one not to have raced yet)," said Tan, beaming at the thought he was reaping the first instalment of his bargain basement purchases.
"It's a new Singaporean owner, the Applause Racing Stable, who bought him, and it's good for them they won their first race - and already got their money back in that $75,000 RM race – no need to have a bet."
Amazing Breeze has already made around $50,000 from his maiden win and one placing, but it wouldn't have hurt their pockets at all having a flutter as well, as they would have picked a lovely bonus with the $40 odds, good value considering he had shown glimpses of ability at his first three Kranji starts, especially his flying third at his debut in a similar Restricted Maiden over 1200m as Saturday's.
"He showed a very nice turn of foot at his debut (March 20) with Tengku (Rehaizat). He ran third to Lim's Kosciuzsko, but then he ran unplaced at his next start (Novice 1200m)," recalled Tan.
"The apprentice jockey (Iskandar Rosman) was at his first time riding this horse and didn't know him. After they missed the kick, he rushed him and the horse then overraced.
"Tengku got back on at his third run, and again, he dropped back and ran on late (seventh to Prodigal in a Restricted Maiden race over 1400m on May 29).
"After three runs, horses will improve and Amazing Breeze was one of them. You can't ignore that formline of his debut third when he got beaten by Lim's Kosciuszko who will be the likely favourite for the (Group 3) Singapore Three-Year-Old Sprint next Sunday.
"Tengku knows the horse well and settled him at the back. He always runs like that.
"I wasn't worried he was still behind turning for home, because they were four wide killing each other in front. I knew it would suit a backmarker like my horse."
Favourite Reignite (Vlad Duric) had every chance after sitting off the girth of race-leader Good Fight (Oscar Chavez) but remained one-paced when the chips were down.
It was trainer Ricardo Le Grange's least-fancied of his trio of newcomers, Renzo (Simon Kok Wei Hoong) who looked like he could upset the applecart when he outsprinted the duelling pair, but had no answer to Amazing Breeze's sizzling acceleration when he was steered into clear room to the outside inside the last 400m.
Amazing Breeze scored going away by two and a quarter lengths from Raffie (Wong Chin Chuen), Le Grange's best-backed debutant, who after making heavy weather of it at the 300m, finished the best to claim the runner-up spot, half-a-length from Renzo.
The third Le Grange runner Sand Box (Krisna Thangamani) made stacks of ground on the outside but just missed fourth place by a neck from the much-improved Our Final Offer (Louis-Philippe Beuzelin). The winning time was 1min 10.31secs for the 1200m on the Long Course.