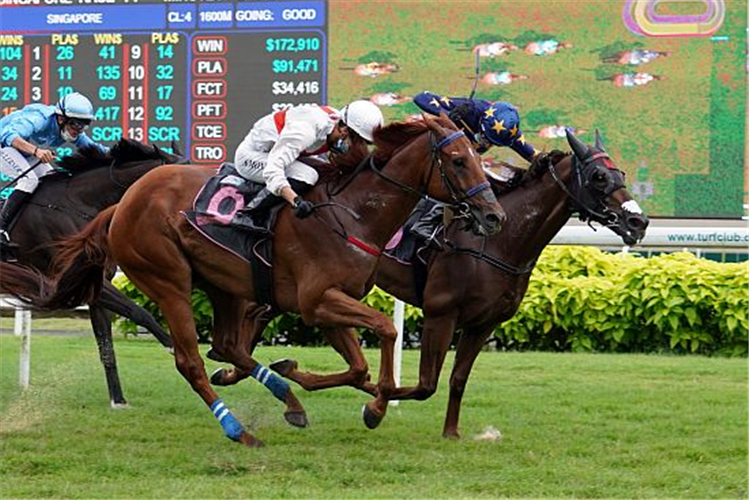 While a $50,000 Class 4 race over 1600m is not in the same league as the $1 million Group 1 Singapore Gold Cup (2000m), the last 300m did bring shades of the time-honoured race brilliantly captured by Meagher's Lim's Lightning on Sunday.
There is a difference in class maybe, but the similarities were aplenty.
Rambo elected for the same frontrunning tactics as Lim's Lightning (both are raced by champion owner Lim's Stable), but it's when the Stephen Gray-trained Billy Elliot, rousted along by Simon Kok Wei Hoong, ranged alongside at the top of the straight that it suddenly looked like déjà vu.
On the inside, Beasley, clad in the same blue and yellow stars of the Lim's silks, was desperately trying to conjure up a second wind from Rambo when Billy Elliot collared him, and even poked his head in front – just like his stablemate Hard Too Think did when he challenged Lim's Lightning in that epic Gold Cup showdown.
For a fleeting second, Gray was turning the tables on Meagher, but Rambo ($24) picked himself off the canvas in the same style as Lim's Lightning to regain the edge, clinging on to his slender advantage to fall in by a short head from an ultra-brave Billy Elliot.
Con Speranza (Oscar Chavez) and Silent Partner (Marc Lerner) dead-heated for third place another 1 ¼ lengths away. The winning time was 1min 36.63secs for the 1600m on the Short Course.
A five-year-old by Heliostatic who was opening his Kranji account at his 11th start, Rambo had never rolled to the lead before, but Meagher saw an opportunity for a change in the plot on Saturday, went for it and collected the cash.
"This horse had been getting in a beautiful position before, but just hasn't been able to finish it off," said Meagher.
"I discussed with Danny in the morning, and it was the plan to get him in front from that alley (11), and hopefully, he can keep going.
"You could see he wasn't really comfortable in front, though. Danny had to urge him along.
"He doesn't show much ability on the tracks, he has not wowed us even though he came with good form from Argentina.
"He's very hyperactive, and CS (Chee Seng) Chin rides him every day and has done a wonderful job with him. He gets along with him very well."
But the biggest kudos went to his jockey, who with that win earned himself a double that bridged the gap on Hakim Kamaruddin in the jockeys' premiership, only for the Malaysian apprentice jockey to pull one back on $39 shot Valorous in the last race, the $50,000 Class 4 race over 1200m.
With a five-win deficit (Hakim on 57 versus Beasley's 52 winners) to make up at the last meeting next Saturday, Beasley faces a herculean task, but regardless of the outcome, Meagher was still proud of his best mate's achievement at his very first year back from a four-year hiatus.
"Dan gave Rambo a peach of a ride. He's very strong in front, and he shows it even more in those staying races, especially in a tight finish," said the Australian handler.
"It doesn't matter if he doesn't win the premiership. He again showed he was as good as he's ever been, probably even better.
"It's a credit to him at his age, he shows so much dedication to his craft as a senior rider. Today, he's just reaping the fruits of his labour."
With minor prizemoney already earned from four previous seconds, Rambo has now made in excess of $75,000 for the Lim's Stable.