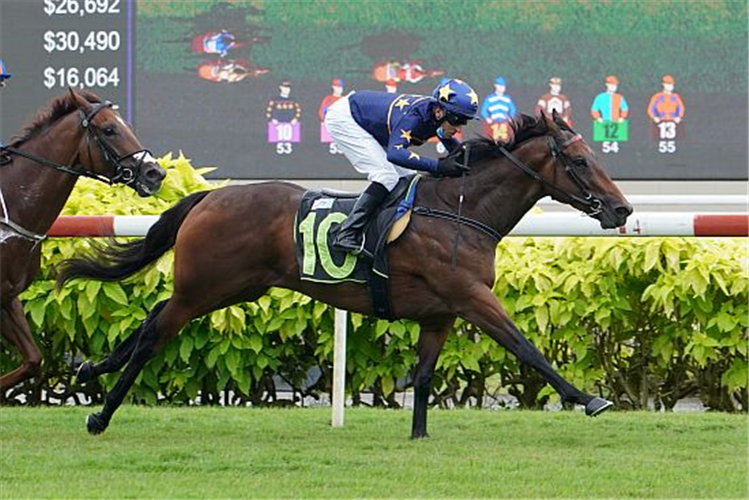 Unless you have been living under a rock, we're all familiar with the fairytale comeback story of the horse who, following a lacklustre stint in Australia (Queensland and Victoria), came back bigger and better to the land of his past heroics as a two-year-old.
Normally, such returns back to square one are met with scepticism, with doubts deepened further when Lim's Lightning tailed off badly at his first barrier trial for Meagher on January 14, running last more than 30 lengths off the winner.
The doubters were soon silenced. He went on to win five of his six starts, including two at Group 1 level, the Lion City Cup (1200m) and last Saturday's Raffles Cup (1600m).
Now, Lim's Kosciuszko is not by a long chalk Lim's Lightning's heir apparent, at least not yet. After all, the Kermadec four-year-old's last of three wins back in May came in Class 4 company where jockey Danny Beasley had to really get stuck into his mount to pass Hotshots Slam, not exactly an A-lister at Kranji.
But following his low-key first step towards a racing comeback at a barrier trial at Kranji on Thursday morning, when he cantered in 36 lengths off winner Asaad (Shafrizal Saleh) à la Lim's Lightning style, some were connecting the dots a little too quickly.
Meagher said such quiet barrier trials were one of his trademarks when throwing resuming horses back in at the deep end – and there was absolutely no need to read too much into it.
"Lim's Lightning also finished last around 30 lengths off at his first barrier trial. I think he ran 1min 7secs!" recalled Meagher.
"I do like to do that, give them an easy day first off, and that's exactly what Lim's Kosciuszko did this morning.
"If it produces the same results as Lim's Lightning, that'd be great, but look, Lim's Kosciuszko still has a fair way to prove he's in that calibre.
"Let's not forget he's a Class 4 horse and he needs to improve before he becomes a very good horse."
Patient as ever, Meagher has given himself no deadline to bring the horse he himself named after Australia's highest mountain and an Australian sprint feature for country sprinters, back to the races, saying that the horse will let him know when he is ready for the climb back to the top.
Besides, pulling the pin one week prior to Lim's Kosciuszko's stiffest test on the big stage at his fourth start, the Singapore Three-Year-Old Sprint (1200m) back in June was a case in point.
Feeling somewhat half-hearted about contesting the Group 3 race, Meagher called off the run, citing that titanic struggle against Hotshots Slam as the main reason behind the case of cold feet.
"That day he beat Hotshots Slam. No doubt he can only beat what's in front of him, but physically, he felt that run," he said.
"He also had a pretty solid prep last time. I just didn't think he was ready for the big race, and that's why we decided not to run him (in the Sprint, which was won by Michael Clements' Tiger Roar), spell him and bring him back slowly.
"He had a good break and had a good time away from it. He has done well mentally.
"Like I said, today, he was out there to have a stimulating trial just to get things moving. He had to take a step towards making a comeback, and that was a stepping stone.
"He wore earmuffs, he's never had them on before. It was a quiet trial and Danny rode him accordingly, I was happy with his action and attitude, so was Danny – they really clicked.
"It was a nice trial, he pulled up well, but he's obviously not ready yet. So he'll probably have one or two more trials, and I hope it works out, I have no set plans, really."
Still, Meagher has circled in a few tentative dates in November, but would be more than happy to take a raincheck if necessary.
"We'll gradually take the next step with him. (Owner) Mr Lim (Siah Mong) is easy to work with as he lets me do what I want to do," he said.
"The horse has done nothing wrong so far, but I really feel he needs to get better, and hopefully, he will. For example, if he is to match horses in Class 3, he's got to improve.
"We'll try hard to make it happen. If it takes longer than it should, so be it.
"There are a few Class 4 1200m races in November he can run in first-up, but I won't hesitate to wait until January if I feel he's not ready."