Meagher was then the Australian Racing Hall of Fame trainer's senior track rider when Mayo's Music (2004), Lim's Classic (2006) and Lim's Objective (2007) claimed the then 1800m Kranji feature.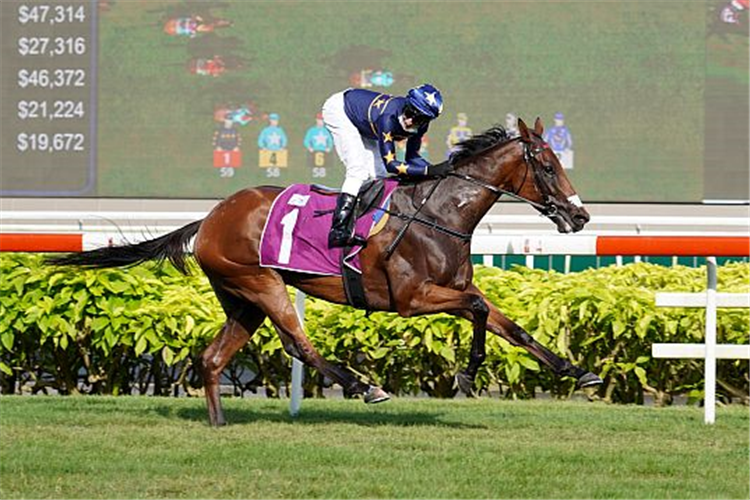 As a trainer in his own right when he returned to Kranji in 2016 (the Meagher clan upped sticks in 2011 after a successful 13-year-old Singapore stint to return to Australia), Meagher enjoyed his first Group 1 success with the same Lim's Lightning earlier in the year in the Lion City Cup (1200m), but to join his father on the Raffles Cup honour roll had this extra sentimental value.
"It means a lot to win this race. It's my Dad's favourite race on the calendar, and yesterday was also his 73rd birthday," said Meagher who himself was unwrapping a late birthday present after turning 38 on Tuesday.
"He just called me to congratulate me. On returning to scale, Danny (Beasley) told me 'this is for Johnny!'.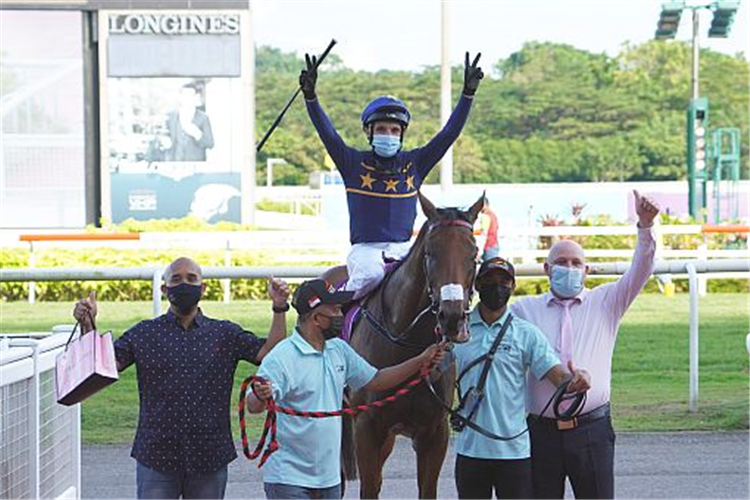 "A big shout-out to Danny, my best mate, my staff, Fahmy who rides him every day and all my boys.
"I also want to thank (owner) Mr Lim (Siah Mong), who has been the best supporter of mine and the family in the last 20 years or so.
"He didn't hesitate to re-establish the partnership when I came back. Mind you, he didn't serve it on a silver platter; I had to prove myself.
"We don't have just an owner-trainer relationship. He's more like a father figure, he's a gentleman in the normal world and a gentleman of racing.
"The Singapore Turf Club is lucky to have an owner who has invested so much in our racing like Mr Lim, and I'm also lucky to train for him."
Without a doubt, the most heartfelt gratitude is directed to the horse himself, the Lope De Vega six-year-old the knockers doubted could return from a half-baked midcareer switch in Australia (only one win at Werribee in eight starts) to an even higher level than the juvenile heights he reached three seasons back.
"He just keeps stepping up and gets better and better. He came with a lot of problems, but we've kept him happy with a routine and we've sorted him out," said Meagher.
"Today, there could be a lot of speed or none. We don't give Danny any instructions, he knows the horse and just lets him find the best position.
"I thought there'd be a few leaders in the race to be honest, but he landed in front and I could see Mr Malek parked on his outside at the 900m was struggling to keep up.
"He made his own luck in front and in the straight, he just kept rolling. There's no limit to what he can do, it seems.
"We'll go to the QEII Cup now. We just never know for the Gold Cup, we'll see."
The 1800m of the Group 1 Queen Elizabeth II Cup to be held on October 16 will be the furthest Lim's Lightning will ever tackle, therefore the 2000m of the Group 1 Singapore Gold Cup on November 14 is at this juncture a bridge they will only cross when they reach it, but confidence is still flying high in the camp after that 3 ¾-length rout where a blinkered and reinvigorated Top Knight (Louis-Philippe Beuzelin) showed vast improvement to head a Michael Clements trio in the battle for the minors.
Better was expected from Big Hearted (Simon Kok Wei Hoong) but the 2020 Singapore Gold Cup winner was incapable of taking any ground off Lim's Lightning in third place another two lengths away, 1 ¾ lengths clear of stablemate Prosperous Return (Hakim Kamaruddin). The winning time was 1min 34.18secs for the 1600m on the Short Course.
Beasley for one couldn't wait for the QEII Cup, a race he won by default in 2009 on Cheyenne Dancer (second past the post) after the sashed winner, Big Maverick, was stripped of the title following a positive swab weeks later.
"He was full of running when he won today and was the last to pull up. He's a very willing animal, and I'm confident he'll run the QEII Cup trip at his next race," said the Australian jockey who was capturing his second Raffles Cup after War Affair for trainer Alwin Tan in 2014.
"I was also always confident going into today's race, especially after his barrier trial last Thursday. I thought to myself it didn't matter how I ride him, he'd still do the right thing.
"The key to this horse is to ride him wherever he is comfortable, but because he's such a big boy who doesn't like to be pulled or pushed around, I just held on to him to keep him balanced.
"He has such a massive stride that today I was mindful to use that to my advantage, and try and rate him the best I could.
"I could see Oscar (Chavez, Elite Incredible), (Mohd) Zaki (Ocean Crossing) on my inside and CC (Wong Chin Chuen, Mr Malek) on the outside looking to go forward, but my horse was going so easy that I could take the lead anytime.
"I thought if I wanted to lead, today was my best opportunity to do so, and take the race by the scruff of the neck, so to speak. At the 600m, I had such a supreme confidence that I thought for those back in the field, they'd have to run flying sectionals to catch me.
"It was a fantastic win, and looking back, it's been quite an amazing journey. Every race from the start has been work in progress, but he's become easier to ride with every run.
"Credit to the whole team, both Fahmy and CS Chin (Chee Seng) who ride him in his work. I'm only the pilot at the trials and on raceday.
"The horse has really come a long way. Today was the first time he just relaxed perfectly, he was such a terror and a nightmare when he first arrived, but he has settled down as he's gone through his racing."
A parallel of sorts can be drawn with Beasley's own riding career that was halted off his own bat to reskill himself as assistant-trainer to Meagher in 2017, but which was resurrected earlier this year given the exceptional conditions whereby the world lives under the yoke of a pandemic these days. Just like Lim's Lightning, it's been a fairytale comeback right from the day he donned his breeches back.
Not only Beasley won a Group 1 race in the Lion City Cup barely a couple of months into his return from oblivion, but he also tops the senior jockeys' log, albeit second overall to Hakim who has pushed a little further ahead again with three winners (Brutus, Sacred Judgement and Reignite) versus Beasley's double (he won aboard Everest earlier). The gap has now stretched to 10 winners – the boom apprentice jockey sitting atop on 49 winners with Beasley on 39 winners.
"A friend of mine just called me to congratulate me. We spoke how at the start of the year, I had no expectations, but today, I've got two feature races on the board," said the Golden Slipper-winning jockey (Polar Success in 2003).
"It feels surreal, but at the same time humbling. I have to thank Dan and the owners, especially Mr Lim, for their support, and the Singapore Turf Club for giving me a new licence, I really appreciate what they've done to me.
"And of course, this win is special for one man, Johnny. We wanted to win that race for him and it's also a birthday present for him and Dan."
With that ninth win from 16 local starts along with four placings, Lim's Lightning ($7) has now amassed close to $1.1 million in stakes earnings for the Lim's Stable.