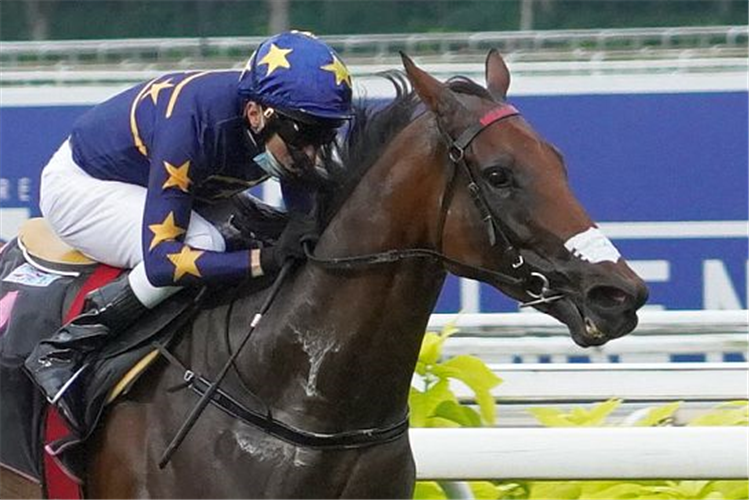 First of all, the race named after Singapore's founder Sir Stamford Raffles is the Group 1 race his father John won the most during his training career in Singapore from 1999 to 2011.
With three of them (from his seven Group 1s at Kranji) to his name – Mayo's Music (2004), Lim's Classic (2006) and Lim's Objective (2007) - interestingly the last two for the same connections as Lim's Lightning 's, Meagher Sr shares the same haul with Charles Leck, Michael Freedman and Cliff Brown, but trainers Teh Choon Beng and Laurie Laxon hold the record with four winners.
In those days, the Raffles Cup was slated as the second Leg of the Singapore Triple Crown series and was run over 1800m, but now it's been shortened to the mile, carries a lower purse and the Triple Crown is off the menu in that new racing landscape shaped by COVID-19.
Nonetheless, the premier race also resonates with Meagher Jr, who was with elder brothers Paul and Chris a major cog in the wheel of the yard's success during those salad days. Always hands-on, he started off as senior track rider before becoming an assistant-trainer alongside Chris.
Fourteen years after the last Raffles Cup win, the Australian, a trainer in his own right at Kranji since 2016, holds a bright chance of filling his dad's big shoes and perpetuating the Meagher-Raffles Cup legacy this weekend, while at the same time handing a belated present to both father and son.
Meagher Jr celebrated his 38th birthday on Tuesday while his Melbourne Cup-winning father (What A Nuisance in 1985) and Australian Racing Hall of Fame inductee turns 73 three days later, on Raffles Cup eve.
"It would be great if I could win Dad's favourite race on the Singapore calendar. He won it three times," said Meagher.
"I connected with Lim's Classic and Mayo's Music a bit more as I rode them every day. Dad used to bring out the best weight-for-age horses, all genuine Group 1 horses, with most of them running in the Raffles Cup.
"Things have obviously changed now, but it would still be great if we can do it as a stable again, win another Raffles Cup and end up on the same page as Dad.
"On a personal note, it would be a nice birthday present for myself and Dad. Mine is today and Dad's is Friday, it would mean a hell of a lot if we could win it for the old man on Saturday."
One of the significant changes to the Raffles Cup actually works better for Lim's Lightning, the trip.
Even if the Lope De Vega six-year-old has yet to tick off anything above 1400m at his eight wins, he ran a cracker when only bettered by Minister in the Group 1 Kranji Mile back in May.
Four months on, Meagher is confident Lim's Lightning, the amazing comeback success story who gave him his first Group 1 success in the Lion City Cup (1200m) in April, can revisit that journey, and come away with the top prize this time.
"He's going better and racing better than he was in his early days, he's become a push-button horse," said Meagher.
"He was an absolute terror when he first arrived (from a mid-career stint in Australia where a plain record of one win in eight starts didn't match the lofty expectations held by the Lim's Stable). Even to get him to work in the sand ring, I had to sedate him!
"I had to ask (his previous handler) Steven Burridge and Richard Lim, who used to ride him, for help, and they told me to use a muzzle, and it seems to have come good.
"He's done an amazing job since, proving to be a lot more of a racehorse every time he's raced. He's exceeded our expectations.
"Nowadays, he's such a routine horse. If you walk him a different way, he gets upset, you just have to keep him happy.
"From his work to his trials, he's showing a lot of improvement. When he raced at his last start (Kranji Stakes A race over 1400m on August 22), he had 59.5kgs on his back, but he gave Danny (Beasley) such a beautiful ride, he was on remote control.
"He settled for him, and quickened at will. He just went straight past Fame Star whereas in the Kranji Mile, Fame Star dropped off too quickly and didn't take him into the race.
"That left him vulnerable. He got to the straight too soon, he was lost in front, and he didn't stretch out.
"But he's racing with a lot more confidence now. He's a very happy horse and you can ride him anywhere he wants to be – up there or from behind."
The extra furlong of the Group 1 Queen Elizabeth II Cup (1800m) on October 16 would have been a brazen gamble just six months ago, but apparently, not anymore.
"We'll have to see how he pulls up obviously, but the next step should be the QEII Cup for him. I have no doubt he will be competitive over 1800m," said Meagher.
"The Singapore Gold Cup (2000m) is not high on my agenda, though. Let's take one race at a time."
On paper, at level weights, the Raffles Cup is his to lose, but Meagher is not ruling out a challenge from left field to thwart their plans.
"I have a lot of respect for the horses in the field, especially Minister," he said.
"I know Minister has got the figures over the mile, he goes better over further and Donna (Logan) has gone on record to say the QEII Cup is more their target, but the fact remains he has the wood on us, he beat us in the Kranji Mile. I think Donna is just shifting the pressure onto my shoulders!
"I won't worry about his last race (distant fifth in race Lim's Lightning last won), he's much better than that.
"I think Katak is also a very good horse. That race he ran in two weeks ago (last in a Class 2 race over 1200m) wasn't his race. He'll be the fresh horse on the scene."
Meagher, however, knows his ward's form the best, down to every quirk, providing him the baseline for picking up any untoward departure.
"I was very happy with his barrier trial last week (September 9). It's not necessary to run under 60, he just needed a blowout," he said.
"I also needed Danny to have a feel of him and he jumped off saying he was going as good as ever. As usual, it took him till the 1700m mark to pull up, the day he doesn't do that, I'll worry.
"He's very fit and has the form on the board. I hope he brings that form to the races again this Saturday."