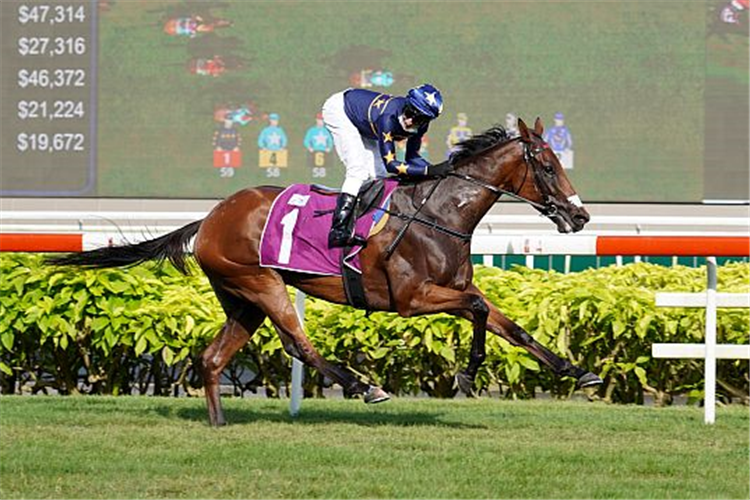 The Lope De Vega six-year-old has taken all before him since he returned from an average Australian stint that produced one win at Werribee from eight starts.
Five wins in six Kranji starts at that second lease of life, including two Group 1s, the Lion City Cup (1200m) and the Raffles Cup (1600m) at his last start on September 18, have more than doubled a score that read four wins in 10 previous starts under trainer Steven Burridge's care during his pre-Australia 2YO/3YO campaigns.
Lim's Lightning will, however, venture beyond the mile for the first time, but Meagher - and most observers would probably agree - said it would have been a big query when he just landed in his yard all raw and a bit of a pain in the backside at the end of last year, but the new Lim's Lightning should take that into his stride.
"He's a gentleman now compared to what he was. In the past, one little thing would stir him up and he would lose the plot," said Meagher who owes his two Group 1 wins to Lim's Lightning, and is now chasing a three-peat.
"He still reacts to everything, you can't change that side of him, but as opposed to last time, he now goes straight back to his routine.
"He's a very different horse now. You can ride him wherever you want.
"I'm really looking forward to seeing him over 1800m. Dan (Beasley) can put him anywhere, but ideally, I would love a strong tempo and he can sit third of fourth off it.
"That would suit him just perfect. His best win was probably with a bit of cover, peel off the leader and sprint home with that good turn of foot of his."
Still, the Australian trainer is not against the idea of a more positive ride from his barrier six from eight, like in the Raffles Cup when the gelding's natural gate speed (those sprinting genes never wear off completely) was used to winning effect.
Once Lim's Lightning came off his middle draw to find the steel, Beasley threw the anchors out and waited till they were the first to greet the judge at the top of the straight before cutting the ribbons, going on to give his 11 rivals windburn.
From the ruck, Michael Clements' pair of Top Knight and Big Hearted did come whacking away but were safely held in second and third places respectively.
"He led by default in the Raffles, and still ran away with it," said Meagher.
"If there is no speed, that's fine, he might lead again. You need to have the horse to do it, and we do have that horse.
"He's very comfortable whatever the pace is. He gets into a good rhythm, ideally gets cover and works into it.
"Dan is so confident with him, too. It's so much better when your jockey is confident, it really helps so much."
While it was Wong Chin Chuen who was in the plate at Lim's Lightning's sensational first-up win in a Class 2 over 1200m back in March, the Australian jockey, who worked as Meagher's assistant-trainer before he also made a successful riding comeback earlier in the year, would not be prised off the saddle since.
With seemingly no chink in the armour as far as distance, the jockey and of course, the horse himself, go, Meagher does look up to the opposition with the utmost respect, though.
"I have a lot of respect for his rivals, especially Big Hearted and Top Knight," said Meagher who has yet to win the QEII Cup, but whose father John claimed with Exaggerate (Saimee Jumaat) in 2003 when it was then run as a Group 2 event.
"Yes, the 1800m and the Long Course will suit them, but my horse also won on the Long Course three starts ago when he beat Kharisma, so the Long Course is not a real worry.
"I still think that Ricardo's horse Katak can't be ignored. He looked amazing at trackwork, he's in perfect order, much better after two runs.
"If he brings his best South African form, he can become a decent horse here.
"But my horse has trained on really well, he has done everything right. He's ticked all the boxes.
"I'm very happy with him, and very happy with his barrier trial last week (October 7). It was just a maintenance gallop, which is normal for him, and he's come out of it very well."