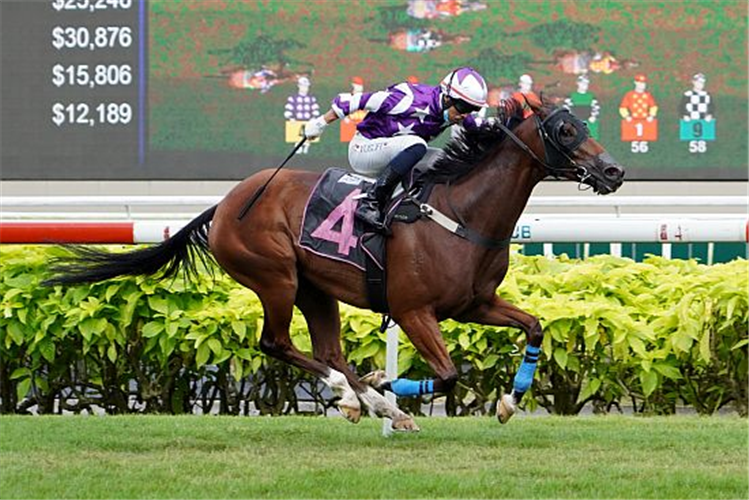 Not many would disagree the Kuroshio six-year-old can hold his own at the sprinting elite level against the usual suspects like Grand Koonta, Kharisma and Fame Star, but the wide barrier in the $100,000 Flax 2012 Kranji Stakes A race (1200m) did throw a dampener.
Even trainer Donna Logan, who, before the barrier draw was effected, had been brimming with supreme confidence, wasn't so sure when they were dealt the second worst in 11.
But when the pint-sized speed machine barrelled over in the first furlong matching motors with Fame Star (Krisna Thangameni) in search of the lead, as much as it bore the foreboding signs of a cut-throat speed battle, it proved to be the making of Makkem Lad's win No 8.
Well held together by Yusoff Fadzli on the rails in spite of the close attention on his offside, Makkem Lad was always travelling on the bit while Fame Star, who had jumped from the outermost alley in 12, was the first to hoist the white flag upon cornering for the judge.
Still, most thought Makkem Lad ($37) would also feel weary-legged and fall in a heap, but that big heart of his again showed it was not stuff of lore.
Mustering a second wind, Logan's tenacious customer kept finding to go and score by three parts of a length from Gold Star (Wong Chin Chuen) with old stager Preditor (Mohd Zaki) in third place another length away. The winning time was 1min 9.08secs for the 1200m on the Short Course.
"I was really confident with him on his work leading into today's race, but when the draws came out, we took a deep breath," said Logan.
"He also had to hold off the backmarkers like Grand Koonta. Still, I told Yusoff if he was in front, to skip at the home turn because it would take a very good horse to peg him back.
"I didn't think Fame Star would lead us into the race, but Yusoff told me Makkem Lad travelled so easy that he decided to stay where he was.
"He has the biggest heart, and he's done it again."
Logan might have already notched a feature race win with Minister in the Group 1 Kranji Mile, but if there is another horse in her yard she wished could have a "black type" win to his name, it's definitely Makkem Lad.
Unfortunately, not many sprints figure on the already scaled-back list of feature races, with only the Group 3 Merlion Trophy (1200m) on the last day of the season on November 27 left.
"Makkem Lad is not a great Polytrack horse," said Logan.
"But the Merlion Trophy is the only sprint feature left, so we'll have to give it some thought."
Makkem Lad has now taken his record to eight wins (which do include three on Polytrack at his first three wins) and seven placings from 23 starts for stakes earnings just a tick under the $470,000 mark for the Eden Park Stud Racing Stable.