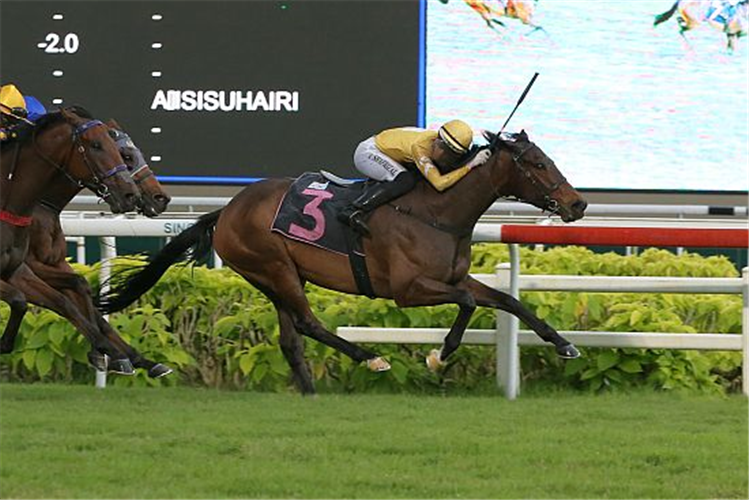 Old champion - and family heirloom - War Affair was the only one with a lofty rating and who was his mainstay in Group races when Ong took over from Bruce Marsh upon his retirement in mid-2019.
Unfortunately, the 2014 Singapore Horse of the Year had seen better days - and better legs - and was duly retired last year after nine unplaced runs under Ong's guidance.
The stable icon was gone, but Ong has still done extremely well with his bread-and-butter horses at the other end of the spectrum – 23 of them hailed from Class 4 and Class 5.
When an opportunity to take over two higher-ranked horses came up after 2021 was wrapped up, Ong grabbed the chance with both hands, even if they may not be all new and shiny.
They are 2019 Singapore Gold Cup winner Mr Clint and Irish-bred middle-distance performer So Hi Class.
Ong has not mucked around once he secured their takeovers. They came to him race-ready, even if Mr Clint might be more ring-rusty having not raced since May, with Ong only needing to give the pair a couple of blowouts in barrier trials (both went through the same barrier trials) to top them off.
Happy enough with their conditions, the Australian-trained Singaporean handler will also run them in tandem at their racing debut under his helm – in Saturday's $85,000 Class 2 race over 1400m.
"Owners were aware that the Al-Rashid Stable (So Hi Class 's owner) were cutting down on their numbers. A lot of us were keen to buy such horses so they can stay at Kranji and we can then keep the horse population in Singapore up," said Ong.
"I myself didn't have any horses in that rating, and I was quite keen to have So Hi Class, when I found out he was for sale.
"Some partners were interested and each one of them took a share in him. Tried horses are more attractive at times as they are proven here, and we don't have to wait long for a new horse to fly up, etc.
"So Hi Class has trialled really well. On record, he's not a sprinter, so I told Zy (Nor Azman) there was no need to chase the pace.
"I just told him to relax him and let him come home. To me, that will stimulate him to sprint.
"The 1400m may be too short for him first-up but he's fit enough for that. Heartening Flyer will be the horse to beat, though.
"For Mr Clint, it was different as the owner (Tan Aik Pheng) just bought him from Al-Rashid (when trained by champion trainer Mark Walker, who recently returned to New Zealand) and put him with Alwin Tan. He never got a chance to run for Alwin after the owner decided to bring him to me.
"Both horses arrived to me in good order. I can't complain."
Though Mr Clint, a Power seven-year-old, has not been seen since his unplaced effort in the Group 1 Kranji Mile (1600m) last May, Tan had already prepped him up nicely when he came to his fourth trainer at his sixth season (was first handled by Lee Freedman for whom he won all his five races, including the 2018 Group 1 Singapore Guineas and the 2019 Singapore Gold Cup).
"He's a good old horse who's still very keen in his trackwork. When he has company, he wants to lead," said Ong.
"Obviously, he has his wear and tear issues, so we've spent a bit of time with him and worked with the Singapore Turf Club vets to get him right.
"We didn't want to push him, we gave him his time, and his trials weren't too bad. The 1400m will also be too short for him, but let's see how he goes."
Interestingly, both Mr Clint and So Hi Class were engaged in the same barrier trials, and replicated the same pattern at both hit-outs.
A six-time winner (1600m to 1800m) of six years of age by Dark Angel, So Hi Class with Zyrul up was at the rear, but sliced through the field upon straightening to be within striking distance only to happily coast into second place while Mr Clint with race-rider Mark Ewe on board just lobbed along at the back, even if he did sweep out wide midrace before dropping back to the rear at the latest trial.
Ong, who opened his 2022 account with Blitz Power last Saturday, will be a fairly busy man on Saturday with eight other entries in the mix, including a debutant, Song Of Nature in the $75,000 Restricted Maiden race over 1200m.
In four barrier trials, the All Too Hard three-year-old was placed three times, and will be race-ridden by Koh Teck Huat, his trial rider at the last three.
"I'm happy with his preparation. His trials were pretty good," said Ong.
"He's still very raw, though. I just hope he can handle raceday conditions."